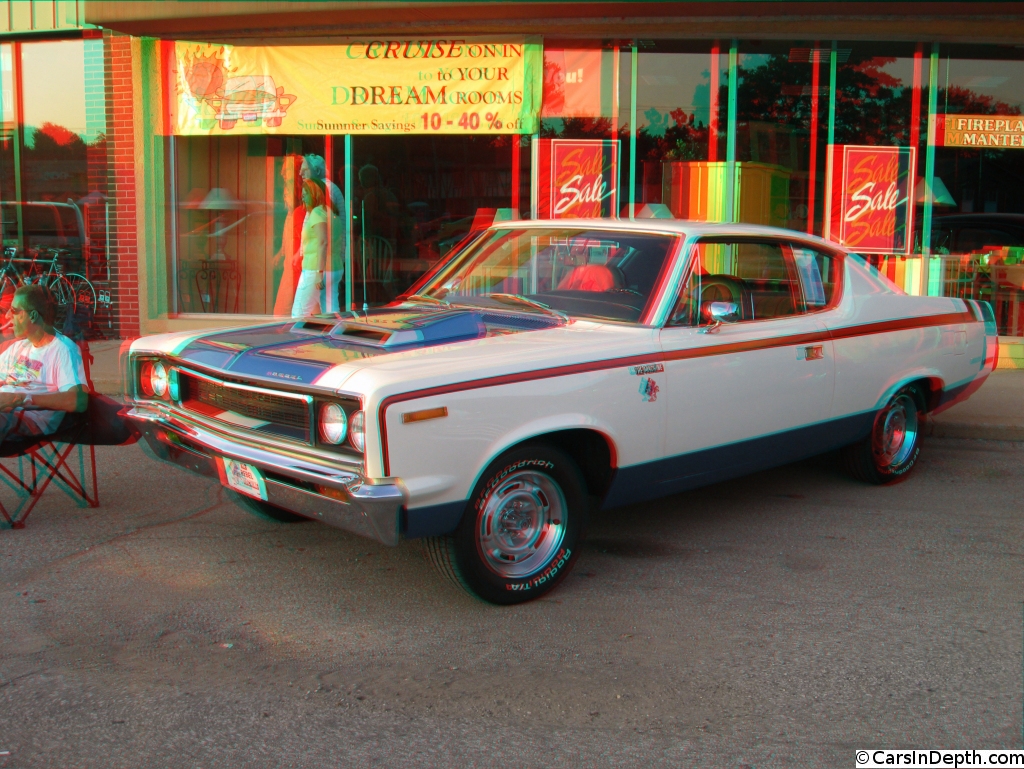 Click on the anaglyph stereo 3D image to launch a Flash player and view the entire gallery in 2D or your choice of S-3D formats.
This is one of the rarer American muscle cars that you'll come across, a 1970 AMC "The Machine", based on their midsized Rebel two-door. Originally intended to wear what we'd now called a murdered out look, all black, with black sidewall tires, and black wheels, AMC decided that being subtle wasn't the key to taking on the Big 3, so they brought out the red, white and blue, reprising the look of the S/C Rambler.
Here's a short video clip of the same car:
Start the YouTube video player. Click on the red 3D icon that will appear in the menu bar to select 2D or your choice of stereo 3D formats.
From How Stuff Works:
The Machine was a pretty good performer. Like the SC/Scrambler, it used the AMX's ram-air 390-cid V-8, newly souped to 340 bhp. In its journey from concept to reality, The Machine gained a big hood scoop that served the engine via a vacuum-controlled butterfly valve. A Hurst-shifted four-speed was mandatory and came with a 3.54:1 axle. AMC's limited-slip diff was a $43 option, with a genuine Detroit Locker and ratios up to 5.00:1 available.

The tight suspension made for precise handling, although the firm rear springs did hurt straight-line acceleration. A Hurst-shifted four-speed was standard. Note the tachometer integrated into the raised fairing on the hood scoop.

The Machine was one of Detroit's most stiffly sprung muscle cars. Its extra-heavy-duty suspension included firm station wagon rear springs, which elevated the tail and helped account for the raked look. With E60x15 tires, cornering ability was top-notch, but rear-axle juddering off the line prevented the willing, lightweight V-8 from propelling the car into the low-14-second range.

The Machine turned out to be a one-year-only model, and after building the first 1,000 or so, AMC began offering it sans stripes and in any color.