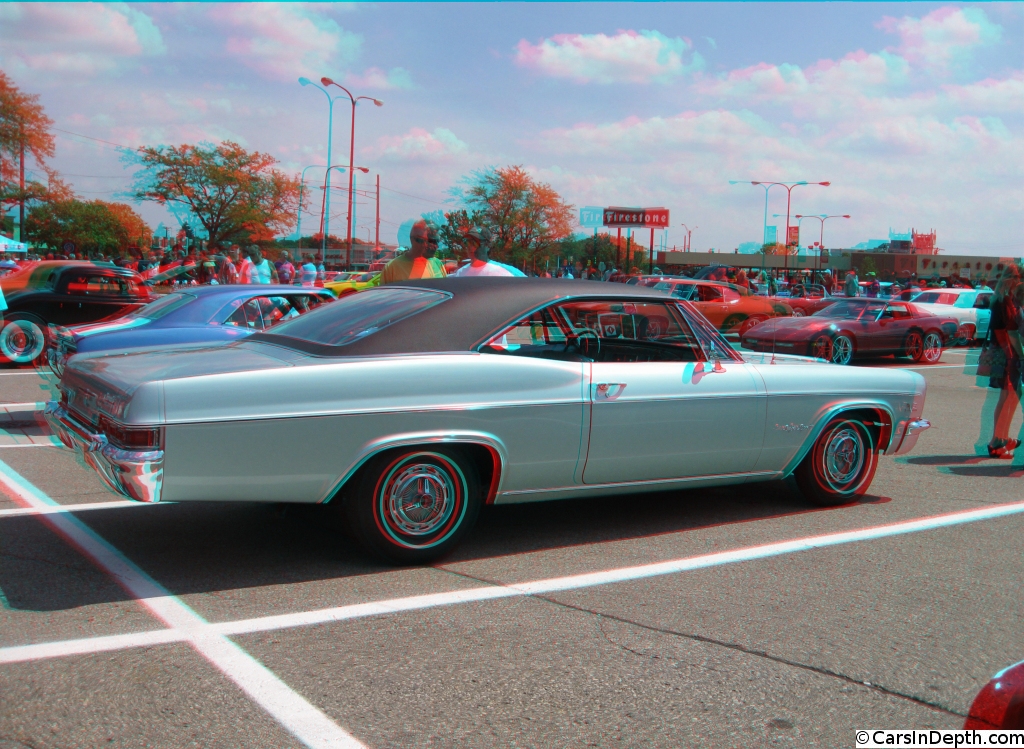 Click on the anaglyph stereo 3D image to launch a Flash player and view the entire gallery in 2D or your choice of S-3D formats.
Well, this Impala SS wasn't really my first car, but my first car was indeed an Impala SS… only my Impala was mostly a trim package and this beautiful green SS is the real deal. Still, when I first saw it at the GM Design employees' car show it was a bit eerie. Other than the mint green paint (and engine emblems) the two door Chevy looked identical to mine on the outside. My '66 Impala was painted gold but it had a black vinyl roof and spinner hubcaps just like this one. On the inside, though, as I said, this green Impala is a much more authentic SS than mine ever was.
I like to call mine a "SS in name only" because other than the bucket seats and console, there wasn't anything Super Sporty about it. It wasn't a slow car, but with the smallest V8 Chevy offered then, a 283 CI version of the venerable small block Chevy engine, and a two-speed Powerglide, one of the transmissions that led to the nickname "slushbox", it was far from a muscle car. This green Impala SS, though has a 350HP 427 CI big block and four on the floor manual transmission. Like I said, the real deal. I didn't get to ask if this was how the car came from the factory, but if it did, this was not bought as someone's family car, as my hand-me-down Impala was. In 1966 most family cars had automatic transmissions. By then, a full size car with a stick shift was pretty rare so if someone ordered a three pedal car (and a 350HP engine) they most likely were racing, either on the strip or on the street.