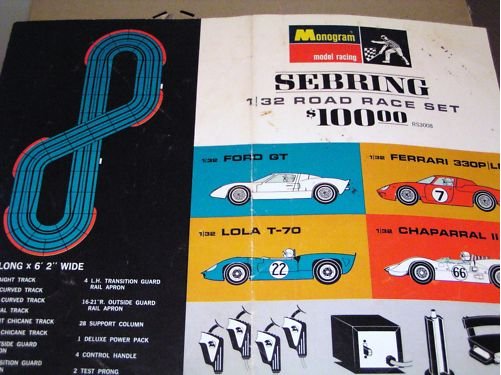 A hundred bucks was a lot of money in 1967, the year I turned 13 years old and became a Bar Mitzvah. For an earlier birthday, my parents had given me a small Eldon figure-eight 1/32 scale slot car set that I practically wore out and my dad decided to give me an extravagant Bar Mitzvah gift to replace it. The Monogram model company sold a number of 1/32 slot car set and the top-of-the-line set was named after the Sebring race track in Florida. What was particularly special about Monogram's Sebring set was that it could be configured in a four lane layout because the track sections can also snap together sideways. To my knowledge, nobody else sold a four lane home track. With the big 1/32 cars and 25 feet of four lanes, it was the closest you could get to racing at one of the big, professionally made multi-lane tracks you'd find at a slot car shop.
Like I said, it was an extravagant gift. In 2014 dollars, that $100 would be over $700 today. Fortunately, my dad's friend from the Jewish War Veterans, Bill Sniderman, worked for a toy distributor and he got it for us wholesale. Look at the four cars in the set, four of the most iconic race cars ever: the Ford GT40, the Lola T-70, the Ferrari 330P/LM and the Chaparral IIc and it's no wonder that more than almost a half century later I'm still a car enthusiast.
I also still have the Sebring slot car set. It's not in great collectible shape since it was well used in my youth, but all the important parts are there and it can still be used. I've made some modifications to be able to power the track with something with a bit more current than the set's original transformer power pack, so I can run modern slot cars on it. Modern slot cars pull more amperage than 1966 vintage toys and the original power pack can't provide enough current to run four of them simultaneously.