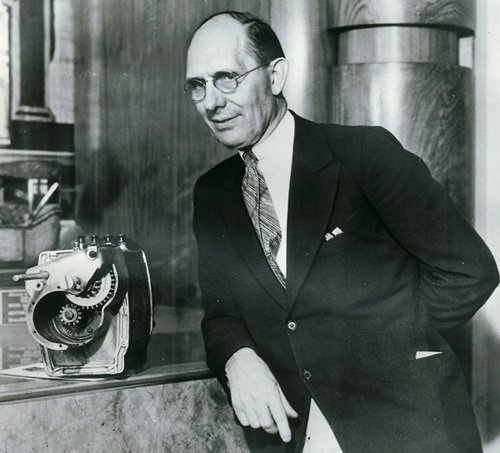 Charles Kettering with the first electric self starter
Charles Franklin Kettering was born on August 29, 1876, in Loudonville, Ohio. Kettering was one of a number of men whose inventions "liberated" women long before the modern women's movement and feminism. Before the age of invention in the late 19th and early 20th centuries, the simple tasks of running a household, which is what most adult women did, took most of their waking hours. Electric powered sewing machines, vacuum cleaners, washing machines and other home appliances significantly reduced the amount of labor and time needed to run the home. Refrigerators reduced the amount of time needed to shop for fresh food. By the 1910s, that tasks and drudgery that had formerly taken more time than a full time job to do, could be handled in much less time due to machines doing most of the labor. It's not surprising, then that by the 1910s, the suffragette movement was in full swing. Women had time on their hands and wanted to be doing productive things.
To a liberated woman in 1912, the world had many more opportunities available to women than in their mothers' and grandmothers' ages. One of the effects of industrialization, the age of invention and consumer goods was that companies needed labor, women included. While jobs were usually gender segregated, there were indeed jobs available to women and they had their own incomes. One thing, though, stood in the modern woman's way in 1912, driving. Or more specifically, the gasoline powered automobile.
In the first decade of the automobile age, from 1896 to 1906, it was unclear just what power source would succeed as the motive force in the automotive world. Gasoline, steam and electricity were used by a variety of manufacturers. In the early days they all had disadvantages and it wasn't clear which, if any, would become a standard. It was not a foregone conclusion by any means. Steam was a proven technology. Gasoline engines, on the other hand, were primitive, noisy, smelly and complicated. There weren't gasoline stations in the early days, you bought your gasoline at the local apothecary store or from a dry cleaning establishment, it's primary use in those days being a cleaning fluid. Since steam had its drawbacks too, for a while it looked like electricity would work.
Electric cars were simple, easy to operate, quiet, reliable and clean, particularly compared to gasoline powered cars. Electric cars also had a marketing advantage over gasoline cars, they could be operated by women. To start an electric car, then and now, all you need to do is put a switch in the on position. To start an early gasoline powered car, in addition to all the various gizmos and settings that need to be in the right position just to get it started, you have to hand crank the engine. Now while a Model T engine is not a high compression big block V8, it's also not exactly a lawnmower engine or small outboard that you can pull start. It's a four cylinder engine of 177 inches  (2.9 L) displacement.
Start the YouTube video player. Click on the red 3D icon that will appear in the menu bar to select 2D or your choice of stereo 3D formats.
Most women simply did not have the upper body strength to start a car. Not that their husbands or fathers and mothers wanted them to try. Those cranks injured and killed a lot of men if the engine would kick back. Yes, there was Alice H. Ramsey's famous 1909 cross country trip in a Maxwell, with three female companions, used to great publicity advantage by the Maxwell-Briscoe company.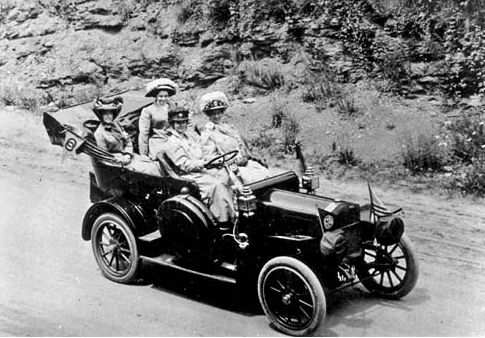 Alice Ramsey at the wheel of her 1909 Maxwell
Not only did Mrs. Ramsey hand start the car on her journey, she changed 11 tires, and regularly removed and cleaned the spark plugs. She even repaired a broken brake pedal. Ramsey, of course, was the exception in those days.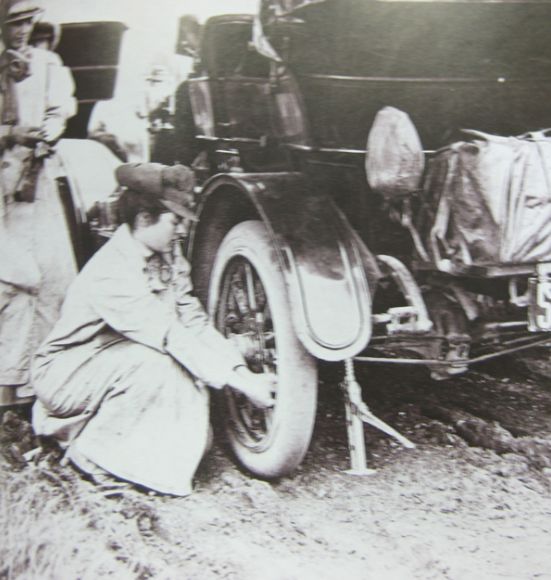 Ramsey repairing and changing a tire.

For the most part, women couldn't drive gasoline cars. Those that could, often didn't like the noise and the smell. That may explain why companies like Detroit Electric and Columbus Electric devoted much of their marketing to women. Clara Ford, AKA Mrs. Henry Ford had a 1914 Detroit Electric. Mrs. Henry Joy, the wife of the man who made Packard into a great company, also drove a Detroit Electric, a 1915 model.
Henry Ford with his wife Clara's Detroit Electric
By 1914, though, their husbands could have gotten them gasoline cars they could have started themselves. That would have been a little embarrassing for Ford and Joy, though, since the first car with an electric self-starter was a Cadillac and in 1914 and 1915, there is no way either man would have let his wife be seen in that brand of car. Neither Ford nor Packard made electric cars (though by 1914 Ford was experimenting with EVs) so it was no big deal to buy their wives an electrically powered car so they could get around on their own without needing a chauffeur (though both men could obviously afford a driver for their wives and children). Cadillac, though, was a direct competitor to Packard, and though Henry Ford didn't sell luxury cars he would have probably died before letting Clara drive a Cadillac. Ford Motor Company was not Ford's first automotive venture. He lost control of the company he started before FoMoCo, and his backers turned it into Cadillac with the help of Henry Leland. Ford held a grudge so deep against Leland that later, after Leland left Cadillac in a dispute with Billy Durant and started Lincoln, and Lincoln also ran into its own financial straits, he bought Lincoln for his son Edsel to manage and then had Leland and his own son escorted from the building. So Ford would never have bought Clara a Cadillac while Henry Leland was still there.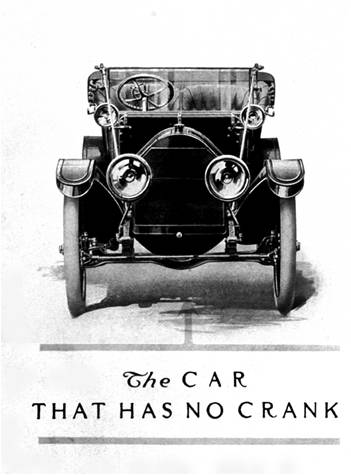 Early Cadillac advertisement
Charles Kettering is how Cadillac came to have that electric self starter. Kettering was granted over 140 patents but none had the social impact of the electric self-starter, first offered on the 1912 Cadillac and patented in 1915. Starting out as a teacher, Kettering was fascinated by electricity and spent his first pay from teaching on a telephone, which he promptly disassembled and put back together. He went back to school, got a degree in electrical engineering from Ohio State and went to work for National Cash Register. In 1908, a co-worker and friend asked for his help assembling a kit car and in doing so Kettering designed a novel high energy spark ignition for the car.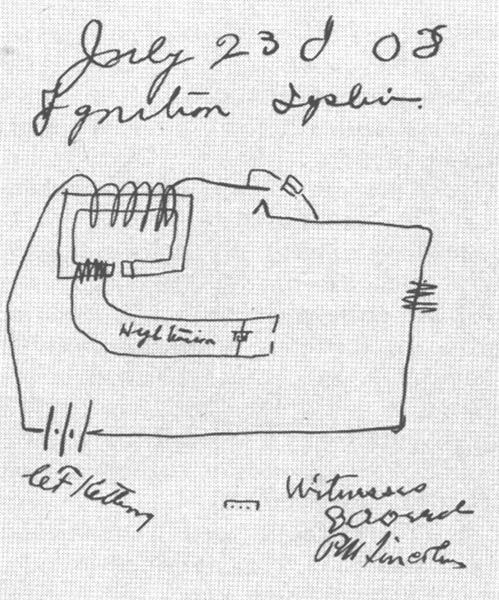 Kettering's drawing for his 1908 ignition system
A year later, Kettering and his friend, Edward Deeds, started the Dayton Engineering Laboratories Co. In time that company would become better known as Delco. Early automobiles had primitive electrical systems. Lighting was usually provided by gas lamps. Ignition systems were varied and unreliable. Kettering applied himself to all those problems, coming up with designs that ultimately integrated into an all electric engine ignition, starting and lighting system not too different from what is still in use today.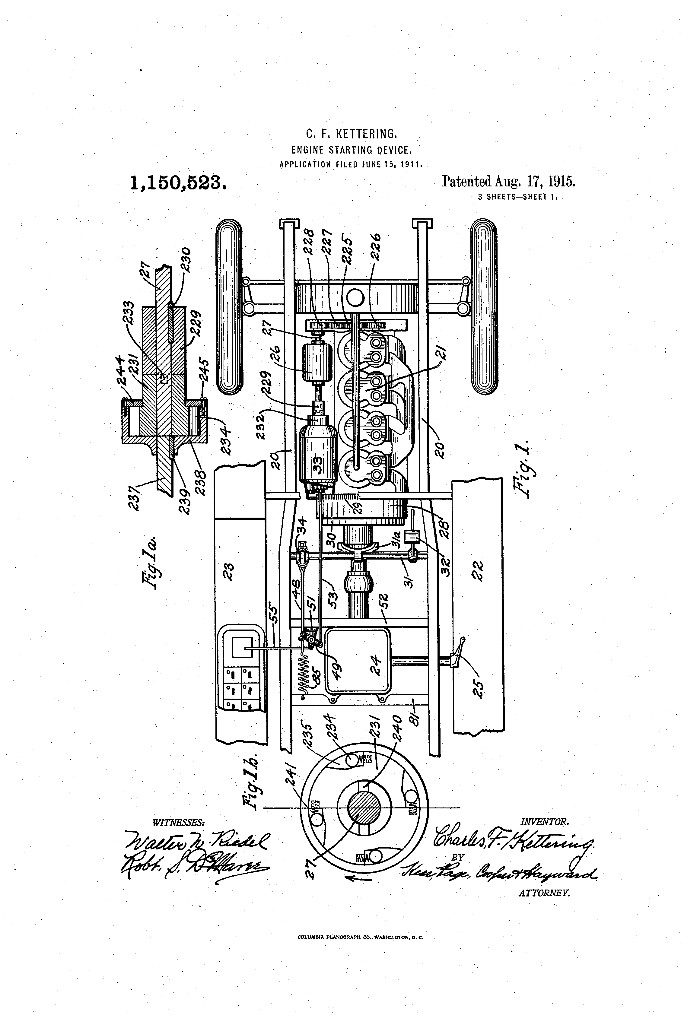 Cadillac introduced Kettering's system in 1912. General Motors acquired Delco in 1918 and Kettering eventually became vice-president of the corporation, heading research and development.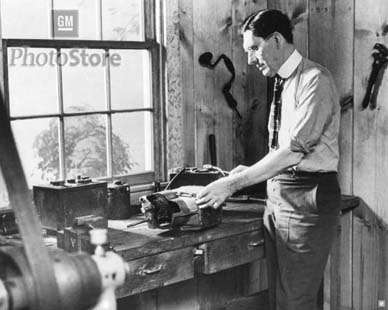 A young Charles Kettering in the Dayton Engineering Laboratories Co. (Delco) "lab"
Charles Kettering had an inquisitive and curious mind, with wide ranging interests, and his later patents concerned things as varied as refrigeration and medical devices, but it was his invention of the electric self starter that had the biggest impact. Virtually every source on Kettering and the electric starter that I found in researching this post specifically mentions how that invention made it possible for large numbers of women to drive. The automobile gives great freedom of movement. You can go where you want to go, when you want to go there. Charles Kettering's electric starter extended that freedom to women.