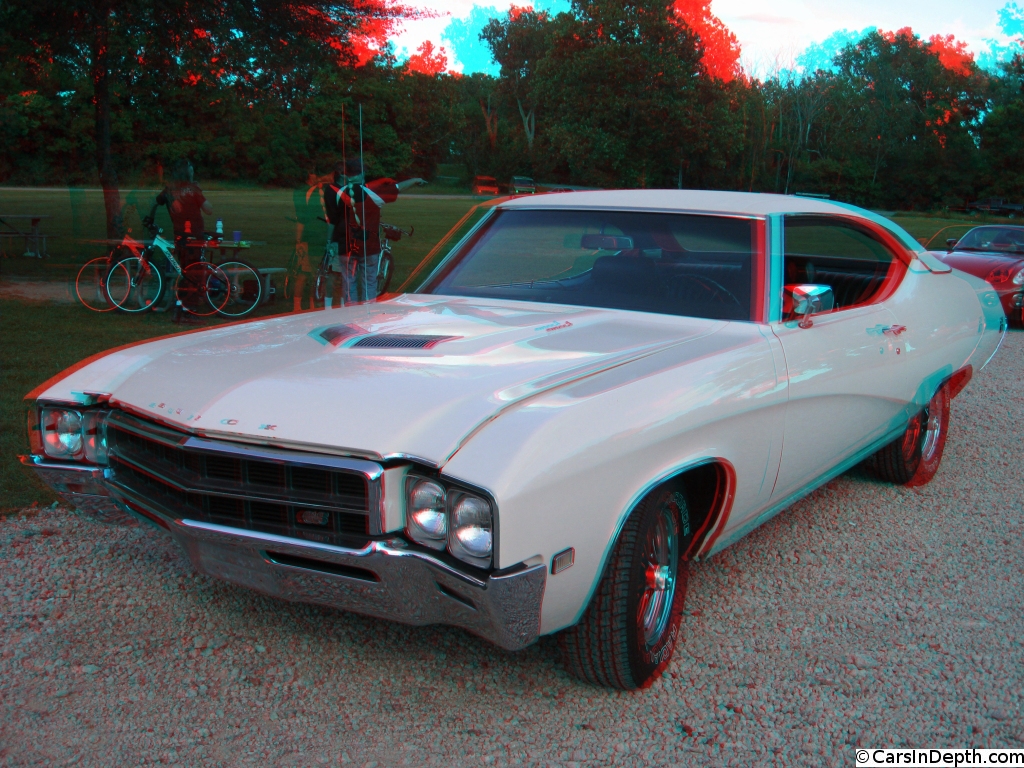 Click on the anaglyph stereo 3D image to launch a Flash player and view the entire gallery in 2D or your choice of S-3D formats.
This is not your everyday late '60s muscle car. Contrary to those who think the Grand National / GNX was the only time the staid brand from GM embraced performance, the fact is that for most of the 1960s, Buicks were not slow. Cars like the Riviera and Electra 225 had some dash to go with their flash. When John Delorean dropped a big displacement V8 engine into a Tempest and called it the GTO, inventing the muscle car (or so some say) most American car brands responded. In Buick's case they took the Tempest's corporate sibling, the Skylark, and created the Gran Sport, or GS, offering 350 and 400 cubic inch versions. In 1969, they upped the ante by offering two additional performance options for the bigger "nailhead" engine, Stage 1 at 345 HP and Stage 2 at 360.
This 1969 GS 400 Stage 1 looked so good that I asked if it was restored. It wasn't. As a matter of fact, everything on the 1969 Buick GS is original: paint, vinyl roof, interior, even the trunk liner and spare tire cover. The owner told me that it's only got 19,000 miles on the odometer. Fewer than 1,500 Stage 1 cars were made, and not many survive so this surely must be one of the lowest mileage original GS 400s in existence. Few survivors that you see will be in this kind of shape. If you look closely, you'll see that the door gaps are not perfectly even, the way they are on today's over-restored cars. This GS 400 was at the Cruisin' Hines event and there were a number of restored cars of the same general vintage as the Buick. The Buick looks the way it did when it left the showroom in 1969. The restored cars look better than just about anything short of a Rolls-Royce did in 1969.