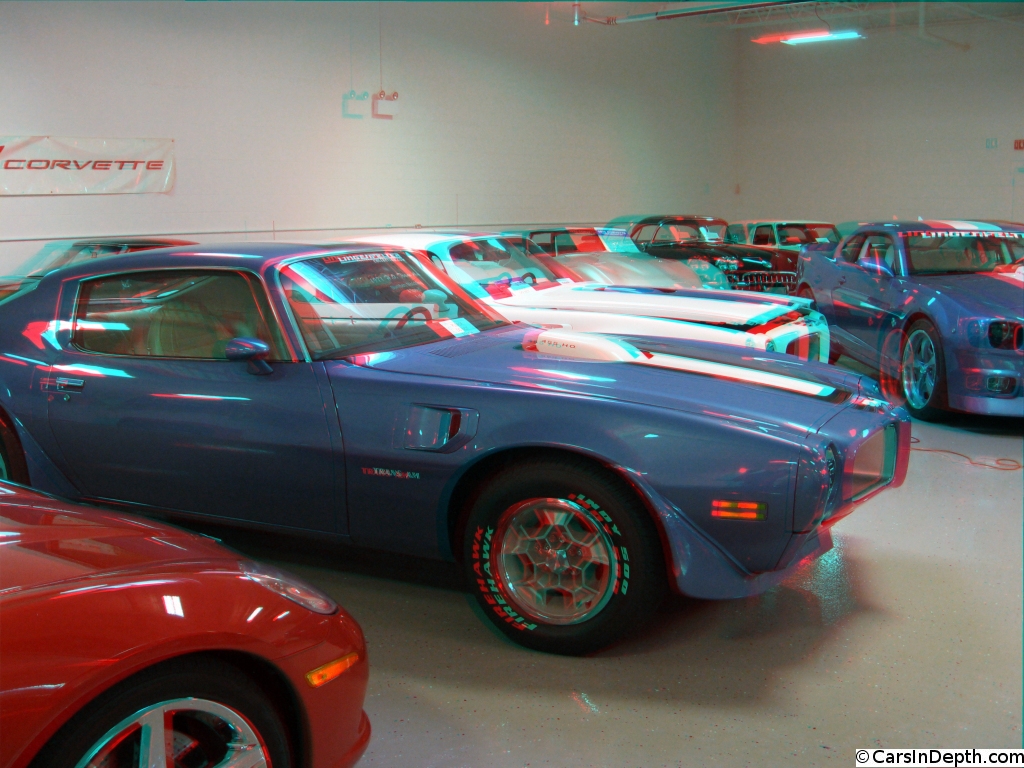 Click on the anaglyph stereo 3D image to launch a Flash player and view the entire gallery of photos in 2D or your choice of S-3D formats.
While Chevrolet is the most common marque represented at the Lingenfelter Collection, it's clear that Ken Lingenfelter has a spot in his heart for recently departed Pontiac. He likes Pontiacs so much that Lingenfelter Performance Engineering will take a new Camaro and turn it into a Firebird Trans Am lookalike for you called the Lingenfelter "TA". There are at least a couple of LPE TA prototypes in the collection. As models for those recreations LPE had a couple of fine original Trans Ams to work with as the Collection includes two perfect second generation Firebird Trans Ams. A white over blue H.O. 455 version and a slightly tamer blue over white Trans Am. In addition to those early 1970s Firebirds, the Collection includes (cont'd after the jump)
Start the YouTube video player. Click on the red 3D icon that will appear in the menu bar to select 2D or your choice of stereo 3D formats.
two gold Trans Ams, a late '70s TA 6.6 and one of the last Firebirds made by Pontiac, a Ram Air. Another white and blue Trans Am is a '94 25th anniversary model, one of 2,000 made. Older Pontiacs are represented by a '65 GTO in red with a black vinyl roof and a first gen Firebird HO in green.  That red and black GTO is one half of a matching pair with the other being a '69 in the same livery. The Collection also includes two late model Australian built GTOs, including one that's been customized by designer Kip Wasenko. Both of those Aussie GTOs feature LPE modified engines. There's a Fiero GT, most likely a 1988 model, which is highly regarded by Fiero enthusiasts and others in the know. Pontiac killed the Fiero just as the car got the suspension designs that it deserved all along. Along with the faux Firebird conversions made by LPE and late model GTOs, the Lingenfelter tuning company's Pontiac related work is represented by a Hurst LPE Trans Am and a Pontiac Solstice Coupe. The Solstice Coupe is already very rare as few were made while Pontiac was being shuttered. This Solstice has an LPE prepared LS3 V8. A couple of rare Pontiacs in the collection are a 1977 Can Am, which was a LeMans with a 400 CI "TA 6.6" engine, and an original Grand Am, which was the Can Am's immediate predecessor. Not particularly attractive cars, but historically significant and worthy of being in a good collection of performance Pontiacs. Perhaps the rarest Pontiac in the collection is the 1986 Pontiac Grand Prix 2+2 Aerocoupe, a homologation special with a special nose and bubble back window built to be faster in NASCAR, one of only 1,225 made.