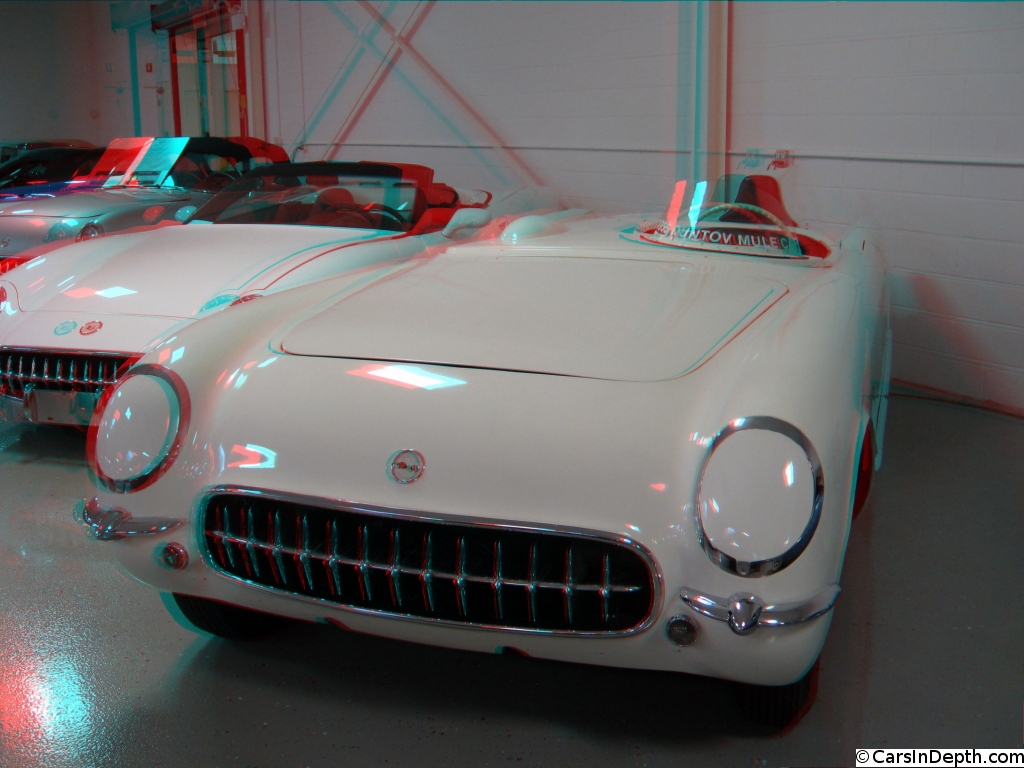 Click on the anaglyph stereo 3D image to launch a Flash player and view the entire gallery of photos in 2D or your choice of S-3D formats.
This is the first V8 powered Corvette. Not the first production Corvette offered with a V8 engine – it's the actual first Corvette into which Chevrolet installed a V8. Using GM's nomenclature for experimental cars it is EX-87. Among Corvette enthusiasts, it's known as the Duntov Mule and it's now part of the Lingenfelter Collection. There are some exceptionally rare cars in the collection. For example, the Lamborghini Reventon is one of only 20 ever made. Ken Lingenfelter's Ferrari Enzo is #399, the last one assembled. He's also got a number of rare Corvettes and other muscle cars. The Duntov Mule, though, is most likely the most historically significant and irreplaceable vehicle in the collection. This Corvette's history and its provenance make it one of the most valuable Corvettes in the world. Lingenfelter paid $310,000 for it when it was up for auction in 2009.
This video is not in stereo 3D
It's called the Duntov Mule because Zora Arkus Duntov, the legendary long time chief engineer for the Corvette program, used it for testing. Duntov first saw the Corvette on display at the GM motorama in the early 1950s. Duntov, his wife Elfi, and his brother Yura originally came to the United States as Jewish refugees, escaping from France just ahead of their Nazi pursuers. The two brothers started selling performance parts, gaining some fame for their "Ardun" heads for flathead Ford V8s (which are now back in production). After seeing the Corvette, Zora was convinced of its performance potential and wrote chief Chevrolet engineer Ed Cole a letter, seeking employment as an engineer. Impressed with the technical paper that Duntov had enclosed with his resume, Cole invited him to Detroit and was so impressed he offered Duntov a job working on high performance Chevys.
If EX-87 only had the history of being used by Duntov it would be prized by collectors, but the car's provenance is chock full of automotive history and personages. Though conventional wisdom has it that it was Duntov's idea to put Ed Cole's then new small block Chevy V8 in the previously sedate Corvette, the first V8 Corvette was actually the idea of Mauri Rose. Rose, a three time winner of the Indy 500, was then chief engineer for Chevrolet. Rose shipped a stock 1954 Corvette and a 283 CI version of the Chevy V8 to Daytona Beach, where another legend's name was added to EX-87's provenance. Daytona was the home of "The Best Damn Garage In Town", one Smokey Yunick, proprietor. Yunick's shop installed and tuned the engine and returned it to Chevy, where it was put into service as a test mule for what would be the 1955 Corvette, the first production 'Vette offered with an eight cylinder engine.
With the 638 horsepower, 200 mph ZR1 Corvette available at your nearest Chevy dealer, it's easy to forget that the original Corvette was not very fast. Thrown quickly into production to capitalize on the popularity of the Corvette show car in GM's Motorama, the 1953 and '54 cars were boulevard cruisers, not true sports cars. They had Chevy's "Blue Flame" inline six cylinder engine. While Ed Cole's original intention with the Chevy V8 was to bring V8 power to everyday family sedans, it was clear to Rose, Duntov and others at Chevy that the engine's logical home was in the Corvette.
Like many historically significant experimental cars, after testing was completed, EX-87 was ignored. Then Zora Duntov got his hands on it. Hoping to use the car for speed record pursuits, he improved its aerodynamics with a fiberglass tonneau cover for the passenger compartment, a small LeMans style windscreen, headlamp covers, and a fairing/tailfin. Then he had Chevrolet Engineering bore the engine out to 307 CI and had them grind a new camshaft to his specifications. Apparently there was some resistance to that work order but in time the camshaft design would become known as the Duntov Cam and it is still prized by Corvette enthusiasts.
It was the winter of 1955-56 in Detroit so Duntov had the car and the cam shipped to GM's Arizona proving grounds, where he drove the car himself to a record of 163 miles per hour, a remarkable speed for 1955. Later the same engine was used in a different Corvette to set a Daytona Beach course record of over 150 mph. The engine ended up in storage at Yunick's garage, and the car itself again was ignored at GM, eventually passing into private hands.
EX-87's history was renewed about a decade ago after Yunick's passing. The great mechanic's widow invited his friend Steve Tate to look through the odds and ends at The Best Damn Garage to see if there was anything that interested him. He found the engine for EX-87. That inspired him to track down the car itself and restore it to Duntov's original specifications. You can see Tate's original documentation in the photo gallery.
Mecum auction catalog description below:
Late in 1955, before the name "Corvette" became a household word signifying America's sports car, a young Russian-born Chevrolet engineer named Duntov was toiling away almost anonymously in an effort to make his leftover factory mule into a record-breaker.

Over a year earlier, Chevrolet Chief Engineer and three-time Indy 500 winner Mauri Rose had Daytona legend Smokey Yunick install an experimental V-8 engine into a 1954 Corvette test mule, which was given the factory designation EX87. When its testing duties were completed, it was given to Zora Arkus Duntov at Chevrolet Engineering to prepare for a high-speed record run at Daytona Beach in January 1956. It was assigned a new tracking number, 5951.

Duntov modified the car by replacing the windshield with a curved plexiglass windscreen and fitting a fiberglass tonneau cover over the passenger side of the cockpit. Borrowing from recent Jaguar practice, Duntov also fabricated a fiberglass headrest-tailfin for high speed stability. Duntov increased the engine displacement from 283 to 307ci and ordered a special camshaft from Engineering before loading EX87/5951 onto a trailer and heading for GM's Arizona Desert Proving Ground.

After initial resistance from Engineering, Duntov's cam was delivered to the Proving Ground, where it earned lasting notoriety as the "Duntov cam" by helping the car blast off to a record 163 miles per hour, an astounding figure in 1955. That same engine was later installed in another famous Corvette, 6901, which set a new record at Daytona of 150.583 mph.

Smokey Yunick passed away in 2001. His widow called Smokey's old friend Steve Tate to come to Daytona, saying that she had "some stuff around the shop" and he should see if there was anything he wanted. That was when Steve discovered an engine marked "Record Run"- the very engine Smokey had installed in EX87/5951 46 years earlier.

After an extensive search Tate discovered the car itself, and purchased it along with its original Chevrolet experimental log book. Working in concert with a small cadre of close friends, Tate then began an enormous year-long restoration project, returning the record-setting engine to its first home and bringing the car back to its original configuration as Zora's famous test bed and the world's first high-performance Corvette. Upon its completion EX87/5951 was featured at the 2003 Bloomington Gold Corvette show.

An incredible piece of Corvette history, EX87/5951 is the forebear of all the great Corvettes that have followed in its path.

Highlights:

– The original EX87 Arizona Proving Grounds record car, 163 mph
– Original engine installed by Smokey Yunick in 1954
– First Corvette to run the famous "Duntov cam".
– Purchased from the Bible Broadcasting Company
– Restored to its original configuration as prepared by Duntov
– The first true high-performance Corvette in history