This video is not in stereo 3D
Regular readers know that we're big fans of Denise McCluggage. One of Denise's friends and fellow female racing pioneers, Suzy Dietrich, will be auctioning off a lifetime of racing memorabilia to help with her medical expenses. Starting with an MG TC in the early 1950s and moving on to Porsche's and Elvas, Dietrich raced at historic courses like Watkins Glen and in the Nassau races in the Bahamas. Carl Haas, Stirling Moss and Carroll Shelby are among her personal friends. Though many of her races were in the "ladies" races, Dietrich twice raced in the 24 hour race at Daytona leading an all woman team including Janet Guthrie and Donna Mae Mims, and also drove in the 12 hour race at Sebring. In this video, she reminisces about her racing career and the people in it. The auction will be held in Wellington, Ohio at Antiques and Estate Auctioneers on Sunday, October 9th. You can bid online here. Press release after the jump.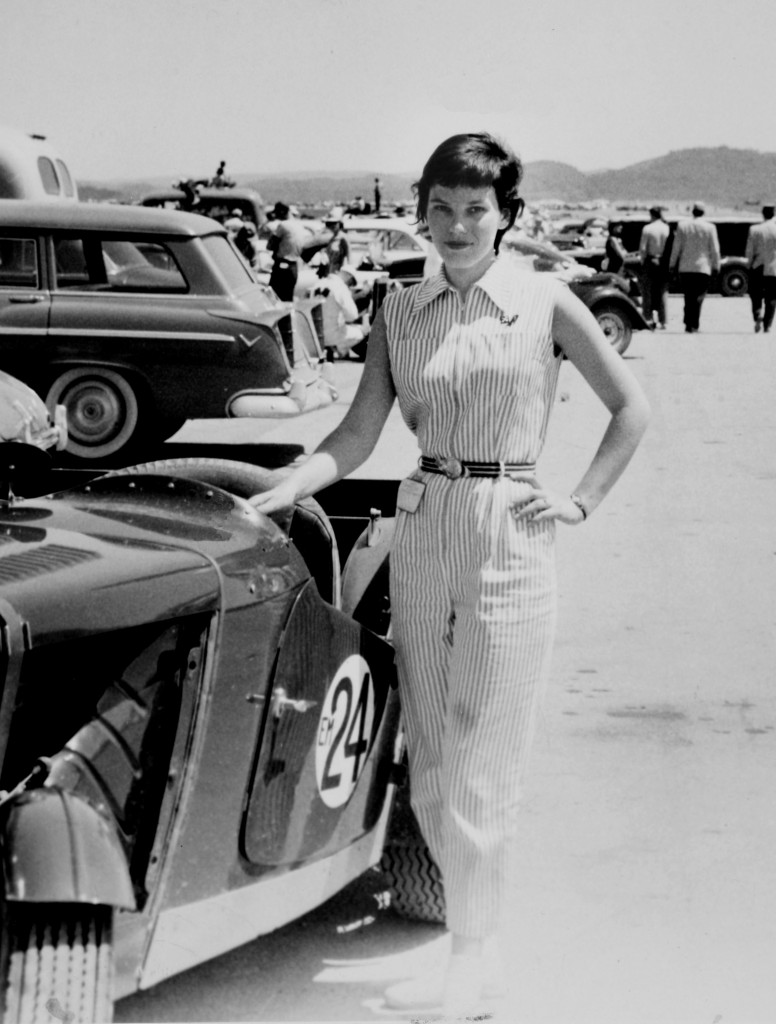 Denise McCluggage's description of Dietrich as "enormously cute" seems apt. This is Dietrich by her first race car, an MG TC
Coming to auction on Sunday, October 9th at Noon by Antiques and Estates Auctioneers of Wellington, Ohio is the private collection of Suzy Dietrich. "Although she may not think of herself as a legend in auto racing, Suzy Dietrich's record would argue that she was a true pioneer" said Auctioneer John Farkas. She began her career by entering in what was known as "Ladies" class races, at the age of 26 in 1953. Driving an MG TC SC, she had her first of her many successes at Cumberland, when she finished 2nd in July, 1953, and again in May, 1954.

Suzy continued to run races in Chanute, Lockbourne, Janesville, Akron, and Brynfan Tyddyn. By May of 1955, with numerous entries under her belt, she had her first win at Cumberland driving #24, an MG TC SC. Suzy continued to race MG's until she entered the "Ladies Race" in Nassau, Bahamas in December, 1956, driving car #107; a Porsche 550 F4 2v DOHC, where she finished 3rd in one race, and 4th in another. The Porsche 550 also proved a successful choice for her back in Cumberland, when she finished 2nd, in May, 1957.

By September, 1957, Suzy began to race in an Elva, which resulted in a second place finish at her favorite racing venue, Watkins Glen. That year also brought Suzy's first serious accident on the track, which occurred when she returned to Nassau, Bahamas driving car #24, an Elva Mk II during the 4th International Bahamas Speed Week. Suzy was not injured, and in June of '58, she was the winner of the Watkins Glen Classic – Ladies race. She continued to race in many national and local races throughout the early 1960's, including Marlboro, Road America, Indianapolis, and VIR.

Suzy and her fellow female racers were competitive with one another, but also occasionally teamed up to race together. In June, 1966, Suzy, Janet Guthrie, and Donna Mae Mims teamed up at 24 Hours of Daytona to race in a Sunbeam Alpine. Later, Suzy also teamed up with them as a part of the Ring Free Oil Racing Team driving a Shelby Ford Mustang at the 6th Annual Daytona Continental 24 Hours, in February, 1967. Donna Mae and Suzy also teamed up as a part of the Ring Free Oil Racing Team at the 12 Hours of Sebring in April, 1967, driving an ASA 411.

Suzy Dietrich is well known in racing circles, including notable names such as Carroll Shelby, Paul Newman, Carl Haas, and Stirling Moss. Suzy was a true racing pioneer. She and the women racers of the 50 and '60's led the way for the current racing headliners, such as Danica Patrick. Suzy has been quoted as saying, "I may not always win, but I'm hard to beat. Don't ever forget it." We won't Suzy, we wont!

The auction featuring her private collection of memorabilia will be held at Antiques and Estate Auctioneers on Sunday, October 9th at 44777 St. Rt. 18 E. Wellington, OH 44090. The 8,000 sq. ft. auction facility features a state of the art 8′ digital projection screen and custom gallery lighting. The gallery auctions are fully cataloged, with the action of live auction bidding, as well as a world wide audience of online bidders, with full on line catalogs, which are professionally handled by Proxibid.com. More information is always available by visiting their website at http://www.estateauctioneers.com, or by contacting John Farkas, CAI at 440-647-4007.