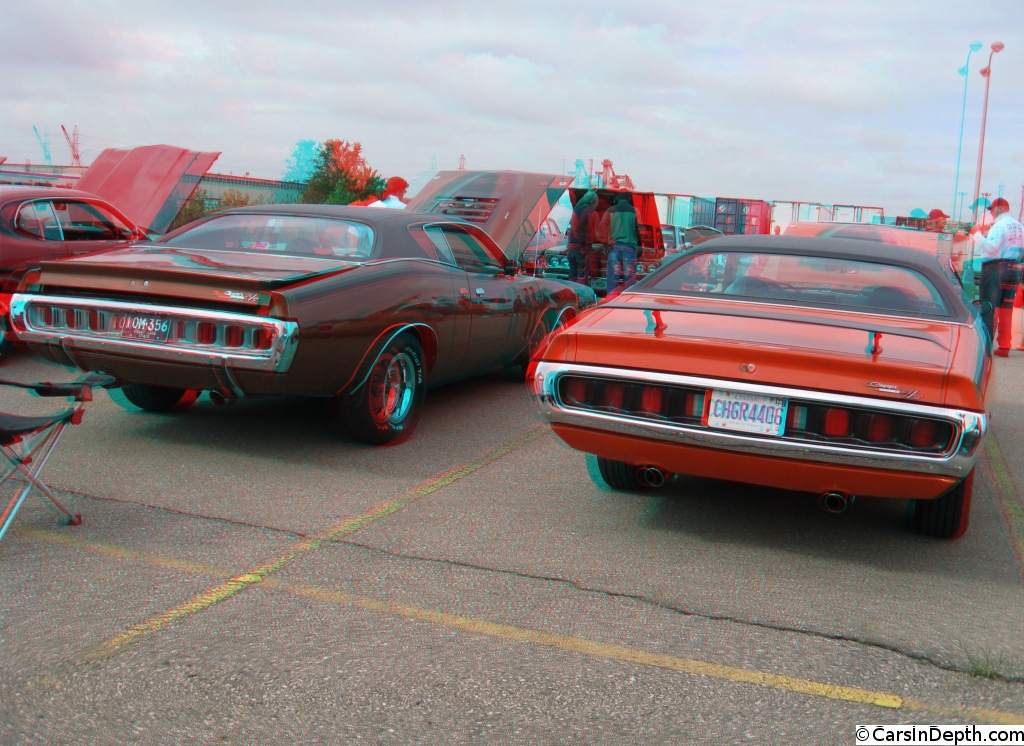 Click on the anaglyph stereo 3D image to launch a Flash player and view the entire gallery of photos in 2D or your choice of S-3D formats.
Car events in the Detroit area are different in a lot of ways. From a people perspective the enthusiasts are knowledgeable and when you say something offhand about a car on display to the person standing next to you, there a good chance that they may have actually worked on the design, engineering or assembly of that car. From a car perspective, you see some very cool and very rare cars. You also get to see a variety of cars. Not just a variety of different kinds of cars but also different varieties of the same model. At the WCP Great Lakes Region's annual all-Mopar show and swap, there were two 1971 Dodge Charger R/Ts sitting side by side. Both of them are rare cars and one of them demonstrates another facet of what makes Detroit car events special.
One of the Chargers, the orange one, is equipped with a 440 cubic inch big block engine and a "six pack", three two barrel carbs. Only 3,118 Chargers came with the 440 engine in '71. This one has an automatic transmission, one of only 255 without a stick shift. If that wasn't rare enough, the car was sold new in Canada, one of only 311 440 six pack Chargers sold north of the border. The brown Charger may be even rarer. It is also one of those 3,118 440 Chargers, but this one has a single 4 barrel carb. It also comes with a long list of performance and luxury options which the owner says probably make this particular car one of one made with this particular combination of equipment. That's because it's another special kind of car you find at Detroit car events: something built under special order for an executive (or engineering department) of one of the car companies. If a dealer like Don Yenko could work the central office special ordering system to get some special cars built, certainly executives and managers inside the companies could do likewise.