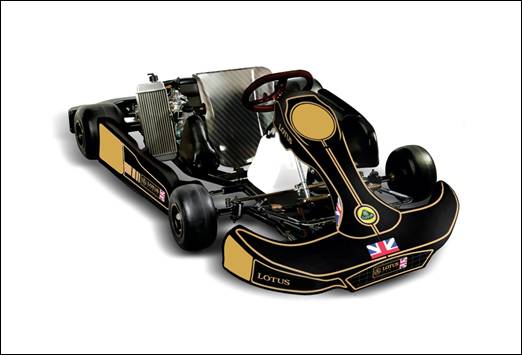 Lotus CEO Dany Bahar has gotten a lot of criticism for the fact that the new cars that they've announced are all much heavier than previous Lotus cars. The now shelved new Elan was going to be 25% heavier than the current car. Now Lotus has announced that they'll be sponsoring a factory karting team, racing vehicles lighter than anything Colin Chapman ever raced. The idea is to use the karting team to identify young talent. I suppose that they're trying to keep up with Ferrari, who last year signed 11 year old kart champion Lance Stroll, and McLaren, who have had a relationship with Lewis Hamilton since he was 13.
Press release after the jump.
Group Lotus Goes Grassroots With an official entry into the CIK-FIA World Karting Championship 2012, Group Lotus is determined to discover new talent.

With the move into karting Group Lotus becomes the first car manufacturer to have a presence at the entry level of motorsport and provides a very special opportunity for early talent spotting. Some of today's most famous and successful motorsport personalities cut their teeth in karting – the newly crowned FIA F1 World Champion Sebastian Vettel is the perfect example of the benefits of early driver development as are his peers, fellow former World Champions Jenson Button and Lewis Hamilton.

But Lotus isn't just interested in spotting the driving talent of the future, the potential to work with young people showing an aptitude for design and engineering is recognised as a very special opportunity for Lotus.

Competing under the 'Lotus Racing Karts' banner and forming part of the Lotus Motorsport division, Lotus Racing Karts will field a factory backed team, operated by Jefra Racing out of its headquarters near Treviso, Italy. With a formidable racing pedigree spanning over 40 years, Jefra Racing has competed in many classes of motorsport. Lotus hopes that this invaluable experience teamed with leadership from Team Manager Franc Jerancic will form the basis of a truly competitive team.

And Franc Jerancic is the man to impress – talent spotted and recruited by him will have all the latest homologated material at their disposal, including two new chassis models 'Colin C30' and 'Jimmy C32' giving the Lotus Racing Karts team the edge as they take on the CIK-FIA international karting events for KF and KZ categories and the World Karting Championship for KF1 category.

The production of karts and components is licensed by Group Lotus to Wildkart, specialists in aeronautics precision engineering since 1996 and manufacturer of karts since 2002.  Today, Wildcart is regarded as an authority in kart chassis and components, providing services and solutions to many karting suppliers and brands. The fit with Group Lotus is enhanced by the mutual commitment to innovation, technology and development.

"Our entry into karting is exciting on many levels" comments Miodrag Kotur, Director of Operations for Lotus Motorsport. "Not only are we nurturing new talent and widening our motorsport programme, but we also have an opportunity to join forces with two world-class specialists.  It is exciting to see Lotus Motorsport grow in such an authentic, fresh and exhilarating way"

Lotus Racing Karts will unveil their 2012 karts at the annual AUTOSPORT International event on the 14th January 2012 at NEC – Birmingham, UK.

ENDS

About Lotus Group Lotus plc, is based in Norfolk, UK, and has three operating divisions: Lotus Cars, Lotus Engineering and Lotus Motorsport.

Lotus Cars builds world class, high performance sports cars including the award-winning Evora, the iconic Elise and the stunning Exige and the road / track orientated 2-Eleven. Lotus New Era, the future product line-up, was unveiled in Paris on 30th September 2010 featuring the new Esprit, Elan, Elite, Elise and Eterne.

Lotus Engineering provides comprehensive and versatile consultancy services to many of the world's OEMs and Tier 1 suppliers and is an internationally recognised automotive engineering consultancy. Global facilities include those in the US, Malaysia, China and offices in Germany and Japan. Lotus is a global high-tech company, committed to driving forward technology for both Lotus Cars and its Engineering clients, spearheading research into such areas as hybrids, electric vehicles and renewable fuels.

Lotus Motorsport operates the motorsports activities of Lotus and includes the strategy to return the Lotus name to a great number of series including endurance racing with GT2, GT4 and LMP2, single seater racing with GP2, GP3 and IndyCar. Lotus has also returned to F1 with Lotus Renault GP from the start of the 2011 F1 racing season onwards.