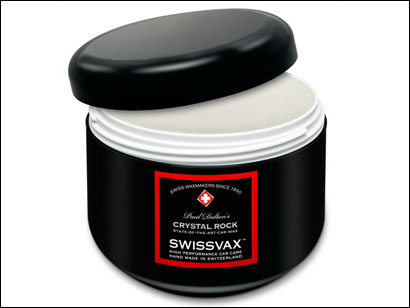 In an age that gives new meaning to conspicuous consumption it should come as no surprise that someone is selling (and others apparently buying) car wax that costs over $200 a ounce. Swissvax, a company that got its start in the 1930s making waxes for antique furniture, and still run by the Anwander family, sells a complete line of car care products that complement their main line of Brazilian Carnauba based car waxes. It must be good stuff since many of the makers of very pricey motor cars use Swissvax products to give their products a nice shine before they leave the factory. The Swissvax Car Care Kit has a Rolls-Royce OEM part number. At the pinnacle of their product line is a product they (appropriately for these prices) call Crystal Rock.
For the sum of $1,499 plus shipping, Swissvax will sell you a 200ml jar of Crystal Rock. Now as you'd expect it's not formulated the same as a bottle of Simoniz wax 'n wipe. It's mostly Brazilian Carnauba wax, but not just any Brazilian Carnauba wax. It is over 76% by volume "pure ivory coloured Grade one Carnauba wax from Northern Brazil". Swissvax recommends three coats. Of course when you're using such a state of the art wax for your car, preparation is vital. Swissvax strongly cautions their customers against using their products without a thorough cleaning using Swissvax Cleaner Fluid Regular – $165 for a 1000ml bottle.
Not all their products are as expensive as Crystal Rock. Their Mystery Concours wax is $799 a tub, Concorso is $329 for 200 ml, Mirage @ $199, and Onyx, their standard wax, at the bargain basement price of only $119 for about 7 fluid ounces of wax. As the price goes down, so does the Carnauba content, though even Onyx is more than 30% pure Brazilian Grade One Carnauba. Other premium ingredients are used as well. For example, in addition to chemicals like wax esters, wax alcohols, and the always fun long-chain fatty acids, the hand-made recipe includes extracts of vanilla, kiwi fruit and macadamia nut. Not only does it smell nice but Swisswax says that Mystery "creates a sensational shine experience … with a gloss that goes beyond normal perceptions of shiny".
Not just a shine but a "shine experience" that goes beyond mere shiny. Of course if shiny isn't your thing, Swissvax also has a full line of paint care products if you ordered your Lamborghini in one of those fashionable matte finishes. The complete matte paint care kit is only $430.