Aston Martin has a long history of providing factory service to owners of their cars. If you're a particularly good customer, as the Sultan of Brunei was in his car buying days, the works at Newport Pagnell will even dispatch a factory mechanic and his tools to wherever your Aston might be disabled. Once they discovered that one of the Sultan's cars had simply run out of gas. Considering the Sultan's wealth is based on petrodollars, that's about the definition of ironic. Less well healed (but still wealthy) Aston owners send their car back to the factory, or "works" as they are called in the UK. What is now called the Aston Martin Works Service traces its origins to 1924 and today owners of up to 2,500 Aston Martin cars return their cars to the factory every year for service, repair or restoration.
Aston Martin has also long had a bespoke program, where customers can order their new cars to be built with custom interior materials and custom paint. As part of a significant expansion of Aston Martin Works Service, the exclusive British automaker will now offer their "Works Tailored" program, which will provide the same bespoke service to owners of used Aston Martin and Lagonda cars.
From creating unique colours, materials and finishes through to integrating the latest additional technology, Works Tailored provides customers and their Aston Martins of any age with a route to take an idea through to a crafted and thoroughly engineered reality.
Essentially, A-M is setting up a factory shop that will compete with custom and tuning shops. Hopefully, they'll come out more aesthetically pleasing than some custom cars.
The "Works Tailored" program makes a lot of business sense. If people are willing to pay companies like Galpin or West Coast Customs big money to customize and accessorize their Astons, they might be willing to pay even more if the customization comes with the provenance of "factory installed". To be honest, though, I've long felt that the "bespoke", "personalization" and "carrozzeria" programs at the high end car companies risk harming those brands. We've all seen custom cars that only the customizer could love. Brands stand for something and if a company will do whatever I want, it strikes me that they're building a Schreiber, not a Ferrari. I'd hope that the crew at Newport Pagnell would have a bit of taste and discretion and try to urge their custom customers away for tasteless and ugly things. That "factory" approbation should mean something. In the case of A-M they stress that the Works Tailored program will work closely with the engineers and designers creating new Aston Martins.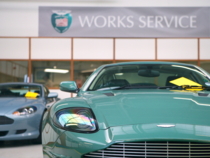 For those that want the ultimate in a "factory" car, by the way, Aston Martin Works Service will also house a new factory owned and operated dealership at Newport Pagnell. Though the company says that the new store will "strengthen" the UK network of 20 existing A-M dealers, I'd be interested to hear what those dealers think about competing with the factory for new car sales. California Chrysler dealers weren't happy when that company set up their own factory outlet near LA.