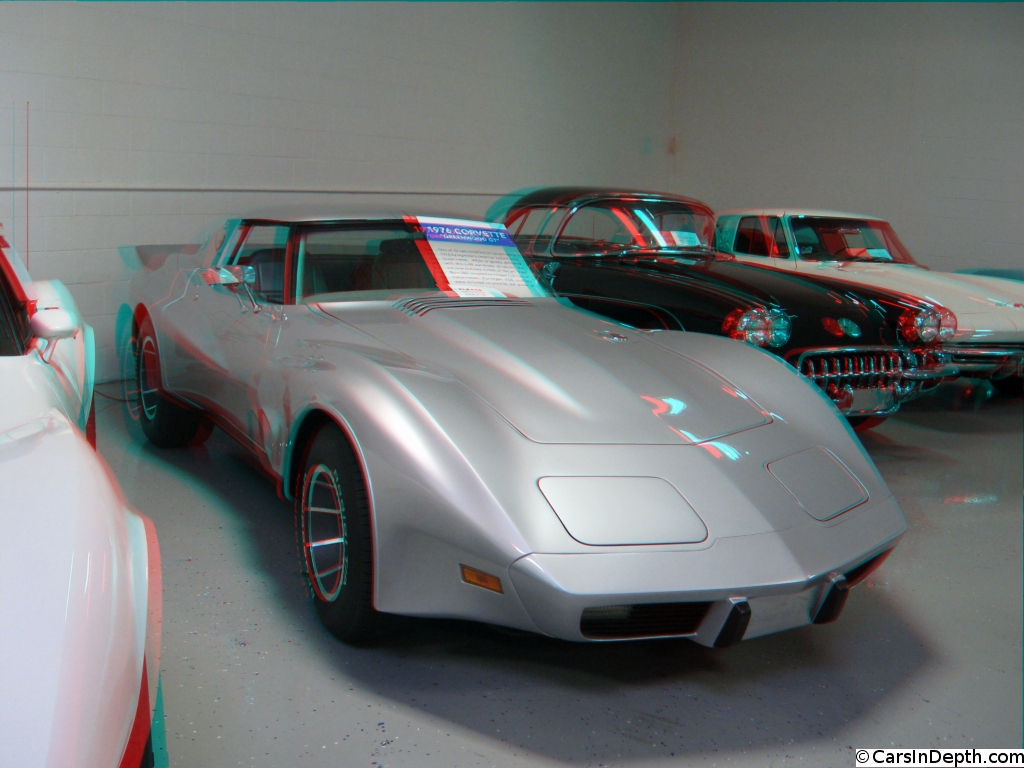 Click on the anaglyph stereo 3D image to launch a Flash player and view the entire gallery of photos in 2D or your choice of S-3D formats.
If you say the phrase "Lingenfelter Corvette", most people will think you're talking about one of the high performance modified Corvettes sold by Lingenfelter Performance Engineering. The Lingenfelter Collection, Ken Lingenfelter's personal collection of high performance sports cars and muscle cars, has a few Lingenfelter branded 'Vettes, it's true, but they are only  a fraction of the comprehensive selection of Corvettes in the collection. Considering the amount of horsepower in the building, it's surprising that  Ken Lingenfelter's first Corvette was a malaise era, emissions crippled 180 horsepower white coupe from 1977. He still owns it but it's been joined by some much faster examples of the plastic fantasticar . Though there are about 180 cars in the Lingenfelter Collection, it's clear that Corvettes are nearest and dearest to Lingenfelter's heart. Over a third of the collection is made up of various types and vintages of America's sports car, including some very historically significant pieces.
There's the "Duntov Mule" we've already featured, the first, experimental, V8 Corvette. Another experimental car is the 24th Corvette ever built, a 1953 model that McCulloch fitted with a supercharger, hoping to get some business from Chevrolet. Instead, the company went with Ed Cole's small block V8 to give the Blue Flame Six powered 'Vette some go to go with the show. There's a 1954 that you might think was a mild custom, with unusual trim pieces, but it's really an internal GM Styling study with some items that never made it to production. Every generation of Corvettes is represented, with two big block Sting Rays, a 1996 Grand Sport C4, Lingenfelter modified C5s, and a carbon fiber bodied Pratt & Miller C6RS being just of few of them. No matter which Corvette is your favorite, you will find a special version of it in the Collection. Like Ken told me, each car has its own story. My favorite Corvette in the Lingenfelter Collection is a C3, a 1976 Greenwood GT. During an era when the street Corvettes were anemic, John Greenwood flew American motorsports colors with his wild widebodied racers, painted in American flag motifs. He also sold conversions for street cars. Lingenfelter's Greenwood GT is one of only 22 made that year. The Greenwood's almost comically wide fenders dwarf those of Ken's first Corvette, the '77, sitting next to it, but they have always seemed to me to an iconic (in the true sense of the word icon) distillation of the essence of Corvette. That makes some sense since Greenwood's racing team was the unofficial factory Corvette racing effort and the aero downforce creating body was shaped with guidance from GM.