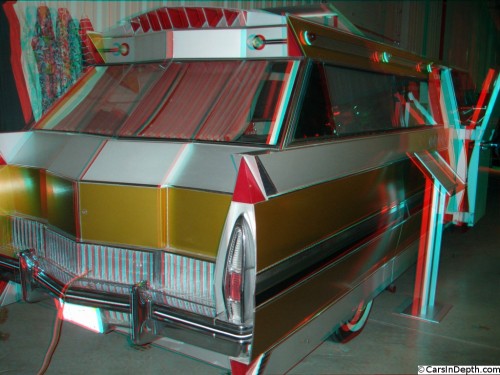 Click on the anaglyph stereo 3D image to launch a Flash player and view the entire gallery of photos in 2D or your choice of S-3D formats.
A while back, Marty Densch reported on the collection at the RV/MH Museum and Hall of Fame in Elkhart, Indiana.
One of the oddest vehicles on display is the Star Streak II,  a custom made aluminum-bodied motor home built by Paul Jones of Cape Coral, Florida.  The Star Streak II is sits atop a 1976 Cadillac Eldorado chassis and is powered by a 455 cubic inch Oldsmobile Toronado V-8 and front wheel drive train.  At 84 inches high, the outrageously styled RV was designed to fit in a standard garage yet contain all the creature comforts of a larger, more cumbersome motor home.
On my recent tour of car museums in western Michigan and northern Indiana, I had an hour to kill waiting for the Studebaker National Museum to open. Since I was staying in Elkhart, I decided to visit the RV/MH museum and get some 3D pics of the Star Streak II and other vehicles in their collection for your enjoyment.