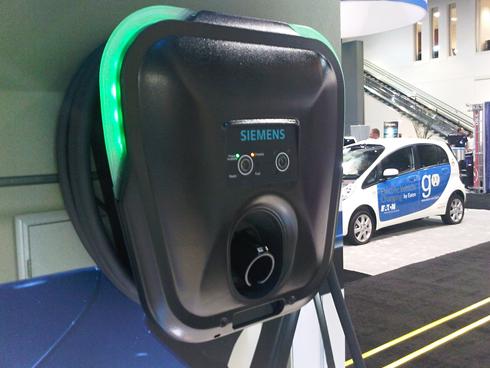 Siemens VersiCharge charging station, like the one installed in a home garage that burned in Moorseville, NC.
After a house fire in Mooresville, NC which started in the home's garage was traced the the area near a charging station for an electric vehicle, WSOC-TV reported that Duke Energy, which installed the Siemens built charging station, has warned customers to not use similar units while the investigation into the fire proceeds. When fire investigators went through the burned out garage, they found a Chevy Volt plugged into the 240 volt station, the second garage fire reportedly involving a Volt. Since it was not the only electrical appliance plugged in that area of the garage, the charging station may not be at fault. The Iredell County Fire Marshal's office said, "The charging station was in the known area of origin, but the cause of the fire has not been officially determined."
Though the brand of car in the garage was not mentioned in the news reports, since General Motors is joining Siemens, Duke Energy and the US Dept. of Transportation in the investigation, I think it's safe to assume that it's a Chevy Volt. This apparently the second garage fire that has consumed a Chevy Volt. Last April, the garage of an EV enthusiast in Barkhamsted, Connecticut burned both a Volt and a homebrew EV conversion of a Suzuki Samurai. At the time, GM investigators said that the fire did not start in the Volt.
The charging station at the Moorseville home was installed as part of a pilot program at Duke Energy that offers them to customers in North and South Carolina.  County officials say that permits have been issued for at least 29 charging stations in and around Charlotte, some at private homes, others at parking decks.  I presume the "at least" part means that single permits are drawn for multiple chargers in one location. Duke CEO Jim Rogers has been an advocate of EVs and the installation of more chargers in Charlotte in time for the Democrat's national convention, which will be held in that city in 2012.