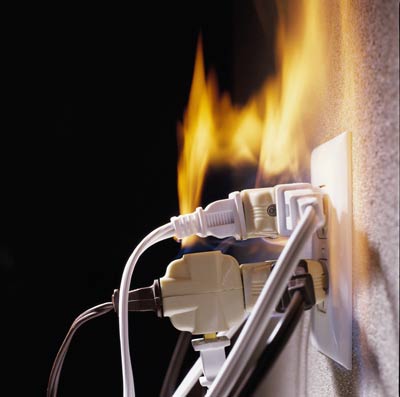 Though the investigation is still in its earliest stages, ABC News reports that the weekend house fire in North Carolina involving a Siemens EV charging station and a Chevy Volt has led to Duke Energy telling an additional 100 customers in Indiana to stop using the charger until the investigation is completed. Earlier, Duke Energy had issued the warning to about two dozen customers in the Carolinas. The chargers had been installed by the utility company. Though Duke Energy insists that "there is no reason to believe" that the fire started with the charger, because the conflagration started near the charger, they were issuing the warning due to "an abundance of caution".
Investigators from Duke Energy, Siemens, General Motors and the US DOT joined Iredell County Deputy Chief Fire Marshal Garland Cloer at the scene of the fire earlier today. Fire officials noted that the charger was not the only plugged in electrical appliance in the garage. Cloer said that the investigation would take a while and that they needed several days just to clear the scene.
"From the electrical wiring to the house, to the vehicles, to anything in the garage, it could have even spontaneously combusted. We won't know until we sift through it and find all the evidence that we can find."
In Washington, the National Highway Traffic Safety Administration (NHTSA) issued a statement saying that the agency is monitoring the investigation and will issue its own analysis as well. NHTSA has been looking into the fire safety of lithium-ion batteries that are used in the Volt and other EVs.