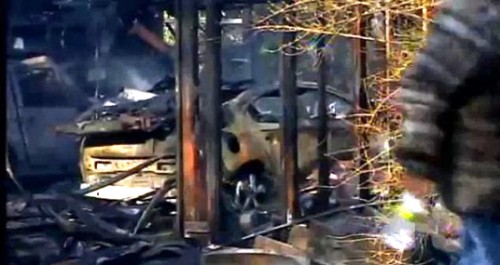 Chevy Volt that burned in an earlier Connecticut fire. The Volt was determined to not be the cause of that fire.
Fire officials continue to pore over the site of a house fire in suburban Mooresville, NC to determine if the blaze, which started in the garage, was caused by an electric vehicle charging station, the electric car that it was charging, or some other source of ignition. Duke Energy, the utility which installed the Siemens built charger, tried to reassure customers about the safety of that unit, as fire officials made it clear that the fire might have had nothing to do with the EV, a Chevy Volt, or the charging station.
Duke Energy has installed 125 of those stations in the Carolinas and Indiana, and the utility monitors their use. WBTV reports that Paige Layne, a Duke Energy spokesperson, said
"We do feel confident that the [Siemens] device has a number of safety features built into it.. that's one of the reasons we went with this device. They're being installed all over the nation and from what we understand there has been no issues with the devices. So we are confident in the device."
The county fire marshal won't announce the fire's cause until after the investigation, which will take several days, concludes. Fire officials point to a number of possible points of origin in the garage besides the EV and the charger. There were other electrical appliances plugged into outlets in the garage at the time of the fire. Other possible causes suggested were spontaneous combustion or faulty electrical wiring in the home between the charger's receptacle and the circuit breaker box.
Cars In Depth didn't break this story but it was the first car site that mentioned it. An excerpt was posted at PJ Lifestyle, and Glenn Reynolds at Instapundit linked here as well. Since then, the story has been picked up by a number of sites, not all of which got it right. Though our original post made it clear that the investigation was proceeding and that the cause wasn't known, a number of the sites that linked to our post blamed the fire on the Volt or on the fact that EVs are "not safe". So far we don't know the cause of the fire and it's irresponsible, no matter how you feel about General Motors, the Chevy Volt, the government's bailout of GM, it's not fair, at least based on what we know right now, to jump the conclusion that the Volt or the Siemens charger caused the fire. Fire investigators are pretty good at what they do. When those investigators do release the results of their investigation, whether the cause was the Volt, the charger, or because they had 500 strings of Christmas lights plugged into one outlet, we'll let you know here when that news becomes available.