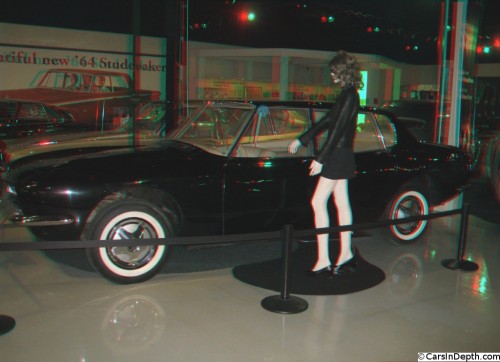 Click on the anaglyph stereo 3D image to launch a Flash player and view the entire gallery of photos in 2D or your choice of S-3D formats.
Note: I apologize for the low lighting on the photos and tried to brighten a couple of them so you can get a better idea of the car's lines. Shooting pics in a museum is like shooting in a cave and this was a black car in a dark room. I'm going to look into getting some supplemental lighting for when I visit museums.
This 1962 notchback sedan prototype designed by Raymond Loewy's studio was one of two built to study the feasibility of a series of Studebaker automobiles using the Avanti's styling themes. My guess is that Sherwood Egbert saw these as upmarket compliments to the smaller sedans and station wagon that Brooks Stevens was commissioned to design. The other Loewy concept is the gold fastback sitting next to this one at the Studebaker National Museum in South Bend. Both cars were constructed in France by coachbuilders Pichon-Parat and based on a stock Studebaker chassis and drivetrain, I believe from a Lark. The car's body was built entirely by hand, with some parts sourced from Studebaker's parts bins. To save on costs, all the windows but the driver's were fixed and made of plexiglas. Also as a savings, the car was made as a two door on one side, and a four door on the other, not as a planned 3-door model, but rather to try out both body styles on a single prototype. These larger cars were distinguished from the proposed 4 door Avanti, the body shell of which sits in the museum's basement.