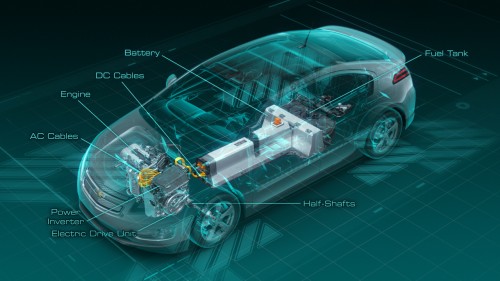 As Duke Energy, GM, Siemens, USDOT and local fire officials continue to investigate a North Carolina house fire that started in a garage housing a Chevy Volt and Siemens charging station, word comes from Bloomberg that NHTSA, the National Highway Transportation Safety Administration, is looking into the safety of lithium-ion batteries used in electric cars after a crash tested Chevy Volt ignited and burned while sitting in a NHTSA storage lot.
Three weeks after that Volt had undergone a side-impact text, the EV's battery caught fire, burning that car and other vehicles parked nearby. Obviously, this doesn't have much to do with the safety of Li-ion batteries in normal use since the car and its systems were heavily damaged in the impact test. The Volt uses a highly sophisticated battery management system that regulates battery temperatures as well as the state of charge. GM says that the Volt's battery and related systems have undergone close to 300,000 hours of testing. That's the equivalent of over 30 years.
NHTSA has conferred with all automakers that either sell or have plans to sell Li-ion powered cars in the US about potential safety issues following collisions. The agency's concern is for the safety of first responders and drivers following crashes, not over the safety of EVs in general.
"Based on the available data, NHTSA does not believe the Volt or other electric vehicles are at a greater risk of fire than gasoline-powered vehicles. In fact, all vehicles — both electric and gasoline-powered — have some risk of fire in the event of a serious crash."
A spokesman for GM blamed the fire on NHTSA not following the automaker's suggested protocols for the EREV and its battery in case of a collision. Had the safety protocols been followed, GM said that there would not have been a fire. EVs are not unique in that regard. Conventional gasoline and diesel powered vehicles have their own safety protocols to follow in the event of an accident.