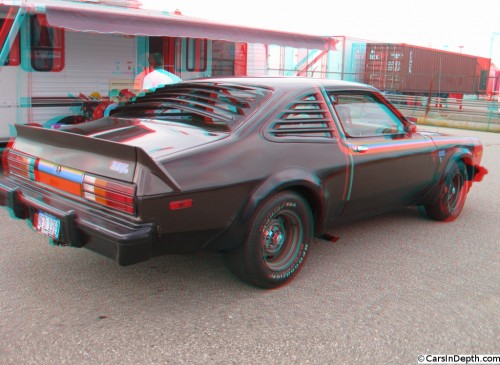 Click on the anaglyph S3D image to launch a Flash player and view the entire photo gallery in 2D or your choice of stereographic 3D formats.
Murilee has a Junkyard Find post over at TTAC about a black bumper 1975 MGB that he says is "the most depressing car of the entire decade of the 1970s, and that's including the Vega." While the 62.5 HP, jacked up, rubber bumper MG was certainly a nadir of British car building, England wasn't the only place car companies were trying to give the resemblance of performance as they struggled with new government regulations on bumpers and emissions. At first glance this Dodge Aspen Super Coupe is a bit cartoonish but it takes us back to a time when every car maker tried to imitate the "screaming chicken" Firebird TransAm.
If AMC could make the Hornet AMX in 1977, Chrysler could throw fender flares, rear window slats and a spoiler at the Aspen and Plymouth Volare, their downsized midsized cars. Chrysler experimented with different performance brand names in the late '70s. In 1978, they settled on Super Coupe, available in Crimson Sunfire Metallic if you preferred a Plymouth Volare, or Sable Tan Sunfire Metallic if you were a Dodge guy or gal. They were one year models with about 500 of each being made.
The A67 Super Coupe package included GR60 (roughly 245/60) Goodyear GT radials on wider than stock 15×8 wheels; heavy duty suspensions with rear sway bars; fender flares; front and rear spoilers; rear and side window louvers; matte black trim, grille, bumpers, hood and roof; three-color (orange, yellow and red) stripes; and 360 cubic inch V8 with a four barrel carb.
The Super Coupes may look cartoonish but they were actually credible performers, faster than the  L82 Corvette, Z28 Camaro and Trans Am Firebird.
| Car (all with automatic trans) | 0-60 | 1/4 mile | Official Top Speed* |
| --- | --- | --- | --- |
| 1978 Volare Kit Car 360-4 | 7.3 sec | 15.9 @ 88 | 111 |
| 1978 Aspen Super Coupe 360-4 | 8.1 sec | 16.7 @ 85 | 108 |
| 1977 Aspen 360-2 HD | 8.6 sec | 17.4 @ 86.1 | 115 |
| 1977 Camaro Z28 350-4 | 8.6 sec | 16.3 @ 83.0 | 105 |
| 1977 Corvette L82 350-4 | 8.8 sec | 16.6 @ 82.0 | |
| 1977 Trans Am 400-4 | 9.3 sec | 16.9 @ 82.0 | 110 |