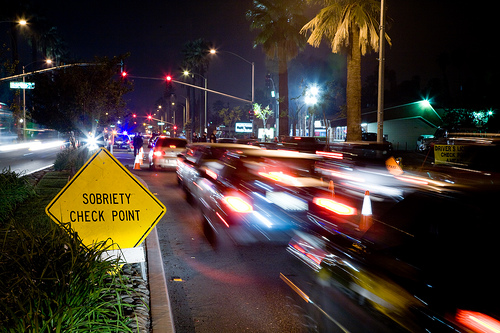 Drunk driving enforcement in this country has become a racket. It's not about safety, it's about money. Actually, the drive over the past two decades to lower the legal limit of alcohol for drivers has likely made traffic less safe. It has undoubtedly, though, put millions of dollars into the coffers of various jurisdictions via fines and vehicle confiscation. Additional millions have lined the pockets of police officers via overtime pay to appear in court and to man sobriety checkpoints.
The cynic in me says that as long as police officers and municipalities see drinking drivers as cash cows and hide behind the fig leaf of "traffic safety", arbitrary standards based on BAC will continue even though they may be counterproductive. In fact, after there was a national push by Mothers Against Drunk Driving to lower the legal BAC limits nationally from 0.10% to 0.08%, backed up by federal pressure on states, alcohol-related traffic fatalities went up in 2000, after 20 straight years of going down. That increase shouldn't have been surprising. The push for a de facto national limit of 0.08% came after a 1995 NHTSA study already showed that some states that lowered the BAC limits were less safe than before. Those lower limits may have meant a windfall of revenue to jurisdictions and individual police officers, but they didn't necessarily make us any safer. They may have led to more booze related driving injuries and deaths.
How do lower BAC limits mean more alcohol related accidents?  Because those lower BAC limits in most cases led to the institution of sobriety check lanes, legal in all but 9 states. Assuming that the purpose of those checkpoints is genuinely to catch drinking drivers and not just put money into municipal coffers and cops' pockets, I think it stands to reason that the rationale is to catch those drinking drivers that conventional on the road enforcement wasn't catching. The idea, I suppose, was that if you check every driver, you'll find the ones who have been drinking but aren't impaired enough to catch attention from police or other drivers. In other words, the purpose of the check lanes is to catch drivers who aren't driving dangerously, except for the fact that they have a particular amount of alcohol in their system.
Most drivers that have a BAC of between 0.08 and 0.10 percent are not driving badly enough to catch attention from police. They may be buzzed but they aren't swerving, speeding badly, or failing to keeping up with traffic. When police are busy at a sobriety roadblock or setting up surveillance near restaurants and bars, they are not out on the roads trying to find more dangerously impaired drivers. Yes, they get some folks on the cusp of legal intoxication, generating lots of revenue in the process, but they don't make the roads safer. A nighttime sobriety checkpoint might take more than 20 police officers away from tasks that actually make our roads safer. Only nine states don't allow suspicionless sobriety checkpoints.
Using 2009 data collected by the University of California at Berkeley, California Watch showed that 1,600 sobriety checkpoints yielded 3,200 DWI arrests. An typical checkpoint would yield only two or three drunk driving arrests. Most of the checkpoint DWI arrests involved people close to the legal limit, rather than at high levels of intoxication. When you consider how many hundreds of drivers get stopped at each of those checkpoints, it hardly seems productive to catch a tiny number of drivers that are over the legal limit but may or may not be dangerously impaired, while at the same time seriously impaired drivers go unstopped because so much police manpower is devoted to sobriety checkpoints. Of course there are other serious crimes besides seriously impaired driving that go unchecked while the local PD or state police are busy pulling people over at checkpoints.
Well, that is, it hardly seems "productive" until you see the bottom line for the municipalities and the cops personally. Drunk driving and sobriety checkpoints are big business.  To begin with, a single DUI conviction can mean thousands of dollars of revenue for the jurisdiction that issued the citation. That's only the tip of the iceberg, though. While sobriety checkpoints don't catch many seriously drunk drivers, they do nab folks for equipment infractions or other sorts of minor crimes and they end up generating a huge amount of revenue for those municipalities and police officers that do use checkpoints. That same California Watch story revealed that those 1,600 police checkpoints may have yielded just 3,200 arrests for DWI, but they resulted in $40 million in fines, plus $30 million in overtime pay for cops and a staggering 24,000 vehicle confiscations. Assuming that there are towing and storage fees involved in those confiscations, add on even more millions that are extracted from drivers, not to mention those vehicles that end up being part of a "civil" or criminal forfeiture case.
Thirty million dollars in the pockets of cops, $40 million in revenue for their employers, over twenty thousand cars confiscated, all without much proof that seriously impaired driver have been gotten off of the roads.
In the real world we call that a racket.