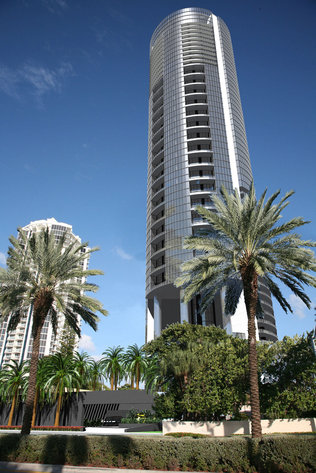 For those who like to be able to admire their automotive possessions even when they aren't driving, the Porsche Design Group is working with a Miami developer on a high rise condominium development where you will park your car right at your front door. You pull in at the ground floor and an automated system will place your car in a glass elevator. As you ride up the 57 story tower, you'll have a spectacular view of the Miami skyline and oceanfront. Once you reach your floor, still behind the wheel, another automated system removes your car and places it at your front door. Developer Gil Dezer is himself a big Porsche fan and he's not unfamiliar with storing his car in his apartment. His 1950s vintage 550 Spyder is mounted on the wall of his current 8,000 sq ft condo.
The building will be called the Porsche Design Tower and will offer 132 units, with prices up to $9 million for units between 3,800 and 9,500 square feet. The larger your unit, the more parking spaces you get, with minimum of two and a maximum of four. Three high speed elevators will service 284 parking spaces so you shouldn't have to wait. The robotic elevators are currently in use in boat storage facilities.
Residents will be able to see their cars from their living rooms and from the architectural renderings it looks like they'll also be visible from outside of the tower.
The Porsche Design Tower follows on a number of planned or built designer garages in the Miami Beach area, including 1111 Lincoln Road.