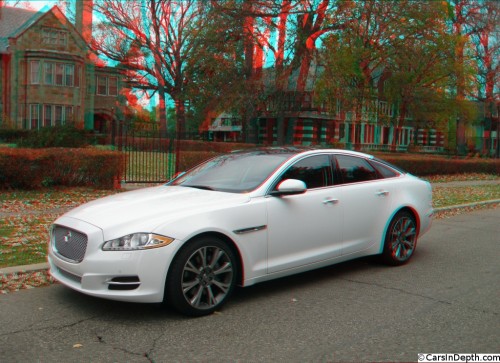 Click on the anaglyph S3D image to launch a Flash player and view the entire photo gallery in 2D or your choice of stereographic 3D formats.
NOTE: This review is a revised version of a review that originally appeared  at The Truth About Cars. In that review I erroneously said the car was a  long wheelbase XJL model. While I'm waiting for the editors at TTAC to  make the revisions, here's the corrected version.
When Jaguar of North America informed me that I'd be getting a 2012 XJ Portfolio for review, my first reaction was to engage in some mental bench racing. How would the new XJ compare to the smaller but more powerful XF Supercharged that I tested just about a year ago, and how would it compare to my dearly departed Series III XJ, considered by many Jaguar enthusiasts to be the finest of the traditional XJs. On both counts the 2012 XJ comes out favorably in the comparison.
The XJ Portfolio is the fully equipped normally aspirated version of the XJ. Other than a small handful of options like back seat entertainment and the two available supercharged engines, the test model had just about every luxury, convenience and safety feature that Jaguar offers. With transportation charges, as tested it comes in at just a tick over $82K.

The Portfolio package, a $4,000 option, gives you heated and cooled 20-way power front seats with massage, heated and cooled rear seats, navy blue leather trim with detail stitching and contrasting gray piping, suedecloth headliner and trim, plus four zone climate control with individual controls for the back seat passengers. The front seats store up to three position memories. You also get front fender vents with "Portfolio" badges. Twenty inch "Orona" style wheels, @ $875 ea. complete the optional equipment. A no charge option is your choice of wood trim, which sweeps from one back door around the front of the cabin to the other back door. The test car was trimmed in a satin finished burled elm veneer, book matched left to right. The console is finished in "piano black", and tasteful thin shiny chrome trim surrounds many of the interior elements.
Location: Walter Briggs (Briggs Body Co.) mansion, Detroit. Briggs competed fiercely with the Fisher brothers but they were neighbors in life and are also buried near each other. I'm not sure that body maker Charles Fisher would have appreciated the Pontiac Aztek parked behind his house.
Standard equipment includes Jaguar's base V8, with 5.0 liters displacement, making 385 HP, driving through a six-speed automatic by ZF, with paddle shifters that are activated when you turn the round Jaguar shifter to the Sport position. Stability control is standard as is a winter mode control. Every XJ comes with what Jaguar calls a "panoramic" glass roof.
That's Henry and Clara's place in the background. Note the green historical marker.
While the entire roof panel may be glass, the view from inside is not really panoramic. In addition to a normal sized venting sunroof over the front seats, rear passengers have a smaller fixed glass panel that can be exposed.
Blind spot monitors (which seem to be not as hypersensitive or distracting as the system on the 2011 XF), multiple air bags and active head restraints are among the standard safety features. Infotainment is handled by an audiophile quality Bowers & Wilkins audio system with Bluetooth, iPod and USB connectivity, a 30 gig hard drive, and a navigation system, controlled through a 8 inch touch screen that is as frustrating as every reviewer says it is. The XJ comes standard with a smart key and a power trunk lid. Customers and reviewers love the XF's "handshaking" ritual, wherein the shift knob rises from the console and the HVAC vents rotate to an open position. The XJ has a more traditional looking dashboard design, so perhaps to give us a little theater, in addition to the rising shifter when you power up, when you unlock the doors, the side mirrors rotate from their retracted parking position. Or maybe not. Michael Karesh tells me that the retracting mirrors are commonplace in that market segment. The smart key system worked without problems.
I've been around computers for more than two decades and I'm usually pretty good at intuiting how to use digital devices but I found the nav system to be not particularly intuitive. It took me a few aborted efforts to figure out how to get it to accept a destination once the address was entered. Well, once I managed to enter the address. The touch screen reacts slowly and you're never entirely sure each time you press a "button" that it's going to work. Sometimes a small light touch will work, other times you have to practically jab your thumb at it. Also, it's much easier changing modes from the steering wheel controls than using the mode buttons on the touch screen. They are so close to the bottom of the screen that the frame gets in your way. Fortunately for most of the basic audio and HVAC functions there are actual buttons and knobs. I'm a smartphone newbie so I can't tell you much about phone connectivity beyond the fact that once connected the XJ's infotainment system easily accessed music on my Samsung Android and the fact that it was much easier to get my phone to connect to the car than the other way around. Bottom line is that I was able to get all the infotainment functions to work and in the case of the audio system, work very well indeed, but the touch screen is a chore. Perhaps because the rest of the car is so good the touch screen and nav system stand out like a sore thumb. Either way, it detracts from an otherwise enjoyable driving experience.
The instrument panel is a TFT display, with virtual gauges. There are a couple of things that I don't like about the interior, though I suppose that I'm picking nits to do so. I don't like the way the big round HVAC vents look. They function better than most, with almost infinite adjustment, but I just don't like how they look. The other thing is that I'd rather Jaguar had fitted proper analog gauges, at least a real speedo and tach. The virtual instruments look out of place, almost faddish in an otherwise traditional looking interior. I realize the need for digital displays these days, but I think that Jaguar could have put two smaller TFT screens flanking real gauges. Also, if you're going to go with virtual gauges, at least sync the tachometer and speedometer indicators. One of the cool things about my old XJ was that at traffic speeds the tach and speedo needles were parallel and pretty much moved in sync as you went faster. If Jaguar could do that with mechanical gauges in the mid 1980s, I think they could do it with a virtual digital display. As is au courant in luxury cars, there's an analog clock in the center of the dash that's supposed to remind us of expensive wrist watches. Perhaps ironically, the analog clock is set digitally through the touch screen. Press "set" and the hands start spinning to the correct time.
Note how the grain in the burled elm wood trim is book matched left to right.
Quality control can be meaningless when it comes to prepped press fleet cars, but with that caveat, there were few noticeable flaws in the review car. Sometimes I could feel something moving around inside the driver's seat back, perhaps it was part of the built in massager, and the back window glass slopes so that there is some visual distortion that makes objects look shorter and wider than they are. Fit and finish was as you'd expect in a car of this price. Other than some rather convincing looking vinyl on the door kick panels, just about everything you touch and see in the interior was once alive, sourced either from a cow or a tree. The leather trim shows signs of being fitted by real human beings. I see those slight imperfections as a good thing. The car smells like a leather jacket factory. That's not hyperbole – my day gig is embroidery and every couple of months or so I trek down to Reed Sportwear to buy big leather scraps to use for motorcycle patches. I'm sure that my friends at Reed would admire the quality of the Jaguar's leatherwork.
The XJ doesn't just smell good, it feels good too. Car interiors are designed to fit just about 99% of people. If you can't get those 20-way seats to find you a comfortable position, you're probably in the 99th percentile. My bad back appreciated the inflatable lumbar support and massager. My love handles the inflatable bolsters, not so much. I had plenty of room in the back but then I'm not tall. If you need more room back there, Jaguar offers a long wheelbase version with 5″ more leg room for rear seat passengers. I had plenty of headroom in the back but again, I'm shorter than average. Room for my ego? That's a different question. I could get very used to driving this car.
The XJ is a fabulous looking car inside and out. That's not just my opinion. Everyone who saw it just gushed with enthusiasm. While driving the XJ, I noticed that people noticed the car. More than one person came up to talk to me about it. The car makes a visual statement. The XJ is a big car to begin with and this one came in an impossible to miss Polaris white paint.
After a week of driving, the painted alloy wheels were streaked with black brake dust.
Customers who opt for this color should invest in a coupon book at their neighborhood car wash because the bright white finish shows every tiny little bit of dirt. That's a problem because like the XF I drove last year the XJ sheds brake dust like a Siberian Husky sheds undercoat in the spring. The big rims are painted in two shades of grey, perhaps to camouflage the dust. Or perhaps not, because it doesn't really hide much of the dirt. Also, some of that dust ends up on the white paint. It's a shame, because it's really a beautiful car and its lines look great in white. Of course, in exchange for all that brake dust you get pretty effective anchors. It took a day or two of driving to get used to the somewhat sensitive pedal, but after that the brakes were easy to modulate and they retard your speed quickly. Use the brakes hard and the ABS will kick in, a bit earlier than I expected, but it's not intrusive.
Location: Edward Fisher (Fisher Body) mansion, Detroit
It's not perfect. On a white car Ian Callum's rather notorious black sail panels that visually extend the rear glass from port to starboard are hard not to notice. I've never really objected to them as some folks have, since I get what Callum's team was trying to do, but I understand those objections. Perhaps if the bottom edge of the window and those panels had extended couple of inches farther down, eliminating the slightly awkward little curl where the body meets the back edge of the side glass, there'd be fewer complaints, but I'm not going to lecture Ian Callum about car design beyond saying that I like or don't like.
Speaking of the side glass, all things considered, visibility is good. The small window behind the rear doors really helps with your blind spot. I said all things considered because this is a modern high waisted high assed car, like just about every other sedan and coupe being made today. Between the high back deck and sloping roofline that distorted rear window only fills up about half of the rear view mirror, so the standard backup camera does come in handy.
Location: Mayer Prentis (longtime GM treasurer, Alfred Sloan's right hand man) home, Detroit
The high beltline affects both the height of the back deck and the height of the front cowl. How high is it? Well, my big sister tells me that from the back seat I look like my dad when I drive, right hand bent over the top of the steering wheel, left elbow on the window ledge. Perhaps if I was six inches taller the window ledge might not be so uncomfortably high to use as an armrest. As it is, it looks like I'm trying to do the Funky Chicken. I should say, though, that the leather covered armrest on the door worked just fine. The high cowl, accentuated by that wood trim as it runs under the windshield, means that a short person like myself doesn't have a prayer of seeing the front end of the car.
Location: Alfred O. Dunk home, Detroit
Still, that didn't seem to be a problem, mostly because the XJ handles very well for a large car. Scratch that. It handles very well period. It doesn't really feel like you're driving such a big car. The fact that you can't really see the corners of the car don't really matter because it just goes where you steer it. All in all, I think the XJ may be a better handling car than the XF. The XF Supercharged had all of the XFR's suspension upgrades, and according to published tests it's a little bit quicker than the XJ Portfolio in the slalom. Ultimately the XF Supercharged is a bit more sporting, with less body roll, but the XJ Portfolio is more balanced. In long wheelbase form the XJ is a much larger car than the XF, about 5 inches of wheelbase and overall length, but its turning radius is only a foot wider than that of the XF. My perception is also that the steering on the XJ has a faster turn in than the XF. Not so quick that it makes the car feel darty, but once you get past 2 or 3 degrees from dead center, the car moves laterally with alacrity. This is one big car that can definitely get out of its own way. The speed sensitive power steering is very nicely weighted, with the right amount of effort in every case I experienced. The car is a pleasure to drive either sedately or with more vigor. It will waft with the best of them or alternatively, put the car into "dynamic" mode, which adjusts shock absorber settings and changes drivetrain mapping, and carve to your heart's content. The XJ Portfolio has a lot of grip, the same .9g skidpad results as the XF Supercharged. I had to look up that figure because I don't have a Traqmate or some other testing gizmo, but all of us have our own unofficial real world proving grounds. *Doing 60 on Providence Drive is pretty good, particularly with no tire noises or drifting. Though it doesn't have the supercharged models' active differential, the rear end is well controlled and when the dynamic stability control activates, it does so with little fuss. You have to try to break the rear end loose, and when you succeed, the DSC steps in quickly and fairly unobtrusively. Alternatively, you can just deactivate the stability control and let it hang out. Even then, there's enough grip that you have to work at getting the back end to slide. The ABS also shows a level of refinement that you might not find in cars at a lower price point. The XJ never seemed out of sorts. It drives with the composure that a longtime XJ fan expects from the marque.
Location: James Couzens (FoMoCo business manager & Ford partner) mansion
One of the things I was interested in finding out was if the stock 385HP engine was stout enough for the larger Jaguar. The XF Supercharged had 85 more horsepower, a non-trivial delta. It turns out, though, that there is more than adequate power to endanger your driver's license. The new XJ is Jaguar's most modern architecture and the body is all aluminum, magnesium and polymer composites. The XF is highly ferrous by comparison. That means that the XJ Portfolio, at just over 4000 lbs, actually weighs about 260 lbs less than the smaller XF Supercharged. Though acceleration is not as instantaneous as with the smaller, blown Jaguar, you're still capable of doing 90 mph without thinking about it as you enter the freeway. If Providence Drive is suitable for testing cars' handling, the northbound Southfield freeway just north of Eight Mile Rd just before the expressway ends is great for short high speed runs. Detroit PD doesn't patrol north of 8 Mile and Southfield cops generally won't go all the way south to 8 Mile just to do traffic surveillance on 1 mile of expressway. So you have about a mile where you can open it up as much as you are willing to do, traffic allowing of course. The XJ Portfolio is still accelerating at 115. I have no doubt that it will pull hard all the way to its electronically limited top speed of 148 mph.
Attention was paid to weight (aluminum wheel for spare tire) and weight distribution (battery mounted in the trunk).
There are signs of attention to reducing weight from front to back and in between. Under the hood, you can see the lightweight castings that are used for the suspension towers. Next to the trunk mounted battery is a dedicated space saving spare tire, with its own aluminum wheel. The body panels are a mix of aluminum and composites. Jaguar did a fine job getting uniform paint color over multiple substrates.
Location: Ty Cobb home, Detroit
There is one aspect of the XJ that it unfortunately shares with the XF Supercharged that I tested last year. Right off of dead idle, throttle response is kind of flaky. After a week with the car I decided it was probably a combination of throttle and transmission mapping to keep MPGs high. I believe that under normal circumstances, the transmission starts out in 2nd gear. At least it starts out in second when you switch it to sport mode and activate the paddle shifters so I assume that from stops, the car starts in second. You step on the gas pedal and the car kind of sits there for a fraction of a second till you get past that point on the throttle. If you're real sedate you might not notice it, and if you drive with a lead foot you probably won't either, but if you drive like Goldilocks, it almost feels like a stumble, almost. It's not something that would keep me from buying the car, but it is out of character with Jaguar's sporting ways.
Location: Henry Ford mansion, Detroit. It should be noted that the Ford Motor Co. was a success before the Model T. Completed in 1908, Ford started building this home before he introduced the T.
The XJ Portfolio also had a firmer ride than I expected. Once you enter the freeway, that's really where the XJ's ride quality shines and it evokes memories of older XJs, but with a suspension tuned for drivers, those 20" rims give the XJ a ride on Detroit's frost heaved roads that is surprisingly firm for a luxury car. Not harsh, but definitely on the harder edge of firm. It would be interesting to drive the XJ with 19" wheels to see if there's a substantial difference in urban ride quality.
Perforations allow some engine noise to reach the cabin. Big cats gotta growl.
Jaguars are luxury cars for enthusiasts so they don't entirely isolate you from what's going on outside. There's a little bit of road noise from the huge back tires, and there's a perforated panel under the hood that lets some engine noise into the cabin. Still, the car cossets you in its own way. I could get very used to driving this car.
Once out on the open interstate or on winding back country roads the skill of Jaguar's chassis tuners shows through. On the highway, the XJ Portfolio has all of the grace of old school XJs, though with a bit more pace, and at least as much space. On winding roads, the XJ is surefooted, quick, and will bring a smile to your face.
Gas mileage was about what you'd expect from a two ton car with almost 400 horses. I averaged 16.2 mpg for a bit more than a tank of gas, though most of that was not highway driving. Judging by the instantaneous readings, on the highway you should get into the 20s, maybe 25 mpg if you lightfoot it. EPA ratings are 16/23.
The suspension towers are lightweight castings that are fastened to the aluminum superstructure.
Not having driven a recent S klasse Mercedes, 7 Series BMW or LS from Lexus I can't tell you how the XJ Portfolio stacks up against its direct competitors. I can say that if I could afford any of those cars, the XJ would definitely be on my short list. Yes, the infotainment system is a bit clunky, but ultimately I judge a car on it's utility and its dynamics. The XJ Portfolio is such an engaging car in terms of performance and handling, the comfort and aesthetics so well executed, that the question of how easy the touch screen is to use becomes almost irrelevant. We all know the Lucas, Prince of Darkness jokes and historical downsides to British cars, but at the same time the Jaguar brand and in particular the XJ has always stood for a uniquely British take on sporting luxury. A few flaws notwithstanding, the 2012 XJ Portfolio is a great Jaguar, a great XJ and should be considered by anyone in the market for a full size luxury sedan.
*Very late at night with no other traffic.
Jaguar of North America provided the car for a week, insurance and a tank of premium gasoline. Detroit's historic Boston-Edison district provided the backdrops for most of the photos.