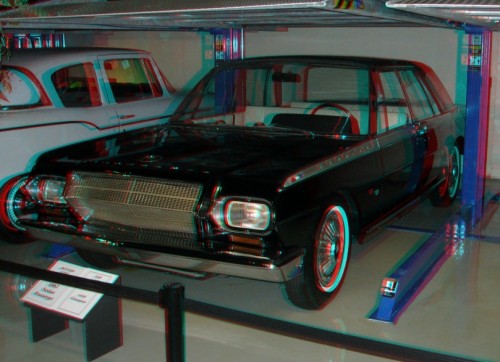 Click on the anaglyph S3D image to launch a Flash player and view the entire photo gallery in 2D or your choice of stereographic 3D formats.
Continuing with our look at what might have been had Studebaker survived, using concept cars in the collection of the Studebaker National Museum, this handsome mid-sized sedan would have been the heart of their lineup in 1967. As with the other Brooks Stevens Studebaker concepts, the Cruiser had symmetrical suicide doors, which cut costs (front right and left rear doors were identical and vice versa), and it also shares a crisp clean look with the other Stevens Studes.
An airy greenhouse with a formal roofline completes the package. According to historical accounts, Stevens was trying to evoke the look of the Mercedes Benz cars of the early 1960s, which Studebaker at the time distributed in the United States. I can see that but I also think that compared to the Cruiser, the M-B cars of that era look dated. I also think that the designers who worked for Zil, the state owned Russian company that supplied the Soviet hierarchy with limousines, cribbed some of Stevens' work. The interior is similar to the other concepts Stevens did for Studebaker, with a padded dash and cockpit style instrumentation. Another feature that Stevens liked are auxiliary globe shaped instruments including a compass, on top of the dashboard. Those are also featured on the Sceptre, which we'll look at tomorrow.