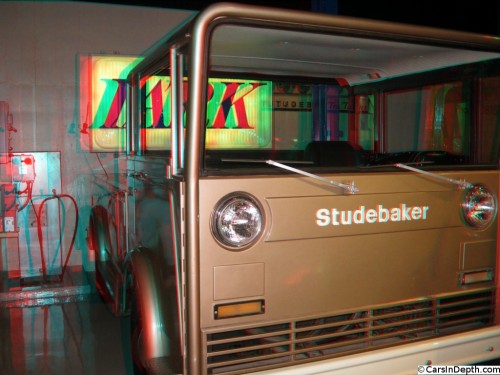 Click on the anaglyph S3D image to launch a Flash player and view the entire photo gallery in 2D or your choice of stereographic 3D formats.
As Studebaker president Sherwood Egbert tried valiantly to save the company in the early 1960s, a ray of hope appeared in the form of electrical equipment and appliance maker Westinghouse. In 1963 Mark W. Cresap, president of Westinghouse approached Egbert personally about the South Bend automaker's interest in developing and building a fleet of thousands of purpose-built appliance delivery vehicles for the company. What resulted was this pickup truck, Studebaker's last.
Start the YouTube 3D video player. Click on the red 3D icon that will appear in the menu bar to select 2D or your choice of stereo 3D formats.
Studebaker's styling head Randall Faurot's design brief was simple: make it cheap. He came up with a distinctive vehicle that used mostly flat stampings and simple construction to cut down on costs, in two body styles, a van and a pickup. Two prototypes were made, using components from the parts shelf, like the Avanti's V8 engine and three speed "power shift" automatic with manual hold. I'm guessing that a Champ pickup chassis was used. The fate of the van is unknown but the pickup was a barn find in 1982 and it now sits in the Studebaker National Museum. The vehicle's restoration was aided by the fact that when Studebaker went belly up most of the company's records were archived.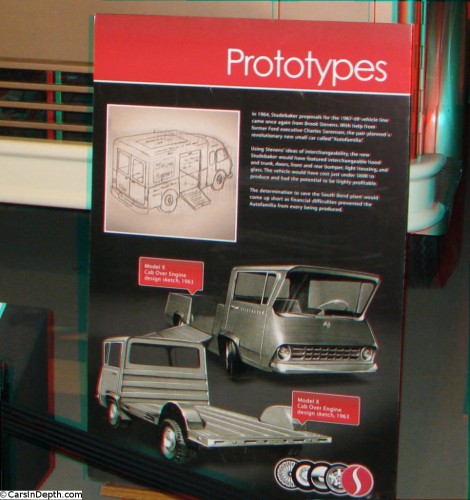 Faurot came up with a cab over design with almost no curves except for the wheel arches and headlights. The idea was to keep stamping costs to a minimum. The truck wasn't very aerodynamic with it's canted forward windshield, but then it was meant as a delivery truck, not a highway hauler. The large windshield and other glass gave great visibility.
The result looks like a cross between the 'forward control' Jeep trucks and a cab-over big rig. Actually, Faurot sketched a scaled up version as well, for use as a semi-tractor. The prototype, built under the direction of Gene Hardig, used even simpler shapes than Faurot's original sketches. The prototype pickup truck had a conventional bed but Faurot had designed it with a side loading ramp like the Corvair Rampside pickup. On the inside there is a simple instrument panel similar to the Champs, and a bus-like horizontal steering wheel.
The truck has a full size 8 foot bed, most likely also a cost cutting measure by using a production pickup bed, but because of the cab over design it's a fairly compact truck, only 168 inches overall, on a 95 inch wheelbase.
As clever and cost cutting of a design that the Studebaker Westinghouse pickup was, it was not to be. Cresap died suddenly and the Studebaker board, never at a loss for bad decisions, decided to close the inefficient South Bend factory at the end of 1963, fire Egbert, and spend the company's remaining capital on building reskinned Larks at Studebaker's Canadian operations in Hamilton, Ontario. The company limped on for three more years (and foreign licensees with knocked down kits in Australia, South America and Israel for a while afterwards). Studebaker survived for over a century, making wagons, carriages, electric cars and then conventional automobiles, but in 1966, after 114 years, the company closed its doors.