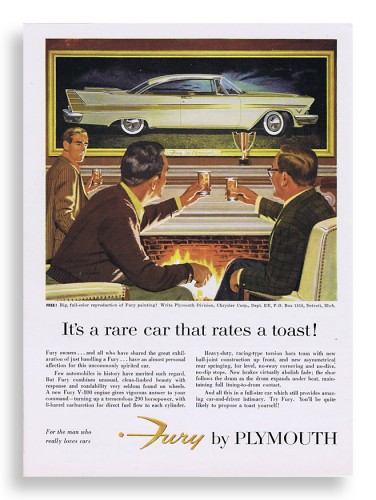 Virgil Exner Sr has been treated somewhat unfairly by history. Yes, some of the designs that he rendered himself or that he oversaw as head of Chrysler styling make the nickname "Virgil Excess" seem appropriate. His best work, though, influenced other designers and had a purity of line and a design cohesion that his contemporary designers at GM and Ford rarely matched. Though Exner had been in charge of Chrysler styling for a while, it was the 1957 "Forward Look" Chrysler, Dodge, Plymouth and DeSoto cars that were the first production cars to bear his full personal stamp. Based heavily on the Flite Sweep concepts of 1955, the '57 Mopars created a firestorm within the auto industry, and put Chrysler at the head of the Detroit pack styling wise, briefly taking the lead from GM.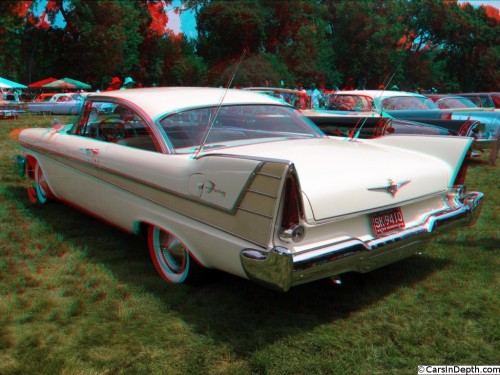 Click on the anaglyph stereo 3D image to launch a Flash player and view the entire gallery of photos in 2D or your choice of S-3D formats.
From what we see at car shows it's easy to think of the '57 Chevy as an influential car, but it was Exner's '57s that really caught that attention of the competition. We see a lot more '57 Chevy's than we do '57 Chrysler products, so it's easy to fall into the assumption that the '57 Chevy was an influential car. To begin with, Chevrolet sold a lot more cars than any of the Chrysler brands. In terms of what we see today, that larger production means more survivors to begin with, but also the '57 and '58 Chrysler cars, as leading edge as their styling was, were very prone to rust. Before they turned to iron oxide, though, they had an immediate impact on the auto industry. Designers around the world took notice, but in Detroit the influence was hard to understate. Exner's '57s caused a palace revolt against the soon to retire Harley Earl, who headed styling at General Motors.
Dave Holls, who at the time was a Cadillac designer and later co-authored A Century of Automotive Styling with Michael Lamm, described the impact that the Forward Look cars had at GM.
"We had all our clay models for 1959 finished in early 1956. … [T]hen we saw the 1957 Chryslers. They were light and fresh in appearance; for the first time we thought Chrysler had outdone us. We started a revolution, scrapped the existing clays, broke all the rules in the place. …"
At the time, their boss, Harley Earl was out of the country, in Europe. In 1990, Holls described Earl's reaction when he got back to Detroit.
"Nobody knew what Earl would think of our 1959s. We asked ourselves, 'Will he go through the roof?' We ended up in the courtyard of the General Motors Design Center with our 1959 design models and the 1957 Chryslers side by side. Earl was so shocked he didn't say anything at first. He approved our designs, but after that he felt the place had passed him by."
So the 1957 Chryslers were special. While collectors particularly prize the Chrysler 300C with its Hemi engine, it was the Plymouth Fury that many feel was the purest expression of Exner's design philosophy. Today it's better known as Christine, the evil, possessed car of Stephen King's horror novel of the same name but back then the Fury inspired envy, not fear.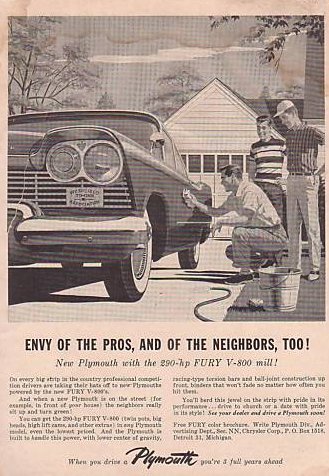 Plymouth's marketers knew they had something special on their hands. They even commissioned a painting of the Fury and featured it in ads, with men raising their glasses to the Fury painting mounted above a fireplace mantle. In the 1950s  automotive advertising assumed that men made most car purchases. "It's a rare car that rates a toast!" was the ad's headline and it's tagline was "For the man who really loves cars"*. Chrysler even offered free reproductions of the painting to all who mailed in to a Detroit post office box for one. That post office box in Detroit no longer exists. Neither does Plymouth, shuttered as Chrysler approached bankruptcy. The few Furys that have survived, though, are valued collector cars that epitomize late 1950s American style.
*But apparently not as much as this guy.