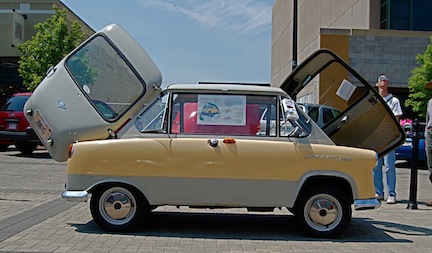 With its motorcycle sales in decline in the mid-1950s, German manufacturer Zündapp decided it was time to expand its horizons and try its hand at building cars.  Hey, it worked for BMW, right?  Unfortunately, it didn't work out so well for Zündapp.
The Janus 250 was the result.  It was based on the Dornier Delta, a prototype that was built by German aircraft manufacturer Dornier and featured a 250-cc one-cylinder, 14-horsepower engine mounted in the middle of the car.  Top speed was a mere 50 mph, though at the time European roads were full of little cars that couldn't go much faster than that.
The most unique features of the car were its front and rear mounted doors and its rear facing back seat, making it almost perfectly symmetrical front-to-back.  The car was named for the Roman god Janus who is depicted with two faces, one looking forward and one looking back (and for whom the month of January was named).
Though not very powerful or fast, the Janus was quite fuel efficient and its seats folded flat to form a rather large bed.  Its center-mounted engine should have made for 50/50 weight distribution and neutral handling but it was so light that those characteristics could change dramatically depending on how the vehicle was loaded.
Zündapp produced only 6902 of these unpopular little cars over an 18 month period before giving up and selling the factory to Bosch.  The Janus now has the distinction of being named one of the 50 worst cars of all time by Time magazine.
This one is owned by Jim Janecek, editor of Micro Car News.  It was displayed at a micro car show in Racine, Wisconsin in the summer of 2008.