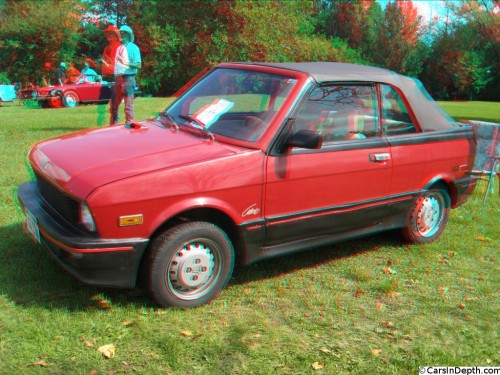 Click on the anaglyph stereo 3D image to launch a Flash player and view the entire gallery of photos in 2D or your choice of S-3D formats.
The Yugo is a punchline to many automotive jokes, sometimes called the worst car in history. Still, Malcolm Bricklin sold hundreds of thousands of Yugos to American consumers looking for cheap transportation. Of course that was the first year the Yugo was sold in America and in the mid 1980s a new car for less than $4000 was considered a bargain. Well, it was considered a bargain till consumers realized that maybe it wasn't such a good idea to have indifferent socialist workers assemble an aging malaise era Fiat platform. The worst of both worlds.
All you have to do is look at the rippling on this Yugo Cabrio's bumpers' plastic cladding to understand just how cheaply the Yugo was made. Yes it's a 25  year old car, but how many other 25 year old cars have trim that looks that bad? Though more than a quarter million Yugos were sold in the first year of sales, few have survived in America. If anything, the Zastava built Fiat 127s rusted even faster than their Italian cousins. So today Yugos are rare. Convertibles generally don't last as long as closed cars do. A leak in the roof or back window virtually assures that the tin worms will attack from both sides of the sheet metal. A Yugo Cabrio, then, is pretty rare. One that's actually in decent enough shape to display at a car show is rarer yet. From the Illinois license plates it looks like this Yugo was driven almost 300 miles to make the Orphan Car Show so I'm sure that the owner is proud of it. The Orphan show is appropriate for a Yugo. There were plenty of other makes like Corvairs and AMC Pacers whose owners also relish their cars' oddball status. Just remember, in 25 years, the automotive joke on your driveway might become a show car.