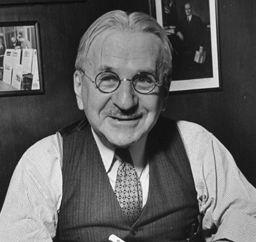 On this day in 1942, Albert Kahn died in his home on Mack Avenue in Detroit. Kahn and his associates can be said, with little exaggeration, to have built Detroit. In the early part of the 20th century the architect designed new factories for Packard, Ford and General Motors, changing American industry as car makers moved to large scale mass production. Kahn's factories didn't just facilitate production. They were nicer places to work than the previous "mill" style of factories, narrow multistory wood and brick buildings that were dank and dark. Kahn's factories, made of reinforced concrete, were expansive, with large glass areas, often in "sawtooth" roof profiles, to let in natural light and for air to ventilate, and they were more efficient than the old mill buidings. They also were not completely utilitarian, with simple but effective decorative elements on the exteriors. Kahn's factories are the stuff of legends like Ford's Highland Park and Rouge complexes, and Detroit's magnificent ruin, the Packard plant on East Grand Blvd. Kahn's influence, though, extended far beyond Detroit's Eight Mile Rd. border. Like many US industrialists, Kahn did business with Stalin's USSR, building over 500 factories in Russia during the Great Depression.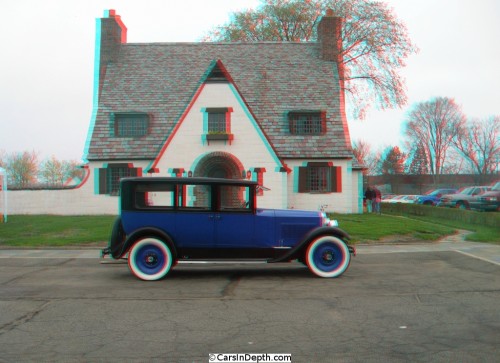 Packard Proving Grounds Lodge
Click on the anaglyph stereo 3D image to launch a Flash player and view the entire gallery of photos in 2D or your choice of S-3D formats.
Albert Kahn didn't just design huge factories though. He designed a number of small plants for Henry Ford's Village Industries project. He and his firm, Albert Kahn Associates also designed many of the fine homes that are in the Detroit area, as well as museums, theaters, auditoriums, houses of worship and schools. While Kahn's association with industry on a large scale is well known, one of his masterpieces has to do with the arts: acoustically perfect Hill Auditorium, on the campus of the University of Michigan in Ann Arbor (where the Kahn firm designed many of the other buildings, like the Rackham Graduate Library, named after Horace Rackham, FoMoCo lawyer and investor).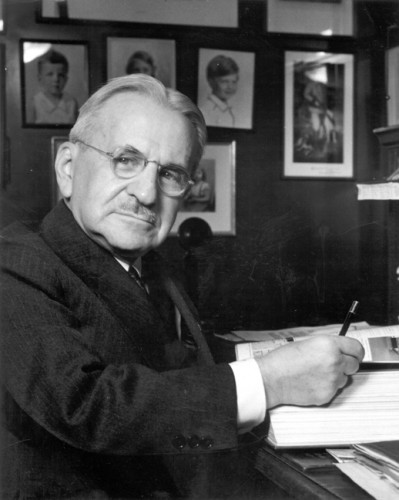 Obviously, Albert Kahn had a very close business relationship with the Ford Motor Company and also designed Edsel and Eleanor Ford's estate on the shore of Lake Ste. Claire. Yet after Henry Ford's newspaper, the Dearborn Independent, started publishing an anti-semitic series called The International Jew, with Ford's encouragement, Kahn, the son of a German rabbi, refused to do business with Henry Ford personally. He would continue to design factories for Ford Motor Company, and deal with Edsel, but Kahn expressed his displeasure with the senior Ford's Jew-hatred by no longer meeting with him personally.
To celebrate Albert Kahn, we have some photos of the Ford Village Industries sites that he designed, along with photos of the Packard Proving Grounds, about 15 miles north of Detroit. The proving grounds are the only site where Kahn designed both industrial and residential buildings. In addition to the engineering shops and garages, the site includes a lovely Tudor looking lodge where the superintendent of the Packard facility lived with his wife.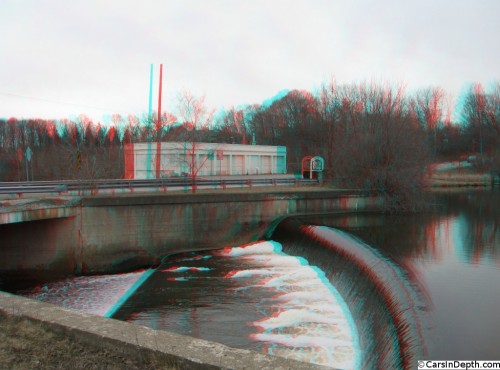 Henry Ford Village Industries Plymouth Mill
Click on the anaglyph stereo 3D image to launch a Flash player and view the entire gallery of photos in 2D or your choice of S-3D formats.