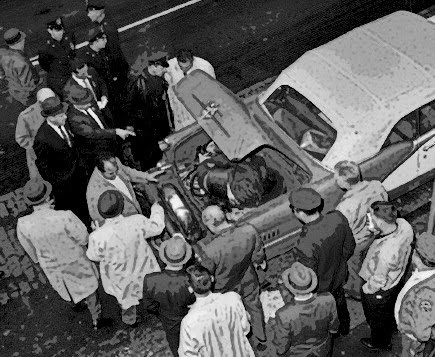 After pressure generated by the story going viral, a suburban Detroit car dealer has agreed to buy back a used SUV that apparently held a corpse in it at some time. The '06 Ford Expedition was bought last winter and as weather warmed the vehicle started to smell lot rotting flesh. The dealer, Suburban Ford, suggested that a dead animal had gotten into the car and suggested that the owner make an insurance claim. That claim resulted in a hazmat specialist determining that the smell was "of human origin". That evidence indicated that the smell predated the purchase and the insurance policy so the claim was denied. The owners turned to a lawyer who specializes in Michigan's "lemon law". That same lawyer discovered that the car had been a rental at one time and was stolen three times, never disclosed to the buyer. It's not known exactly when and under what circumstances there was a dead human body in the SUV. A lawsuit was filed in Oakland County.
Jalopnik spoke to Jim Elder, the general manager of Suburban Ford. He disputed the story and said that he has suspicions that if there was a body in the car, it happened after the dealer sold the car. When asked why they bought back the car he said it was to avoid further bad publicity. Elder also said that the car would end up being sold to another person. "We'll probably just wholesale it out," Elder told Jalopnik.
Now most car sites would stop there with some sense of outrage, but Mr. Elder has a point. The SUV is going to end up at a car auction where it will be bought by another dealer of used cars and sold to someone else. But what then? Fortunately Cars In Depth has David McDevitt, on our staff.
I asked David just how a used car dealer would handle a car that literally may have had dead hookers in the trunk or have some other Seinfeldian bad smell that affects its value. He said it depends on how thorough a job the dealer wants to do.
If the dealer is serious about it, and if the value of the car makes it worthwhile, you make a good faith effort. You strip out the interior and put in new carpet and insulation. Power wash the seats. Do something about the door panels. Put odor killers into the ducts and recirculate air through them for about an hour or so. Then you also can use an ionizer.

Me, I just spray a few whiffs of 'no scent' into the vehicles. Close the door. Wait a day. Repeat until the 'no scent' smell overpowers everything else.
Apparently it takes more than just a little baking soda.