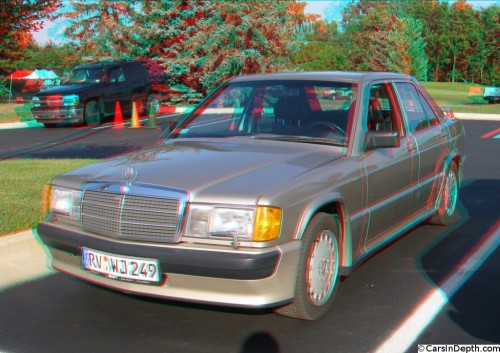 Click on the anaglyph stereo 3D image to launch a Flash player and view the entire gallery of photos in 2D or your choice of S-3D formats.
This "Cosworth Benz" was in the parking lot at the 2011 Concours of America. A while back Jack Baruth reviewed the high performance baby Benz over at The Truth About Cars. Jack is a good person to talk about the car since he participated in the 2005 edition of One Lap of America in a 190E 2.3-16 that he had rebuilt specifically for that rally/race. Jack knows more about cars than I do and he's a better writer than I am so even if he didn't have a personal connection to the Cosworth Benz, I'd still point you to his review.
– RJS
The 2.3-16 languishes in Craiglist ads, covered in rust, fraught with deferred maintenance. Shame.

Still, the 190E 2.3-16 had an illustrious competition history. Ayrton Senna was one of the first to race the model, driving to victory at the Nurburgring in 1984. Two decades later, the 190E would complete its time in the racing spotlight with a rather less celebrated pilot.

In February of 2005, I hired Benz maestro Aaron Greenberg to rebuild a 236k-mile basketcase 190E 2.3-16 for that year's One Lap of America. Eight thousand dollars' worth of parts and hundreds of hours spent in bodywork and labor later, Aaron delivered to me a car which performed more or less to 1986 European spec. In the One Lap dragstrip trial, it turned a 17.839-second quarter-mile, good for seventy-ninth place and just ahead of a non-turbo PT Cruiser.