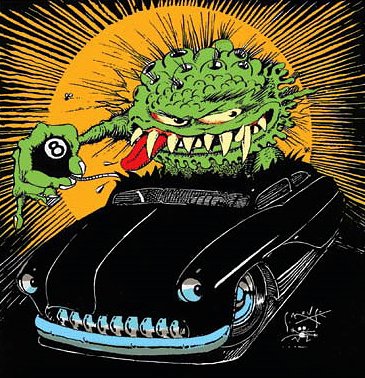 If you have ever enjoyed a drawing of a wild hot rod, put together a plastic monster kit as a child, or wore a t-shirt embellished with automotive art, you probably owe a debt of gratitude to Stanley Miller, better known as Stanley Mouse, of Mouse Studios. His seminal role in hot rod culture, though, is not that well known because his early success in automotive art was greatly eclipsed by his later work associated with rock 'n roll. In 1960s San Francisco, Mouse, on his own and with his artistic partner Alton Kelley, created concert posters and album covers that literally changed the face of commercial art. Styles and motifs that Mouse either originated or revived have become so commonplace that his influence can now be widely seen in the work of graphic artists that may not even realize they are channeling Mouse's work.
If I told you that a graphic artist associated with the California music scene was significant to car culture, you might guess the genre was surf music. The Beach Boys as well as Jan & Dean both sang about their love for fast cars and put custom hot rods on album covers. You wouldn't expect some tie-dyed Deadhead hippy freak to have been a gear head. Hippies drove VW Buses, not monster hot rods. But Mouse indeed got his start penning cars and grew up in the Detroit area, where cars and culture are interchangeable. Actually, if you read Tom Wolfe's The Pumphouse Gang, there was considerable overlap between the sufer, hippy and gearhead cultures in southern California in the 1960s, so perhaps Mouse's transition wasn't that surprising.
Getting back to Mouse's story, disappointed by his "slave wages" working as an animator for the Disney studios, Stanley Miller's father moved the family to Detroit. Wages in the Motor City were better than in southern California at the time, and the senior Miller found work as a grocer and as a sign painter. Stanley inherited his father's artistic talent and in junior high, he filled notebook after notebook with his sketches of cars. Monster movies were big in the 1950s so the young artist also started drawing monsters. A progression to monsters driving hot rods seemed natural. Soon, Miller, who'd been nicknamed Mouse, started signing his drawings with what would become his logo, a stylized mouse.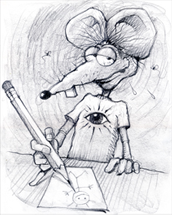 Earlier his father had been one of the first people to use silk screenprinting to decorate cotton t-shirts. He applied sign painting skills his father taught him to pin striping cars. When he got his first air brush and realized he could use it to paint shirts, his friends would line up in his back yard for him to paint monster hot rods on their shirts.
Soon Mouse was working the hot rod show circuit, selling his t-shirts. In time he was so successful that when Stanley was only 19 years old his father quit his job to manage him on the road while his mom handled the mail order business at home. At one of those shows, Ed "Big Daddy" Roth, was exhibiting one of his wild custom cars and admired Mouse's talent. Attempting to teach a potential protege, Roth told Mouse he'd show him how to make $300 in an afternoon and set up shop in Mouse's booth. They worked side by side air brushing shirts and Roth indeed made $300 and taught Mouse some valuable lessons. Mouse learned that a) he was faster with the air brush than Roth, b) that people liked how he worked in color compared to Roth's black & white, and that c) he hadn't been charging enough for his work because that afternoon he made $1,000 compared to Roth's $300.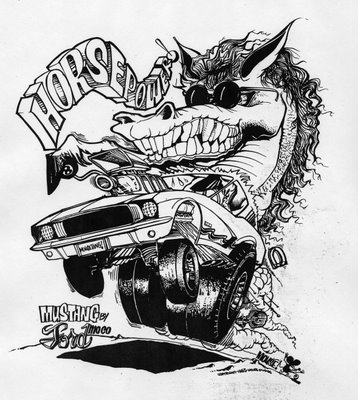 Mouse would learn another valuable lesson from Roth. The word "fink" and the phrase "rat fink" was becoming current. Working with Mouse at that show, Roth started to kibbitz and because of Stanley's rodent nickname, he ended up calling him "Rat Fink". Roth said that he admired Mouse's work and asked for a catalog of his designs which he brought back to his own shop back on the west coast. Soon, Roth started selling a character called Rat Fink that looked just like Freddy Flypogger, one of Mouse's monster characters, only with a mouse's pointy nose, big ears and tail.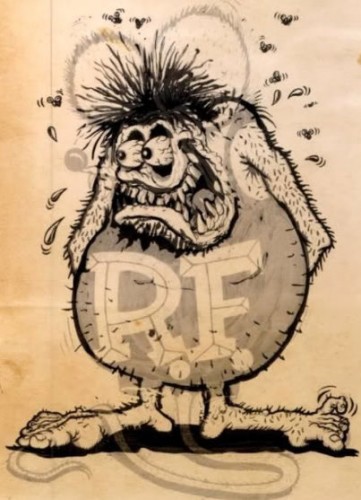 Mouse never made a big deal about Roth's appropriation of his work. He was making good money and in any case has always been driven more for the "fun" of making art than by the commerce. After Roth started licensing the Rat Fink and his own monster hot rod characters to plastic model makers, Mouse was able to make a deal with Monogram, who released three models based on Mouse's characters.
Stanley was also getting burned out on the hot rod scene and increasingly bored by art school. He was a guy who had developed an original and improvisational style of crazy hot rods being driven by even more outrageous monsters and he'd be at a car show air brushing shirts and a customer would complain that he didn't get the hubcaps exactly right. "It stopped being fun," is how Mouse describes it today. In school he respected his teachers at the Detroit Arts & Crafts Society (now the College for Creative Studies, one a a handful of places in the world where you can learn to be a car designer), but felt a disconnect between what he did in the classroom and his own personal art.
In 1965 Mouse packed up his air brushes and paint in his Porsche 356c and with some friends headed to San Francisco. He fell in with some other artists that would become the collective known as the Family Dog. Posters that Mouse and Alton Kelly, also a Family Dog alumnus, designed for Bill Graham's Fillmore established a graphic style that 40 years later is still instantly recognizable and widely imitated. Today collectors bid big money at auctions for Mouse's original concert handbills and posters. He's still in demand making album art for bands, as is his fine art, which is represented by the Rockin' Roses gallery in Healdsburg, California.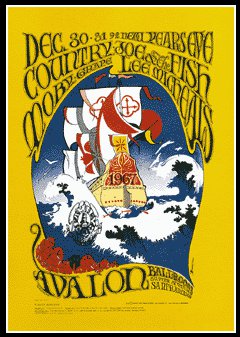 Though Mouse never lost his love of cars, the hot rod scene began to bore him. The six-figure commissioned hot rods that started to dominate car shows in the late 1990s were "dumb", "nostalgic", and had "no sense of humor". From the popularity of the rat rod phenomenon it's clear that Mouse was not alone in having those sentiments and it was those very rat rods that renewed his interest in doing hot rod art. In 2010 Junk Food clothing introduced a line of distressed t-shirts with some of Mouse's vintage '60s era monster rods. At the recent MAGIC apparel trade show, Junk Food filled their order books. Mouse is making new hot rod art too. Mouse did a series of monster hot rods for Altoids mints and a large company recently commissioned Mouse to do some original pieces with monsters on motorcycles.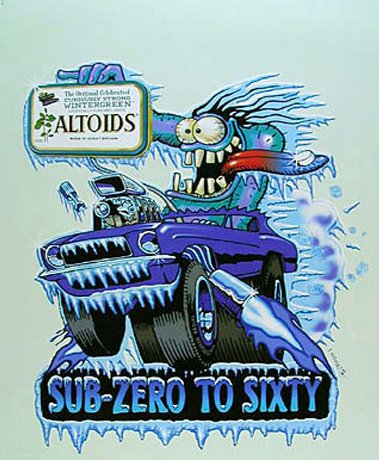 Mouse, though, is still the same artist who rebelled against doing photographic copies of hubcaps for teenagers. He'll sell his art but he won't compromise it. When asked about the difference between making his own fine art and doing commercial art which involves putting his skill in the service of another person's artistic or commercial vision, he said that he started to chafe when his new motorcycle client started "art directing" him. Then he said it would probably be prudent if I didn't identify the company.
Stanley Mouse's latest hot rod art is available through the Rockin' Roses Gallery.