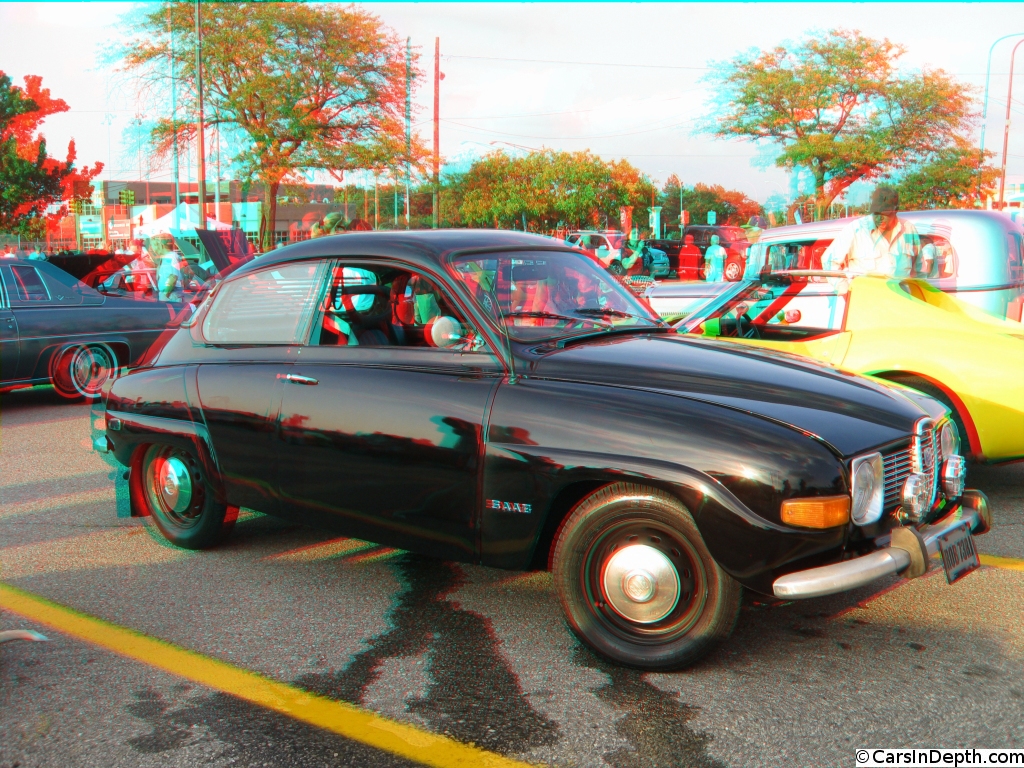 Click on the anaglyph stereo 3D image to launch a Flash player and view the entire gallery in 2D or your choice of S-3D formats.
After 64 years of making cars and 9 months of a fruitless effort to find financing to keep the company going, Saab today was declared bankrupt by a Swedish court. Swedish Automobile NV CEO Victor Muller filed for bankruptcy after former Saab owner General Motors indicated that it would exercise its veto power over any of the proposed plans to save Saab. GM owns key intellectual property any ongoing Saab business would necessarily use. Following the GM announcement over the weekend, Zhejiang Youngman Lotus Automobile announced that it was withdrawing from the deal to provide the three quarters of a billion dollars needed to restart production in Trollhattan.
The Swedish bankruptcy court has appointed two receivers to run Saab and presumably start liquidating its assets. Liquidation isn't the only outcome. Muller held out some slim hope for Saab's survival as a brand.
"There are parties out there that have expressed an interest to pursue a possible acquisition of Saab from bankruptcy," Muller told a press conference after the bankruptcy filing. The receivers will have to weigh those offers, if they indeed exist, against liquidation. Saab has a worldwide network of dealers, including 188 in the United States.
In an interview with Automotive News, Mats Faegerhag, Saab's product development chief agreed with Muller that a "viable investor" could still rescue the brand, "but that would have to happen quick, in a few weeks, because our employees will be looking for other jobs."
Saab has 3,600 employees, including 3,400 in Trollhattan, Sweden, where the company is headquartered. Saab began as an aircraft manufacturer Svenska Aeroplan Aktiebolaget in 1937, adding cars in 1947. The automobile operations were split off from the aerospace company in 1990, with GM buying a 50% stake. In 2000 GM bought the remaining shares. In the wake of the giant automaker's bankruptcy it sold most of its interest in Saab to Dutch supercar maker, Spyker, which renamed itself Swedish Automobiles. Businessman Vladimir Antonov, who is currently facing embezzlement charges in connection with a Russian bank, formerly owned Spyker and Muller is thought to have been working on behalf of Antonov's interests.
Of course, you're not allowed to write anything about Saab without saying something about its "quirky" automobiles. It's cars, at least the ones made before the GM takeover, indeed marched to a different drummer, but there was nothing quirky about the death of Saab. We've written a bit here lately about Studebaker. Saab may have been quirky in life but in death it was pretty much just like every other one of the hundreds of car companies that have failed in the last century.
SAAB STATEMENT
Zeewolde, The Netherlands, 19 December 2011 – Swedish Automobile N.V. (Swan) announces that Saab Automobile AB (Saab Automobile), Saab Automobile Tools AB and Saab Powertrain AB filed for bankruptcy with the District Court in Vänersborg, Sweden this morning.

After having received the recent position of GM on the contemplated transaction with Saab Automobile, Youngman informed Saab Automobile that the funding to continue and complete the reorganization of Saab Automobile could not be concluded. The Board of Saab Automobile subsequently decided that the company without further funding will be insolvent and that filing bankruptcy is in the best interests of its creditors. It is expected that the Court will approve of the filing and appoint receivers for Saab Automobile very shortly.

Swan does not expect to realize any value from its shares in Saab Automobile and will write off its interest in Saab Automobile completely.