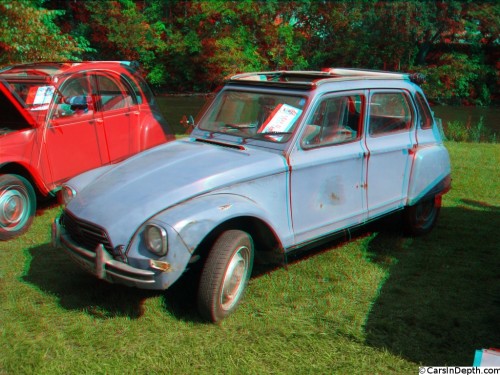 Click on the anaglyph stereo 3D image to launch a Flash player and view the entire gallery of photos in 2D or your choice of S3D formats.
Some say that the Citroen Dyane was intended to replace the 2CV as that car approached its second decade of production. Though it too had a long production run (15 years) and sold over 1.4 million units, the car it supposedly was intended to replace, the 2CV, outlasted it by 7 years. Actually the Dyane was meant to be a slightly upscale 2CV, not necessarily to replace it. The Renault 4 had started eating into 2CV sales and the Dyane was Citroen's response. Actually it was Panhard's response.
By then Citroen had acquired Panhard, and the parent company's engineers were busy with the DS and Ami lines so Louis Bionier at Panhard ended up doing the initial design work. Dyane was a Panhard trademark. The Dyane is mechanically identical to the 2CV, built on the same platform chassis, though the Dyane 6 had a larger 602 cc engine. This Dyane is a 6, which means it has somewhere between 28 and 35 HP. The 2CV was known as the "ugly duckling". I think the Dyane is rather attractive from the front, not ugly at all, though the flat as a barn door rear hatch does retain some of the 2CV"s awkward look.