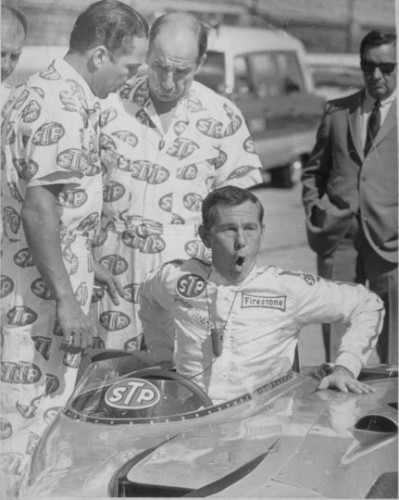 Johnny Carson mugs for the camera as he gets into Parnelli Jones' STP Turbine race car. Note the microphone to record audio for clips on the Tonight Show.

David Letterman co-owns Letterman Rahal Racing, with Bobby Rahal. As a team owner Letterman has had a lot of success in racing including a win at Indy with Buddy Rice driving in 2004. Johnny Carson, though, did something in racing that I'm sure Letterman wishes he got the chance to do. In September of 1967, Carson got to do a few hot laps at Indianapolis Motor Speedway in Parnelli Jones' STP Turbine Indy racer. That car had led the '67 Indy 500 for 171 laps, but a bearing failure consigned Jones to a 6th place finish.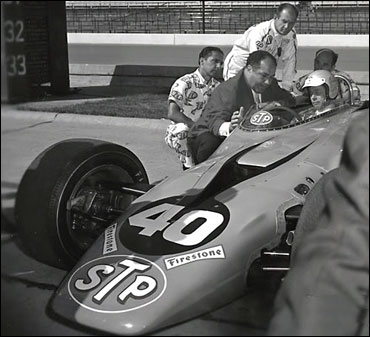 Carson with STP chief Andy Granatelli
Carson's ride in the turbine car was a result of his relationship with STP boss Andy Granatelli. STP was a major sponsor of the Tonight Show and Granatelli, always a good interview, had been Carson's guest on the show a number of times. Perhaps the relationship had grown out of Granatelli's role at Studebaker. Carson was one of the first owners of the Avanti.
"I had been on his show about seven times and we'd talked about him driving one of my cars," Granatelli said. "He always liked daredevil challenges, so I talked him into running Indy in my car.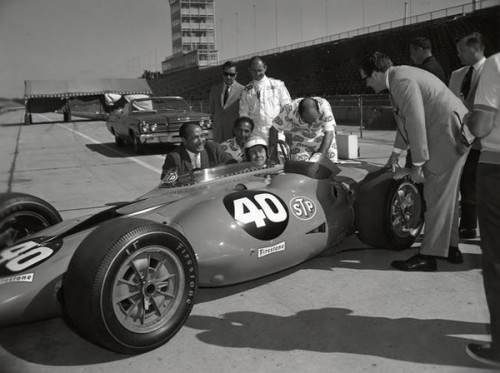 Parnelli Jones recalled Carson's Indy excursion on the occasion of the comedian's death in 2005
"Andy [Granatelli] and I took him around in the pace car. I was driving and Andy was in the backseat. After a couple of laps, while I was pointing out the proper groove, Johnny said, 'I got it, let me try it.' We switched seats and he took it around the first time. He did OK through the third turn and then the fourth turn, but going down the straightaway he was going too deep. When he didn't back off, I yelled at him and grabbed the steering wheel.

He was doing what nearly all laymen do when they get a chance to drive. They think all you have to do is stand on it all the way around. You can't do that in a race car, and you can't in a passenger car, either, but they all seem to think you can. He was no different.

"He was a quick learner. "I'd shook him up a little, but he did just what I told him. He gained a lot of respect for the race car. And I had a lot of respect for how he did. He did really well."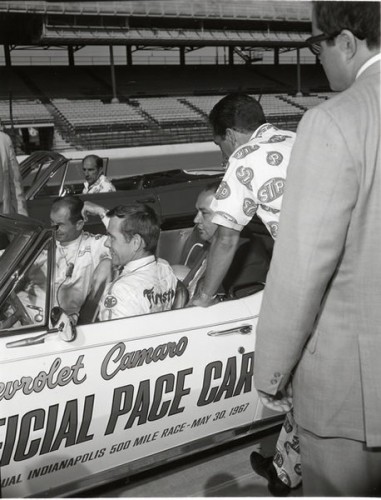 Contemporary photographs show Carson mugging for the camera as he got into the cockpit of the turbine car and posing with racers Mario Andretti, Rodger Ward and Parnelli. Video of Carson's Indy laps was included as an extra on a boxed set of Tonight Show DVDs.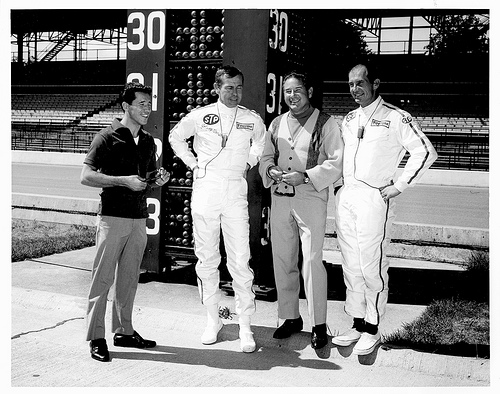 Though not nearly as fast as Jones in the car, Carson's best lap averaged a respectable 138 mph after getting some pointers from Jones, Granatelli and Andretti. By comparison, it took a speed of at least 162 mph to qualify for the 500 that year. On the Tonight Show, Carson worked those pointers into one of his famous monologues:
Andretti asked Carson during the laps, "Now, you see where those tire skid marks go up into the wall?"

"Yes," Carson replied.

"That's NOT the groove!"
Donald Davidson, Indianapolis Motor Speedway historian said that Carson adapted quickly to the car and the track. "That doesn't seem that fast now, but it took 162 mph to make the race those days."
Granatelli was also impressed, though the STP Turbine was a relatively easy race car to drive at speed.
"The turbine ran so smooth that all you had to do was point it, but 138 was pretty darn impressive for a guy who had never driven a race car."
Granatelli remained in touch with Carson until the comic's death.
"He was a cool guy," Granatelli said.