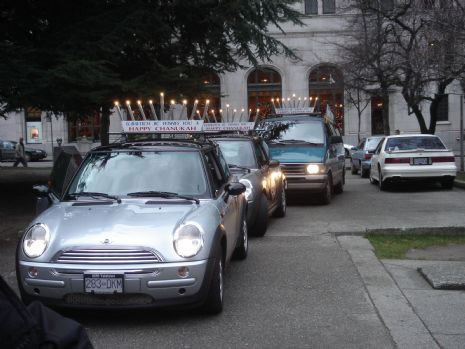 Today is the third day of the Jewish festival of *Chanukkah. To celebrate, Jalopnik ran a post about a "menorah's worth" of Jews who have had notable roles in the automotive history. I can't quibble with Jason Torchinsky's list as it gives folks like Siegfried Marcus and Josef Ganz their due as well as highlighting more famous automotive personages whose Jewish heritage is not well known, like Corvette engineer Zora Arkus Duntov. Still, with only 8 candles on a Chanukah menorah, plus the shamas, the ninth candle used to light the others, Jason had to leave some pretty notable people off of the list. Someday I'll write the automotive equivalent to the evergreen Bar Mitzvah gift Great Jews In Sports. Until then, my working list of car Jews, which includes some very notable engineers, designers, industrialists, racers and journalists, is below the jump.
*I typically transliterate Hebrew words accurately but regular readers at CID know of my fondness for alliteration in headlines.
Industrialists and Entrepreneurs
Teddy Mayer? – team manager and director, McLaren
Mark Fields – Pres. Ford NA
Neil Schloss – Ford VP and Treasurer
Meyer Prentis – Treasurer of General Motors
Gerald Greenwald, vice chairman of the Chrysler Corporation
Adolf Rosenberger – German businessman and racing car driver. Helped finance Porsche's engineering firm in 1931, and was instrumental in the famous Auto-Union racing cars from the 1930s, raced Benz Tropfenwagen which was based on Rumpler's patents.
Malcolm Bricklin – first importer of Subarus to the US, later produced Bricklin sports/safety car, and founded Yugo enterprise.
André Citroën – engineer and industrialist, founder of the Citroen car company
Emil Jellinek – entrepreneur and Daimler board member who had a seminal role in the development of the Mercedes 35hp, considered by many to be the first "modern" car. The "Mercedes" Benz was named after his daughter.
Max Rose – Karl Benz worked for his bicycle shop and he was a partner in Benz & Cie.
Max Hoffman – Porsche importer to US, father Jewish
Sol A. Dann – Detroit attorney, stockholder gadfly, sued GM, marathon lawsuit against Packard-Studebaker merger (the lawsuit may have survived both companies).
Aaron Deroy – perhaps the first mega-dealer, owned car dealerships throughout the midwest US.
Engineers & Designers
Josef Ganz – automotive pioneer, developer of BMW's first car, the AM1, consultant on the landmark Mercedes-Benz 170, and probable originator of the Volkswagen Beetle.
Siegfried Marcus – in the 1870s designed the first gasoline powered car, invented the carburetor and was an early developer of magneto ignition.
Albert Kahn – architect, developer of the modern automobile assembly plant, designed Henry Ford's
Highland Park Model T plant and Rouge Complex, as well as the giant Packard plant.
Zora Arkus Duntov – engineer, 'father' of the Corvette and force behind Corvette racing.
Jerry Hirshberg – Designer, artist, founder of Nissan Design International
Abraham Schreiner – Inventor of naptha/gasoline – first successful cracker of petroleum 1840s Galicia
M. Davidson – electric car darmstadt 1850s
Edmund Rumpler – aerodynamic pioneer Tropfen-Auto cd .28 , inventor of swing axle, transaxle
Victor Wouk – Hybrid car pioneer
Art Ross (nee Rosenman) – Deusenberg and GM stylist, head of design for Oldsmobile 1946-1958
Jerry Brochstein – GM stylist
Stan Willen – GM styling studio head
Alex Taub – engineer, designer of Chevy's "stovebolt six" engine.
Kissel Brothers – Kissel Kar, 1908-1930
Race Car Drivers
René Dreyfus – racer, restauranteur & raconteur
Peter Revson – racer
Mauri Rose – winner of the Indy 500
Kenny Bernstein – champion drag racer
Jody Sheckter – Formula One champion
François Cevert – racer
Alain Prost?
Ricardo Rosset
Jeff Krosnoff (deceased)
Woolf Barnato
Sheila Van Damm,
Robert Grossman
Jo Bonnier
Adolf Rosenberger
Tom and Tim Coronel
Bobby Brown
Steve Krisiloff
Tony Kanaan?
Erwin Goldschmidt
Mike Ashley
Journalists
L.K.J. Setright
Bill Carroll
Michael Lamm
Zoltan Glass (photographer)
Paul Ableson (big trucks)
Leon Mandel ?
(plus Wert, Lieberman, Berkowitz, Alterman and others currently writing about cars and the car biz)