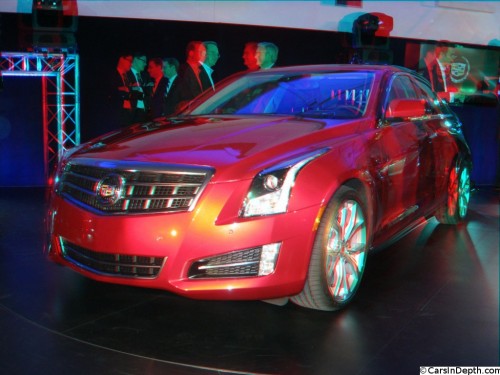 Click on the anaglyph stereo 3d image to launch a Flash player and view the entire gallery in 2d or your choice of S3D formats.
At an invitation only event held at Detroit's College For Creative Studies, last night Cadillac revealed its new BMW 3 fighter, the ATS. The location was appropriate since CCS is located in a former General Motors' building, in fact the first location of Harley Earl's "Art & Colour" department, the progenitor of GM styling. In fact there's a lounge where Earl's corner office used to be right around the bend from the hall where the reveal was, and the hall itself was formerly used by GM styling for in-house displays. It was doubly appropriate because Cadillac is undoubtedly using styling to set the ATS apart from its luxury C segment competitors.
For the rest of this post, please visit The Truth About Cars.