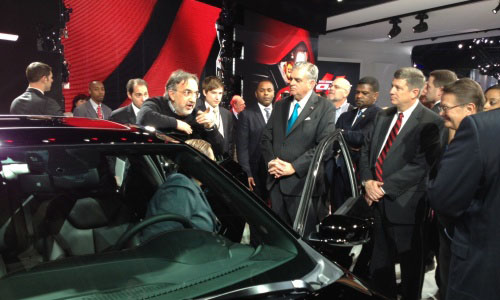 Like moths to a flame
Frankly, I have far less of a problem with Ford flying "social media influencers" in for the North American International Auto Show in Detroit and to the Consumer Electronics Show in Las Vegas to try to get the influencers to help sell Ford cars than I do with DOT Sec. Ray LaHood and other cabinet officials and their entourages flying into Detroit on taxpayers' expense just so they can get their pictures taken and enjoy the exciting new cars and the beautiful product specialists. LaHood was joined by Lisa Jackson, the EPA administrator, Energy Dept. Sec. Stephen Chu, and one other cabinet member who already had his own public relations staff traveling to Detroit with him so I'm not going to give him any more free publicity.
I noticed someone someone whose NAIAS credential hanging on a lanyard said EPA. I asked him, "I know what I'm doing here. What are people from your agency doing here?"
He looked rather surprised and somewhat imperiously said, "We regulate the auto industry," as though I had asked him a very stupid question.
Of course I know that the EPA regulates the auto industry. It's even possible that this EPA suit hadn't flown in from Washington but rather drove in from the EPA's lab in Ann Arbor where the agency performs pollution and fuel mileage testing. Whether he flew in from Washington or drove in from Ann Arbor, one thing is certain, the trip cost him nothing. If he drove he either used an agency car or was reimbursed for mileage on his own car. I can drive to Cobo Hall from my home and back in less than an hour during rush hour (and proved that claim on day 2 of the media preview when I went to get my camera bag out of the car and discovered that I'd left it at home) and I just know that I spent more of my own money getting to the NAIAS than this guy did.
Writers and publishers spend from hundreds to thousands of dollars just to get to Detroit and then more on hotels and food while they're here. They do that so they can provide a service to their readers and advertisers. The EPA was using taxpayers' money so they can provide to their employees the perk of a nice day at a public-not-invited event. To be sure, all was not wine and roses for the folks in the grey suits. Government ethics rules probably prevented them from sampling the 2010 Greco di Tufo "Loggia della Serra" Terredora that Mercedes was serving with lunch to the assembled journalists, and the nice ladies at Porsche were giving out big red scented daisies, which are not worth enough to report to their boss and thus this particular EPA suit might be able to bring it home as a gift to his wife, but they were still not roses. Still, when he sat down for lunch, I'm sure that my EPA interlocutor didn't pay for it out of his own pocket, or if he did, he'll be reimbursed, by the taxpayers. When he hands his wife the scented flower I doubt that he'll tell her about the Porsche ladies' red dresses or their come-tie-me-up-and-…-me heels. Just because you can't take home much swag or chow down on fancy grub doesn't mean that the NAIAS media preview is a drag. During the public days, regular folks who aren't government bureaucrats (or journalists) pay good money to have far less access than is available at the media preview. A media preview is a car show on steroids and even though we pixel stained wretches complain about the grind, it's still fun. If you're just walking around looking at the beautiful cars and pretty women and don't have to file any stories, it's an enjoyable inside look at the car biz.
I told him, "You're not doing any regulation today, you have no regulatory function here, you're just enjoying a perk of traveling and enjoying the show on the taxpayers' dime."
He scowled and walked away.
Later I noticed a gaggle of reporters and camcorder lights in the Chrysler stand, which is usually a sign that Sergio is in the house. I'm not as critical of Marchionne as Sweet Pete is, but the way that the automotive and general press fawns over the Fiat CEO and treats him like some kind of rock star is unique in the tens years of experience that I have watching autojournos cover autoexecs.
So I figured Sergio (see, even I'm giving him the one name treatment – I like and admire Alan Mulally and I don't call him Al), was around and he was. I got about 6 feet away from him. There was a large man with his back to me going on and on in front of the cameras about what a great guy Marchionne is, how he saved Chrysler and that they wouldn't be there today (well, yesterday) in a Chrysler display if not for Sergio. Sergio this, Sergio that. I wondered who this was that was verbally fellating the Fiat/Chrysler head. From the slobbering bluster I thought it might be one of the dealers not cut by Chrysler during the restructuring who was grateful for his business being saved. Marchionne, a man not allergic to praise, looked almost embarrassed. I thought he was going to give the guy a towel to whip his mouth. Instead when the effusor turned around I realized it was noted chucklehead, Transportation Sec. LaHood. I also noticed the burly security guys with DOT pins in their lapels.
LaHood came to Detroit in 2012 for little more reason than he wanted to get his picture taken. Of course that could have been accomplished in Washington. The official DOT photographer who traveled with LaHood to take pictures for the DOT website could have shot some pics in DC, but the 5,500 journalists covering the NAIAS are to politicians as C10H15N is to meth heads.
The photo op with Sergio over, LaHood and his entourage started moving away from the new Dodge Dart next to which they were standing. That's when I was startled, literally bowled over you might say, because one of LaHood's security agents bruskly shoved me aside to make room for his royal highness, Ray.
The 2012 NAIAS was not my first rodeo. I've been credentialed to major North American auto shows since 2002. I've been around many politicians at many of those shows. My son was kibbitzing with Sen. Lieberman in 2008 when he was traveling with John McCain's presidential campaign. I've interviewed Rep. Peters and Senator Carper (who regularly attends with his son). I'm also aware of their security concerns. Last year at the NAIAS I discussed the shooting of Arizona Rep. Giffords by a deranged person with Senator Stabenow.
I've met politicians in other circumstances. As a child, because my red hair allowed me to pass for Irish, my neighbor Sen. Pat McNamara would take me campaigning with him. I've seen Presidents Ford and Clinton give speeches and I met George W. Bush while he was in office, so I'm not unfamiliar with how the Secret Service acts.
Now I realize that people in Washington that run the government think they are special but we do not live in some kind of monarchy where the citizenry have to bow, scrape and avert their eyes when one of our betters deigns to traverse our paths.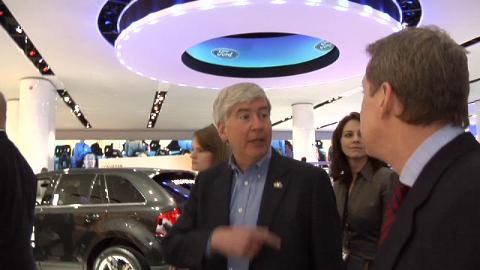 Michigan Gov. Rick Snyder touring the Ford display with FoMoCo Chairman Bill Ford
I know that Ray Look thinks that he's an important man. Another important man, one with a job that's unquestionably more essential that that of the Secretary of Transportation, was at the NAIAS on Tuesday. Unlike Sec. LaHood, though, Michigan Gov. Rick Snyder wasn't traveling with a huge entourage of government workers having a junket on the taxpayers' design. Actually he had just three people with him, two plainclothes Michigan State Police troopers for security and a woman who was an aide. It was so low key that I didn't realize I was standing less than 5 feet from Gov. Snyder. I simply approached him and when he was done speaking I asked him a question. His MSP Troopers looked like they were all-business, perhaps even more so than LaHood's shock troops, but they were professional and neither of them was shoving anyone out their way.
Remember, this was not an event that was open to the public. I had to apply for credentials, submit examples of work with my byline and an assignment letter. Then, before I could get on the show floor, I had to have my credentials validated with photo ID. Then, every time I entered the show hall, I had to present my wrist band to the security guard at the desk. Sometimes my bag was checked. So by the time Sec. LaHood's guard felt the need to body check me, I had already been vetted by redundant layers of security. In any case, even a member of the public doesn't have to stand aside to make way for the president's men, let alone tolerate being shoved aside.
Today, I attempted to make a formal complaint to the DOT about their security agent's behavior. It took a couple of phone calls to find the correct office at the DOT. Then I thought I'd contact Sec. LaHood's office to get their response. At mid-day there was nobody answering the extension to which the main switchboard connected me. So I tried LaHood's media relations team. The first five times I tried, I was disconnected when they put me on hold. The sixth time, I got voice mail. And these people think they can tell us how to build and drive cars.
At the branching road of Phokis
The driver of Laius commanded my son:
"Out of the road, Stranger! Make way for the King!"
But he walked on without a word, silent in his pride.
-Euripides