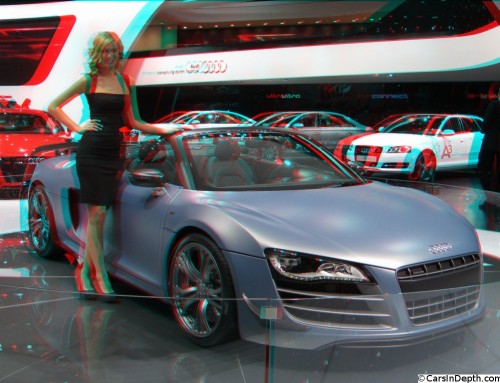 Click on the anaglyph stereo 3d image to launch a Flash player and view the entire gallery in 2d or your choice of S3D formats.
In recent years Audi has usually displayed cars in one of three colors: white, silver or red. It's gotten so that other companies have even started imitating Audi with white cars proliferating throughout the auto shows. The R8 is a special Audi, though, and unlike all the other cars on the Audi stand at the NAIAS this year, it wasn't in white, silver or red. It was in a matte metallic light blue. I think the matte finish is kind of played out but I have to admit it looks very nice on this R8 Spyder.
Start the YouTube 3D video player. Click on the red 3D icon that will appear in the menu bar to select 2D or your choice of stereo 3D formats.