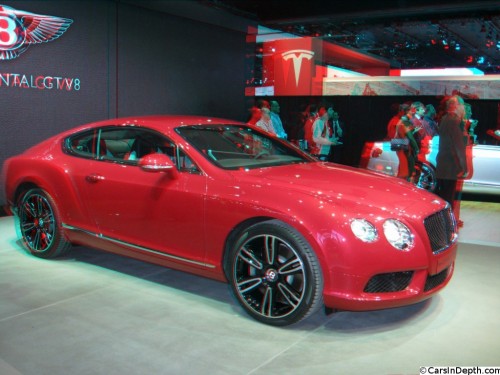 Click on the anaglyph stereo 3d image above to launch a Flash player and view the entire gallery in 2d or your choice of S3D formats.
Some companies have all the luck. Ford put metric tonnes of money into Jaguar, paying for most of the development of the new XF and XJ, before selling the Coventry based British luxury sports car maker to India's Tata. For their effort to sell cars in the largest segment of the luxury market, to compete with compact luxury cars like the BMW 3 Series, Jaguar was accused of selling a "badge engineered Ford", even though the X-Type's Mondeo platform was well regarded. Likewise, I've seen people describe the Cadillac CTS as a Buick LaCrosse with a different trim package. The Volkswagen Automotive Group doesn't seem to have that problem. They share platforms across the group's companies at a level that's probably unmatched in the industry. If the Jaguar X-Type was a Ford, than a Lamborghini is an Audi. While the R8 and Gallardo share some componentry, they are not at all the same car.  VAG, though, makes three cars at three substantially different price points that if you saw them without exterior sheet metal or interiors, you'd think they were identical, save for the engines.
Jack Baruth owned two VW Phaetons at the same time. That, and his credentials as a automotive writer got him access to VW's Dresden plant, where the chassis of the Phaeton, Audi A8 and the Bentley Continental are assembled on the same production line. Jack says that if you didn't use a magnet to tell which chassis had more aluminum parts, you wouldn't be able to tell which car was going to end up as an ultra-luxury Bentley, a 7 Series S Klasse fighter Audi A8 or a more plebeian Volkswagen Phaeton. Until now, all Bentley Continentals have come with the VW developed W12 engine. Now, for those concerned with fuel economy (or those who might not be able to handle the lease payment on a full tilt Bentley) Bentley has introduced a version of the Continental with a 500 hp twin turbo 4.0 liter V8 engine. Actually, according to Bentley the real motivation for the 8 cylinder Continental is for carbon reduction. The new engine is said to put out 40% less CO2 than the 6 liter W12. The new V8 may have a Bentley logo on it, but other than the tune, it's pretty much identical to the V8 that Audi puts in their sporty S6, S7 and S8 models. So the "new" Continental GT V8 shares architecture with a Volkswagen and an engine with Audis. Don't expect, however, the folks who call Jaguars Fords and Cadillacs badge engineered Buicks to call the new Bentley a VW. Like I said, some companies are lucky.