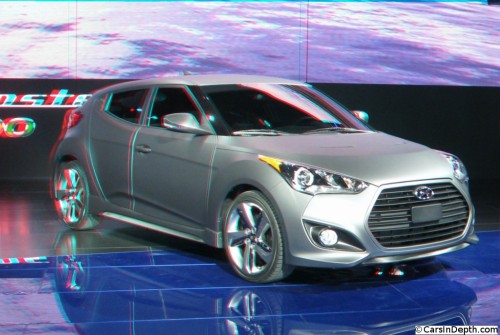 Click on the anaglyph stereo 3d image above to launch a Flash player and view the entire gallery in 2d or your choice of S3D formats.
Judging by our Google Analytics stats, there's an awful lot of interest in the Hyundai Veloster. The car was announced a year ago and in that time it's been one of the most frequent searches that leads people to this site. If the Veloster was highly anticipated, the turbocharged version has gotten enthusiasts salivating. Since the original Veloster was released, every reviewer has essentially said the same thing, "can't wait for the turbo version", since the Veloster's sporty looks weren't quite matched by the normally aspirated version's performance. Well the turbo version is here. Hyundai had the world premiere of the Veloster Turbo at the 2012 NAIAS in Detroit, choosing to paint it a matte charcoal grey. I'm not a fan of the matte fad, but the car did look good. In addition to getting a nice little gallery of still photos, we were able to shoot a walkaround of the Veloster Turbo and the 3D came out very nicely.
Start the YouTube 3D video player. Click on the red 3D icon that will appear  in the menu bar to select 2D or your choice of stereo 3D formats.