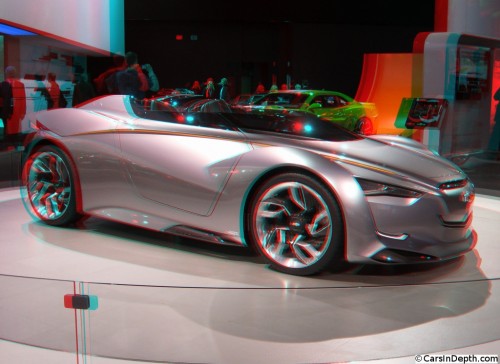 Click on the anaglyph stereo 3d image above to launch a Flash player and view the entire gallery in 2d or your choice of S3D formats.
GM introduced the turbo version of the subcompact Sonic at the '12 NAIAS and also had a number of examples of the even smaller Chevy Spark on the show floor at Cobo as well. Both the Spark and the Sonic were primarily engineered at GM's South Korean subsidiary, formerly Daewoo. Chevy gave another vehicle with roots in Korea prime real estate in their display, with the dramatically styled Miray concept on a turntable in a prominent spot. Miray is Korean for "future" and the car was part of GM's centennial celebration last year, having been introduced last March at the 2011 Seoul Auto Show. The car was designed at the GM Advanced Design Studio in Seoul. This is not the first time GM has shown a concept at the Detroit show that was developed overseas. Buick showed a Riviera concept designed in China at the NAIAS in 2008. The name Miray is undoubtedly an allusion to the Corvette Sting Ray and the Manta Ray 'Vette concept. The Miray is a carbon fiber bodied roadster with what appears to be a through-the-road hybrid system, incorporating a mid mounted 1.5L turbo combustion engine and a dual clutch transmission driving the rear wheels, plus two 15Kw electric motors driving the front wheels. After being well received at the Seoul show, the Miray has done the show circuit, getting positive reviews each time it's been shown. As you can see in the video, photographers and videographers gravitated to the concept car in such numbers that it was just about impossible to get a clean shot of the car without some other photog in the shot.
GM Press release on the Miray concept after the jump.
Start the YouTube 3D video player. Click on the red 3D icon that will appear  in the menu bar to select 2D or your choice of stereo 3D formats.
Seoul – GM Korea introduced the Chevrolet Miray concept today at the 2011 Seoul Motor Show. The roadster celebrates Chevrolet's 100-year heritage of designing stunning vehicles in the brand's newest market.

According to GM Korea President and CEO Mike Arcamone, "'Miray' is Korean for 'future.' As GM rolls out Chevrolet across Korea, the Miray concept offers an exploration of future possibilities for the brand. It strengthens the bond between car and driver, creating a fresh look at what sports cars of the future might be."

The Miray was developed at the GM Advanced Design Studio in Seoul. Combining cutting-edge hybrid powertrain technology and advanced styling, it balances iconic Chevrolet design cues with a future design vision as Chevrolet celebrates its centennial in 2011.

Classic Exterior

The Miray pays tribute to Chevrolet's sports car heritage. It is small and open like the 1963 Monza SS, and light and purposeful like the 1962 Corvair Super Spyder. Its expressive, aerodynamic fuselage is reminiscent of modern jet fighters.

Made of carbon fiber and CFRP (carbon fiber-reinforced plastic), the wedged body side is divided by an angled character line, with ambient lighting underneath. This accent creates a sweeping line of light when the car is in motion, bringing a warm glow to the sculptured body. Le Mans racer-style scissor doors open up and out of the way for dramatic access to the interior.

The powerful front end offers a reinterpretation of the Chevrolet face. The Miray's dual port grille is flanked by LED headlamps with new signature daytime running lamps. The front and rear fenders evoke Chevrolet Corvettes of the past and express the concept's sports car spirit. At the corners, carbon-fiber spoilers help control down force and airflow.

Distinctive retractable flaps provide additional airflow control while providing access to the charge port on one side and the fuel filler on the other. The charge port also features an external battery charge indicator. Each rear fender contains individual cargo space for the storage of small items. Under the ducktail surface, the taillamps provide a new interpretation of Chevrolet's twin element identity.

The Miray features aluminum-carbon fiber composite 20-inch wheels in front and 21-inch wheels in the rear. The strong turbine theme evokes movement, even when the Miray is stationary.

The heavily tapered top view enhances the Miray's purposeful image. From above, the cabin has a unique diamond shape.

Sporty Interior

The interior of the Miray echoes Chevrolet's racing heritage. As with the exterior, it takes inspiration from jet fighters. The Miray contains a melange of brushed aluminum, natural leather, white fabric and liquid metal surfaces, for an overall effect of sculptural velocity.

The interior compartment is surrounded by a carbon fiber shell, which gives it a lightweight yet rigid structure. Its flowing, yet slightly tensioned, twin cockpit tightly wraps around the driver and passenger. The cockpit is driver focused, drawing inspiration from the iconic Chevrolet sports car. However, the passenger is also fully engaged in the driving experience.

Asymmetric seats flow from the door, forming a symmetric interior that gives the driver a feeling of being fully connected with the car. Ambient lighting, which starts from the upper instrument panel and flows into the seat back area, adds a sense of luxury. Seat cushions and headrests are connected by the lightweight carbon fiber shell and mounted on a single aluminum rail. The headrest area follows the exterior form, integrating with an air scarf for open-air driving.

Designers took a unique approach to displaying information, using back projection on the instrument panel. Information in front of the driver has been prioritized into three zones. Immediately in front is vehicle performance. It is flanked on the left by range and on the right by navigation and mileage figures. This eliminates unnecessary visual clutter, allowing the driver to focus on the thrill of driving.

The center touch screen flows down to an aluminum support, which evokes a fighter jet's nose with the landing gear down. The exterior surface waterfalls down into the interior to meet the reinforced console, connecting the front and rear of the car.

The centrally located start button is also inspired by a jet aircraft. When the button is pressed, the column-mounted retractable meter cluster rises like a jet fighter canopy and "Interactive Projection" appears on the white surface.

Retractable rearview cameras, which replace traditional rearview mirrors, extend from the side glass electrically. In city driving, the forward-facing camera operates in conjunction with GPS to overlay navigation information with real-time video.

Fuel-Efficient, High-Performance Propulsion System

The Miray features a concept "mid-electric" propulsion system, located primarily behind and beneath the driver, that maximizes performance and fuel efficiency.

"Many of the components in the Miray's propulsion system are a logical extension of GM's current technology portfolio," said Uwe Grebe, executive director for GM Powertrain Advanced Engineering. "The concept shows the potential for reconfiguring, rescaling and extending today's propulsion technologies."

The Miray is propelled by two front-mounted 15-kW electric motors for quick acceleration and zero emissions in urban driving. The motors are powered by a 1.6-kWh lithium-ion battery that is charged through regenerative braking energy. The Miray has the capability of being switched from front-wheel drive to rear-wheel drive.

For performance driving, the Miray's 1.5-liter four-cylinder turbocharged engine combines with the electric motors, providing spirited torque control to both the left and right wheels as needed. The high-tech engine, mounted behind the cockpit, drives the rear wheels while seamlessly integrating electrification technology that defines a new standard in the compact roadster segment.

A dual-clutch transmission (DCT) enables a reduction in the powertrain's size by eliminating the torque converter. Shifts are quick and firm. The shift pattern has been tuned for improved top speed in performance mode. A start-stop system works in conjunction with the DCT.

"The propulsion concept fits perfectly with the rest of the vehicle, delivering big performance in a small footprint, on the road and in the environment," said Arcamone.  "By combining GM propulsion technology and visionary design, the Miray points to the future of Chevrolets around the globe – expressive, youthful and entertaining."