Start the YouTube 3D video player. Click on the red 3D icon that will appear  in the menu bar to select 2D or your choice of stereo 3D formats.
Ford had an interesting take on cutaways at this year's NAIAS. You could walk right between two halves of a cutaway Ford Flex. One half was a body shell with a bare interior, so you could examine the construction of the cars' superstructure. The other half was a fully equipped Flex that looked as though it was run through a band saw, in other words, a complete cutaway car. Unlike most engine cutaways, that reveal different components at different depths, the engine on this flex was simply cut in half, giving a sectional view. It was a novel take on an old idea and from the looks of the engineers poking around the engine cutaway every time I passed the display, they liked the idea.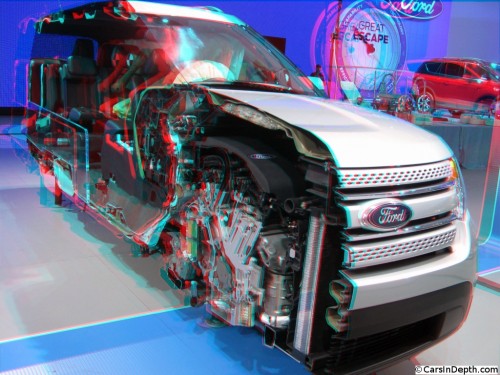 Click on the anaglyph stereo 3d image above to launch a Flash player and view the entire gallery in 2d or your choice of S3D formats.