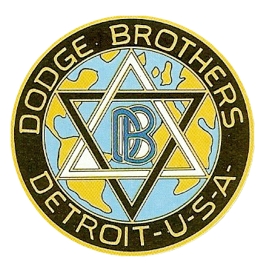 Now this story is second or third hand at best but it's too juicy to ignore. According to Egyptian TV presenter Amr Adeeb, a Salafi Muslim sheikh in Egypt has issued a fatwa saying that Chevrolets are haram because Chevy's famous bowtie logo looks like a Christian cross. A fatwa is a Muslim religious ruling and haram means forbidden. If halal is analogous to kosher, Chevys are now not kosher for Muslims. At least according to this one sheikh.  If the sheikh is upset about something that looks like a cross, he'd probably have a conniption if he saw an old Dodge Brother's emblem.
Adeeb roundly mocks the ruling. "We've reached a really strange place with this. The car's been around [for a century] and only now did you notice there's a cross on the car?"
As if he needs to, Adeeb points out to the sheikh that Chevrolets are not religious artifacts.
"Do we hold mass for it? Do we pray for it?"
Adeeb's guest made the logical conclusion about the century old logo, "As if the people who came up with the logo were thinking that we want to put this special logo on the car just to piss us [Muslims] off?"
It's a good thing that Chrysler no longer uses the Dodge Brothers original logo, which appears to superimpose a Jewish Star-of-David over a map of the world. Actually, that logo has its own urban legend. John and Horace Dodge originally supplied Ford Motor Company with rolling chassis. Essentially they built most of the Model Ts (except for bodies and wheels) built until 1914. They got tired of getting stiffed by Henry regularly (that's how they ended up owning a big chunk of Ford stock) and making what was by then an already obsolete car so they went into business for themselves. That part of the legend is true. The "urban legend" part of the legend is that when they started building cars under their own brand name, the Dodge bros deliberately put a Jewish symbol on their cars just to annoy Henry Ford, who was a notorious Jew hater.
It's not entirely clear why the Dodges chose a six pointed star but it most likely has nothing to do with Jews or Judaism.
From Allpar.com:
The Dodge Brothers Club's FAQ states that the symbol was not chosen to anger Henry Ford, and goes on to say that "At the time the emblem was selected (most likely 1912-1914) it's likely that the Dodge brothers were unaware of its use in Judiasm. In fact, at this time, that symbol was not used universally in this context." It suggests these possibilities, among others:

1. These are two interlocking Greek letter "deltas" or "Ds" for the two Dodge brothers
2. A medieval symbol of mysticism and the joining of mind and body; in this case representing the joining of two brothers, who were very close, in this business venture (allegedly, letters addressed to just one of them would be discarded).
3. An abstraction of the square and compass of the Freemasons (this seems unlikely as well).
4. Nothing more or less than a badge with six pointed star similar to those used for law-enforcement officer's badges, some outlined with triangles. Sheriff, Marshall, and police badges frequently wore six pointed stars. The old-west Dodge City badge had six points. Horace Dodge was said to enjoy accompanying local law-enforcement officers on their runs.

The Dodge Brothers Club News editor wrote that "emblem is also a "Solomon's Seal" sign of interconnected spirits, as the brothers were."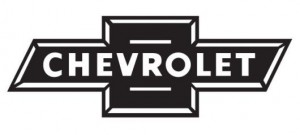 If the Dodge Bros seal isn't a Star of David, what about Chevy's 'cross'? Chevy PR lore had Billy Durant borrowing the bowtie shape from a wallpaper pattern but Chevy historian Ken Kaufmann says the logo is actually based on the Southern Compressed Coal Company's "Coalettes" logo, in use when Durant was starting up Chevrolet.