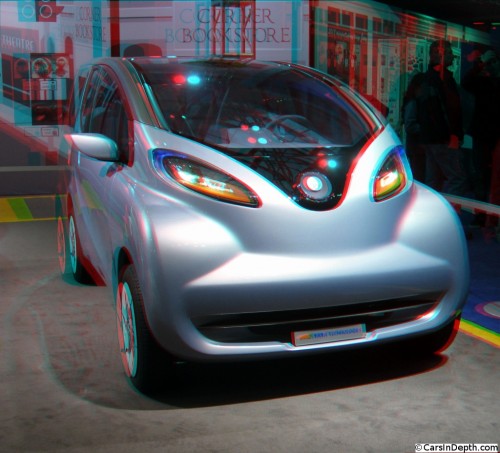 Click on the anaglyph stereo 3d image above to launch a Flash player and view the entire gallery in 2d or your choice of S3D formats.
For the past few years when Chinese car companies have exhibited at the NAIAS they've gotten, I think, more than their fair share of attention considering after these few years there are still no Chinese built vehicles on sale in the US (unless you want to count Coda, which turns Chinese gliders into EVs). This year's NAIAS had no Chinese exhibitors but there was a concept car from Tata, the Indian company that now owns Jaguar Land Rover. It was part of the Michelin Challenge to create a sustainable urban car. Tata Technologies, which designed and built the eMO bills it as the "first full vehicle by [an] Indian engineering services firm." While the firm may be Indian, the vehicle was designed in the Detroit area, where Tata Technologies maintains a large engineering office. The purpose of the eMO, of course, is to get more business for Tata Technologies, though ostensibly it's supposed to be able to carry up to 4 adults for 100 miles at speeds up to 65 mph. Tata Tech says that in developing the eMO they ended up applying for 15 patents.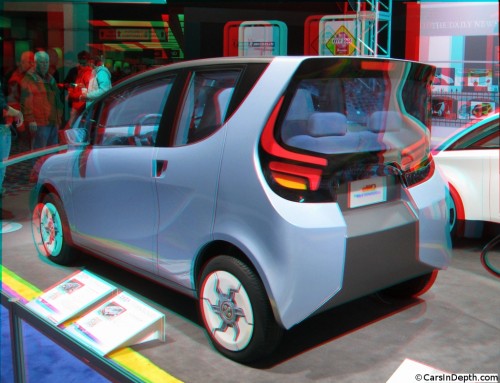 Click on the anaglyph stereo 3d image above to launch a Flash player and view the entire gallery in 2d or your choice of S3D formats.
Press release on the eMO after the jump.
The story behind the eMO electric MObility:
The first complete vehicle developed by an Indiabased
engineering services company
What's eMO?
It's the result of an engineering study — an electric vehicle designed and developed by Tata
Technologies, an India-based engineering services company with a global presence.
It's stylish, comfortable, practical, fuel-efficient and environmentally friendly. It's the right
size for urban transport — easy to park, yet seating four adults comfortably, with a back seat
able to be converted into substantial cargo space.
It's innovative. While working on the study, Tata Technologies developed fresh intellectual
property and has 15 patents in process.
And it's designed to be affordable; its estimated manufacturer's suggested retail price is
$20,000 (US), and that's without any federal or state government incentives.
The eMO itself is quite a story. But there's another story behind the story that may have
greater implications than any single vehicle.
A NEW PLAYER IN AUTO DEVELOPMENT
In India, this is officially the Decade of Innovation, as declared by the country's president. In
2010, at a summit meeting of the country's leading engineering companies, a bold prediction
was made: Within 10 years, an Indian engineering firm would develop the capability to
deliver a complete vehicle.
Enter Tata Technologies, one of more than 100 companies that are a part of the Tata group,
India's largest and most diversified business conglomerate, employing more than 425,000
people in 85 countries on six continents. Since 1989, Tata Technologies professionals have
been contributing engineering and design services to the world's leading automotive and
aerospace manufacturers and their suppliers. Tata Technologies is not a part of Tata Motors,
which is southeast Asia's largest auto company. Tata Technologies is headquartered in
Singapore, with regional offices in the United States (Novi, Michigan), India (Pune) and the
United Kingdom (Coventry) and a work force of more than 5,400 employees serving clients
worldwide.
In its two decades of providing pragmatic solutions for a growing number of successful
automakers and aerospace companies, Tata Technologies had developed a growing reputation
for competency and innovation. In 2010, the company was ready to take its next step
— the formation of a Vehicle Programs and Development (VPD) group.
VPD was created as a strategic realignment of Tata Technologies' engineering leadership
and its team of professionals worldwide. It was a change designed to adapt to a changing
world. As the automotive industry emerges from a global recession, the demand for new,
highly differentiated products is increasing, placing an unprecedented burden on the automakers'
limited product and manufacturing engineering resources. The automakers now
were seeking experienced, proven engineering partners to meet these demands. They also
2
needed partners with an eye toward innovation — a fresh view — to achieve success.
The experience and global reach of Tata Technologies placed the company in a unique position
to rise to the challenge. Creating the new Vehicle Programs and Development team
was a first step. The next step: showcasing the capabilities of the newly organized team.
THE BIRTH OF THE eMO
In the summer of 2010, in anticipation of launching the Vehicle Programs and Development
group, Tata Technologies decided to create a complete vehicle as an internal engineering
study. As a company with a history of dedicating its resources to specific customer needs,
this was a shift in gears.
The group considered numerous concepts. The objectives were to highlight the company's
focus on sustainability, as well as its global experience, knowledge, capacity and innovation
across its portfolio of services, which cover the entire product and process development
cycle, including:
• Product and Market Definition
• Concepts and Styling
• Vehicle Architecture
• Knowledge-Based Modeling
• Engineering and Design
• Digital Validation
• Prototype and Testing
• Manufacturing Solutions
The team started by reviewing relevant media on electric vehicles. "We found very mixed
results, ranging from huge optimism to abject pessimism and everything in between," says
Kevin Fisher, president of the Vehicle Programs and Development group. There was much
to study, including a plethora of concepts and reams of data, as well as local and governmental
incentives and infrastructure.
"We studied and considered what type of electric vehicle is required for different uses, each
having a specific purpose and goal," says Fisher. "We dissected demographics, identifying
who would be interested in each segment, determining what innovation and technologies
we could bring to this market, with an overall objective of producing a concept that would
be an affordable electric vehicle."
FINDING THE RIGHT BALANCE
This analysis led to a combined product and process design to find the right balance in the
following areas:
• Vehicle Cost of Ownership and Usage
• Innovation and Technology
• Consumer Features and Usable Interior Space.
The research also led to a focus on a city or "New Urban" electric vehicle with an emphasis
on the design following the functionality and use of the vehicle. Keeping a low cost of own3
ership was a priority. The target was to create an electric vehicle that could be purchased
for an estimated MSRP at $20,000 (US), without any government or state incentives.
"We believe that most vehicles on the market are actually oversized and over-specified for
the majority of consumers' daily use," says Fisher. "Our objective was to find the right size for
this type of electric vehicle with the appropriate range and speed, without reducing safety
and daily usability."
FUNCTIONAL AND INNOVATIVE DESIGN
The team's Vehicle Architecture group worked at minimizing the exterior footprint of the
vehicle, but maximizing the interior space, including seating for four full-size adults. The
team then added flexibility with the rear seating area doing double duty, offering great
cargo space. Finally, to make sure everyone can use this vehicle comfortably, the team
designed the vehicle with four doors uniquely positioned to make entry and egress incredibly
easy for a vehicle of this size, with easy access to the cargo area.
Simultaneously, the development team integrated this overall architectural package with
additional unique product design features that are inherent with electric mobility, like
shorter overhangs, which led to a flush profile cowl, giving a more uninterrupted aerodynamic
profile. Combined with large windows, this creates a dramatic sense of spaciousness
and all-around visibility for all occupants of this vehicle. To increase the space for occupants,
the team focused on minimizing the disruption of interior features with thoughtful
integration of driver controls and displays into the structure.
Another important aspect of this study to ensure a low carbon footprint and to employ a
strategy of reuse. "In line with our low-cost emphasis, we questioned traditional vehicle
construction," said Fisher. The eMO's overall structure incorporates a steel safety cage. The
front and rear fascias and exterior doors are recycled panels with mold-in color. The glazing
is a mix of required safety glass and low-mass polycarbonates. This eMO study also used
our extensive CAE global knowledge and has been engineered, and CAE simulations performed,
to meet the current safety standards and regulations in all major markets.
GREEN IN EVERY WAY
The powertrain — a unique liquid-cooled, dual-motor, front-wheel-drive system coupled
with an air-cooled, 18.4-kilowatt, high-energy/density battery — provides the pulse of the
vehicle, enabling a vehicle range of 100 miles and a top speed of 65 miles per hour. The suspension
incorporates an independent front lower A arm and MacPherson struts. The rear
suspension has a semi-trailing link with separate mounting shock absorbers and springs.
Front disc and rear drum brakes are antilock with electronic stability control. Steering is
provided by an electric power-assisted rack-and-pinion system.
"We wanted to reduce the carbon footprint of manufacturing, assembly and all associated
processes, so a Small Assembly Footprint methodology drove our manufacturing solution,"
said Fisher. "This eliminates the traditional body shop and paint process and uses as many
'green' product materials and processes as possible."
4
To sum it up, Fisher said the eMO reflects Tata Technologies' unique multidimensional
approach, its DNA of innovation, as well as its intimate understanding of the demands of
both developed and developing markets. The vehicle also benefits from the company's
global delivery model and its proprietary Knowledge-Based Engineering platforms to
develop products faster and more cost-effectively.
"We believe this engineering study shows a very pragmatic, innovative and cost-feasible
solution for daily-use electric vehicles in a new urban environment," says Fisher. "And we
believe the market exists for a vehicle demonstrating this intelligent combination of performance,
safety, function, price and environmental responsibility."
And there's more to come. "This study is the first in a series of thought-provoking concepts
to showcase our capabilities across the current and future automotive landscape," he
added.
BACK TO THE FUTURE
Flash back to the prediction that an Indian-based engineering firm would develop a complete
vehicle before 2020. Tata Technologies achieved the feat eight years early.
"The eMO project symbolizes a coming of age of Indian automotive engineering," said
Warren Harris, Tata Technologies President and Global COO. "It's a tangible example of the
capability of Tata Technologies to deliver a full vehicle."
Will the eMO be mass produced? That's a question yet to be answered. "We developed it
strictly as an engineering study with no particular automaker in mind," says Fisher. "If there
are auto companies interested in exploring the potential of the eMO, we would, of course,
welcome that opportunity."
Meanwhile, the company's Vehicle Product and Development group continues to serve a
wide range of customers with more than 300 engineers operating from four automotive
centers of excellence worldwide — Detroit, Coventry, Pune and Stuttgart, Germany. Says
Fisher: "We have the talent, ideas, and ability to anticipate customer and market needs.
We're ready to help our current and future customers rise to meet their next global challenges."
BETTER AND BETTER: IT'S OUR WAY OF LIFE.
For further information on Tata Technologies and what we can do to help you create better
products for your customers, visit www.tatatechnologies.com.