Start the YouTube 3D video player. Click on the red 3D icon in the menu bar to select 2D or your choice of stereo 3D formats.
Toyota is offering their version of the Toyobaru twins with the choice of a stripped down, decontented and lower priced trim level, at least in Japan, where the car is sold as the Toyota GT-86. The general idea is to make the car more accessible and desirable to track and tuning enthusiasts. Unfortunately for American enthusiasts, the company has already announced that Scion won't be offering an equivalent FR-S model in the US. Now Subaru has announced that they will be selling a tunable track oriented model of the BRZ… in the UK. It will be marketed as the BRZ RC and is 100 lbs lighter than the base coupe, deleting A/C, radio, and painted trim, plus replacing 17 inch aluminum rims with 16 inch steel wheels. One surprising deletion for a car intended to be modified for performance and track driving is the limited slip differential, which is standard equipment on the other trim lines. On the other hand, LSDs aren't cheap and the car is supposed to be "accessible".
Press release after the jump.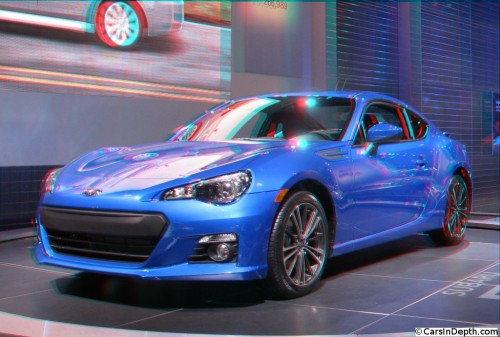 To view the entire photo gallery in your choice of 2D or stereo 3D formats, click here for a Flash player or here for an HTML applet
SUBARU REVEALS UK BRZ SPECIFICATION

– Subaru confirms generous kit for BRZ
– Three trim levels will suit all tastes
– New BRZ to be backed by market leading ETCo aftercare

(23/02/12) — Designed to deliver powerful performance and thrilling handling, the UK-specification Subaru BRZ is set to add generous standard equipment to its already impressive arsenal.Subaru's stunning new 2+2 coupe has already generated high levels of interest at dealerships, with many customers placing orders before pricing and standard equipment have been announced.The Japanese brand has now revealed that top-specification models come with 17-inch alloy wheels, a torque-sensing LSD, front, side, curtain and knee airbags, MP3 connectivity, dual-zone climate control and LED daytime running lights. The driver-focussed BRZ will also come with Subaru's VDC (Vehicle Dynamic Control) and can be fitted with either a six-speed short-shift manual or paddle-operated automatic transmission.A second, lower-spec model will also be made available a little later in the year, as will a third 'stripped out' version, which promises to be the perfect solution for those who wish to tune and fettle the BRZ to their own tastes, as well as track-day enthusiasts.The BRZ is available in six eye-catching colours all of which suit the car perfectly, including Subaru's trademark WR Blue Mica, Sterling Silver, Satin White, Crystal Black Silica, Dark Grey Metallic and San Remo Red.The carefully conceived powertrain packaging allows Subaru's celebrated horizontally-opposed 200PS 2.0-litre Boxer engine to be positioned lower than ever before. The 2+2 coupe has the lowest centre of gravity of almost any vehicle, with half the BRZ's mass sitting below knee height. It promises a power-to-weight ratio of 164PS per tonne and this, in conjunction with its advanced lightweight chassis and use of cutting-edge lightweight materials, endows the BRZ with exceptional handling characteristics.

ETC for extra peace of mind

As with all new Subarus, the BRZ will be available with the brand's new three-year Everything Taken Care of (ETCo) aftercare package, which offers a host of potential benefits worth over £7,000, free-of-charge.Subaru ETCo comprises 11 different elements, all designed to make running and owning a new Subaru easier and more beneficial than ever, not to mention the cost benefits with each of the services provided free of charge. Subaru ETCo's comprehensive package includes:

– Minor dent and scratch repairs

– Alloy wheel repairs

– Monthly wash 'n' vac

– Annual makeover – full valet

– Lost keys replacement

– Service collection and delivery

– Annual wheel alignment check

– First MOT cover (and contribution to repairs)

– Accident management service

– Insurance excess cover contribution

– Winter wheel and tyre storage

Subaru ETCo will be offered in addition to Subaru's three-year (60,000-mile) manufacturer's warranty, 12-year anti-corrosion bodyshell cover and three-year paintwork warranty, and also lasts for three years.

Subaru BRZ UK specification:
17-inch alloy wheels
Torque-sensing LSD (Limited Slip Differential)
VDC (Vehicle Dynamic Control) and ABS
Front, side, curtain and knee airbags
Cruise control system
Dual-zone automatic air-conditioning system
Body-coloured, electric-folding, head door mirrors
HID headlamps
Front fog lamps
LED daytime running lights
Radio CD player with six-speaker system
USB and iPod connectivity
Leather seats
Heated front seats
Key-less entry with Push Button Start system
Leather steering wheel and gear knob