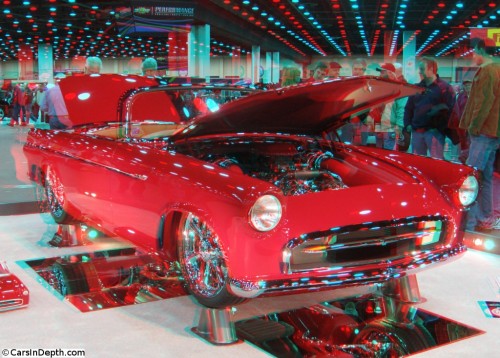 To view the entire photo gallery in your choice of 2D or stereo 3D formats, click here for a Flash player or here for an HTML applet
The 2012 Detroit Autorama Don Ridler Memorial Award winner is this 1955 Thunderbird, owned by Dwayne Peace. It was designed and built by Dwayne's son Johnathan Peace's shop, Torq'd Design Lab of Tyler Texas with Greening Auto Company of Nashville doing the creamy smooth red Glasurit paint. This T-Bird doesn't just pack a visual wallop, as under the beautifully shaped front end is a twin turbo 1150 HP Gale Banks Engineering 6.0 liter engine. Paul Atkins Interiors helped with the trim and Advance Plating, which has done work for many Ridler contenders and winners. Please enjoy our exclusive 3d photo gallery of this beautiful car.
Start the YouTube 3D video player. Click on the red 3D icon in the menu bar to select 2D or your choice of stereo 3D formats.