To view the entire photo gallery in your choice of 2D or stereo 3D formats, click here for a Flash player or here for an HTML applet
Last weekend a record was set for Oldsmobile auction prices when a five passenger 1912 Oldmobile Limited sold at RM Auction's sale of the Milhous brothers' collection for $3.3 million. That surpassed the price of the F-88 show car that went for $3.24 million a few years back. Only about 700 Limiteds were made so the huge brass era cars were fairly rare to begin with and this was the only known 1912 model extant, plus it has a five passenger body unlike most Limiteds which could carry 7 passengers. Beautifully restored, it's been a class winner at the Pebble Beach concours.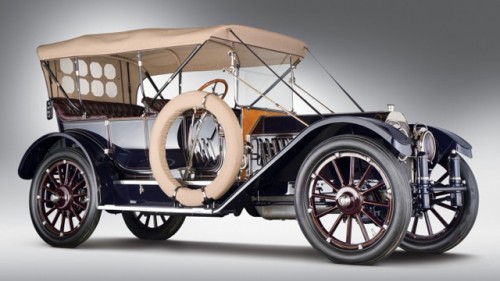 Illustrating this post is the 1911 Olds Limited in the collection of the General Motors Heritage Center, which some say is the most valuable car in the GMHC's entire collection. I think that some of the Motorama cars might fetch similar prices at auction but in any case, an Olds Limited is a magnificent automobile. You can see in the accompanying photo how in less than a decade Oldsmobile went from making the simple curved dash runabout that made the company famous, the small "merry Oldsmobile", to making the huge Limited. As Oldsmobile got more successful as a company, it made larger, more luxurious and more expensive cars. A 1911 Model T started as low as $650. The Olds Limited sold for between $5,000 and $7,000.
Press release from RM Auctions below.
To view the entire photo gallery in your choice of 2D or stereo 3D formats, click here for a Flash player or here for an HTML applet
60 hp, 707 cu. in. T-head inline six-cylinder engine, four-speed manual transmission, solid front axle with semi-elliptic leaf springs, live rear axle with rear three-quarter-elliptic leaf springs, and two-wheel mechanical brakes. Wheelbase: 140″ • Pebble Beach class winner
• Only known surviving 1912 Oldsmobile Limited
• Massive 60-hp six-cylinder engine and imposing unique coachwork The Limited was the most prestigious, and perhaps aptly named, Oldsmobile of its era. Its arrival was announced in the 1910 catalog: "such a car cannot be produced rapidly, therefore a limited quantity can be built." Based on the Model Z, the Limited rode the same 130-inch wheelbase but with a more impressive stature, due to immense 42-inch wheels. Its engine, initially the Z's 505-cubic inch, 60-hp six, grew to 707 cubic inches the following year when the wheelbase was stretched to 138 inches. A roadster and touring car were offered, as well as a top-of-the-line limousine, at prices from $4,600 to $5,800, territory previously the province of the prestigious "Three Ps," Packard, Peerless and Pierce-Arrow. Artist William Harnden Foster immortalized the Limited in his painting "Setting the Pace," in which the Olds leads the New York Central's Twentieth Century Limited, speeding on a trackside country road. Olds Motor Works used the painting, commissioned from railroad artist Foster, in several versions over a number of years, the last showing a left-hand drive 1914 model, well after the Limited's limited production had ceased. Curiously, the 1911 engine, 40 percent larger than its predecessor, was rated at the same 60 bhp. Prices, however, had not been limited, now ranging from $5,000 for open models to $7,000 for the limousine, an extraordinary sum of money in those years. A new four-passenger "Tourabout" joined the open cars. The Limited returned for one final season in 1912, on an even longer 140-inch wheelbase, but Olds management had realized that sales success probably lay in less expensive cars. A new, smaller four-cylinder car, the Defender, had replaced the previous Special entry-level model, while the Autocrat, a flagship four-cylinder car introduced in 1911, continued to lead Oldsmobile production. For 1912, the Limited was even more rare with fewer than 140 built.

This Oldsmobile Limited was built in mid-1912 and reportedly delivered to Canada. As confirmed by noted Oldsmobile Limited expert Eldon Eby, the original owner, who may have been the chairman of the Canadian Pacific Railway, kept it for many years. He later donated it to a museum for display. Renowned Cleveland collector Joe Loecy purchased it, and during his stewardship the car's first restoration was completed. Loecy sold it to Thomas W. Barrett III, from whom Ray Lutgert, of Naples, Florida, purchased it. Texas collector Gerald Rolph was the next owner before acquisition by the renowned collector Otis Chandler. Following Mr. Chandler's passing, the Milhous Collection acquired this remarkable Limited.

This car is nothing short of stunning. Its production may have been limited, but its size is not. It stands some seven feet tall and is nearly 17 feet long. Its dark blue paint is accented with a straw pinstripe, both in excellent condition. According to Mr. Eby, the car's coachwork is of a unique, custom five-passenger design and is original to this chassis. The seats are upholstered in brown buttoned leather, which remains in excellent condition, and the tan canvas top is of the same caliber. The rear compartment has blue carpet on the floor, while the front is a combination of blue linoleum and aluminum diamond plate. Varnished wood comprises the dashboard, which is equipped with a Jones speedometer and an Oldsmobile-logo clock, as well as oil and fuel gauges.

From the front one cannot fail to notice the immense nickeled Castle gas headlamps and Westinghouse shock absorbers. Mr. Eby's research indicates that these Castle units are exceptionally rare and only three pairs are known to exist for 1912 Oldsmobiles, as opposed to the more prolific Solar Eclipse headlights. The car rides on 43×5 Universal tires, all in good condition. A single spare, with canvas cover, is mounted to the right running board, next to the driver.

In 2002, this Oldsmobile Limited won its class at Pebble Beach, and in 2003 it was an invited participant in the Amelia Island Concours d'Elegance. The only 1912 Limited known to survive, it is sure to excel on vintage tours, long-distance rallies or simply on the show field. The opportunity to acquire such an exceptional, high-horsepower car won't come again soon.