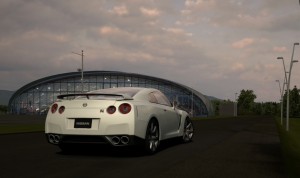 I had something of a revelation the other day. I was playing Gran Turismo 5 in 3D, Logitech wheel hooked up, driving a Suzuki Cappuccino, of all things.  Using the cockpit view and with the track in darkness, it dawned on me that I have never been so immersed in a video game before, I had never known a game to feel so real.
With my first article for CarsInDepth I feel compelled to respond to the views of fellow contributor Jack Baruth, and argue my case in favour of both the merits of 3D, and the benefits that driving simulators can provide to those with ambitions of becoming a racing driver.
You may have heard many differing opinions on the quality of 3D in varying applications, but in GT5, once I had fiddled with the display settings, I now prefer it to 2D – it gives a far better impression of actually sitting in the car than boring, old-fashioned '1080p' will ever achieve. Most importantly, I believe it can be beneficial to gameplay. After all, the whole 3D craze would be a waste of time to gamers if it was plain annoying. Once your brain becomes accustomed to the 3D image, your eyes are not confused by it, you consider it the norm. Thanks to the depth perception 3D provides, it allows you to place the front wheels on a corner apex more consistently, and it encourages a very good piece of driving practice: to look further down the road, as opposed to looking down at the piece of track immediately in front of you.
I agree with Jack regarding the "Pole-Position-style" view, I haven't used this view in a game since I was about twelve. It was great in rally games such as Colin McRae Rally, as it gave a clear view of the car's corners; useful for avoiding trees, shrubs, and abnormally strong tape barriers. In most racing games though, it is pointless to drive the car from the overhead view, as you get a less immediate 'feel' for how the car reacts to bumps, dips or an over-zealous right foot.
'I hope you don't learn how to pass cars by playing GT5' – I'm afraid I have to disagree, Jack. The fact is that you get a very sound idea of how to position your car on the road, both in terms of offensive and defensive driving. I believe that I also learned a lot from watching motor sport from a young age, but playing racing games allows me to put techniques into practice. A point to consider is that I, and the overwhelming majority of top gamers, take pride in racing cleanly. There has already been the case of one man who has transferred his skills from game to track to great effect.
A well known name in GT circles is Lucas Ordonez, the winner of the first GT Academy. His prize for victory was a season racing an RJN Motorsport-prepared Nissan 350Z in the 2009 European GT4 Cup. In his first season he took two wins on the way to the runner-up spot in the championship, impressing rivals and team bosses alike. I hope the following clip can answer some of the questions Jack raised about a gamer's race craft, In particular, the daring move he tries around 5:10 belies his relative lack of experience.
The entire point of the GT Academy is for Polyphony Digital to prove that GT5 is realistic enough for gamers to transfer their skills into a real race car with success, and Ordonez has proven this possible, and resoundingly so.
From a personal point of view, I can say that receiving such comprehensive instruction in track driving has allowed me to become a smoother and more consistent driver on GT5, so I can say that the skills are definitely transferable in both directions, going some way to prove the realism of the best racing sims. Obviously, there are sensations that a game is unable to produce, G-force being the most obvious, another being fear. Knowing that a crash only results in a grumpy Alex, rather than a large repair bill (or injury), allows me to take many more risks than I would dare to attempt in a real car.
I will always openly admit that there is no substitute for actual track time, but I do believe that driving sims will enable a huge number of people to be extremely well prepared for the real world of racing without turning a real wheel in anger. I had very little experience driving real cars quickly before competing in the GT Academy. I had about a total of two hours track time in a kart in my entire life, and the only rear wheel drive car I had driven was a Honda Blackbird-engined single seater with far more grip than power. Yet when I climbed into a Nissan 370Z for the first time, I wasn't fazed by the prospect. Later that week I was driving a Nissan GTR, in torrential rain. Once or twice when I was a little too eager on the gas, I found that catching slides was instinctive to me, and I can only put that down to constant practice of transferable techniques from the game.
If, like Jack, any of you are skeptical of the merits of racing games I would urge you to have a go. Titles such as GT5 look stunning, particularly in 3D, and I know from my experience that you can gain a great deal of insight into driving quickly in the real world.