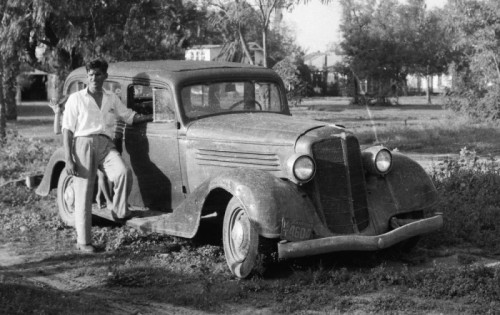 All text and photos copyright Michael Lamm, 2012
You'll recall my recent confession that I lost money on most of the 17 cars I owned in high school. "Owned" might be too strong a word; some cars passed through my hands in just weeks, so "rented" might be more accurate. Either way, my financial losses weren't great, but money was never my motive. My goal was more to preserve the cars than to turn a profit. So that you'll have some inkling of the cars I'm talking about, here's a list of the infamous 17 in year-model order:
* 1929 Studebaker 6 sedan
* 1929 Ford Model A roadsters (3 of them)
* 1930 Studebaker 6 sedan
* 1931 Hudson Greater 8 sedan
* 1931/32 Ford V-8 hot rod roadster
* 1932 Cadillac V-16 sedan
* 1932 Chevrolet coupe
* 1932 Studebaker 6 roadster
* 1934 Buick sedan
* 1935 Pontiac sedan
* 1935 Plymouth coupe
* 1938 Packard Super Eight 3-window coupe
* 1939 Ford fordor sedan
* 1940 LaSalle convertible (2 of them)
I've already talked about some of these cars – the 1931 Hudson, 1932 Chevy, hot rod and 1932 Cadillac V-16 – and now I'd like to devote the bottom of this chapter to the only car of that period that I really made money on, the 1934 Buick. But before I do that, here are observations about a few of the other cars on the list.
Read the rest of this latest installment of Michael's life with cars over at the Hemmings Blog.